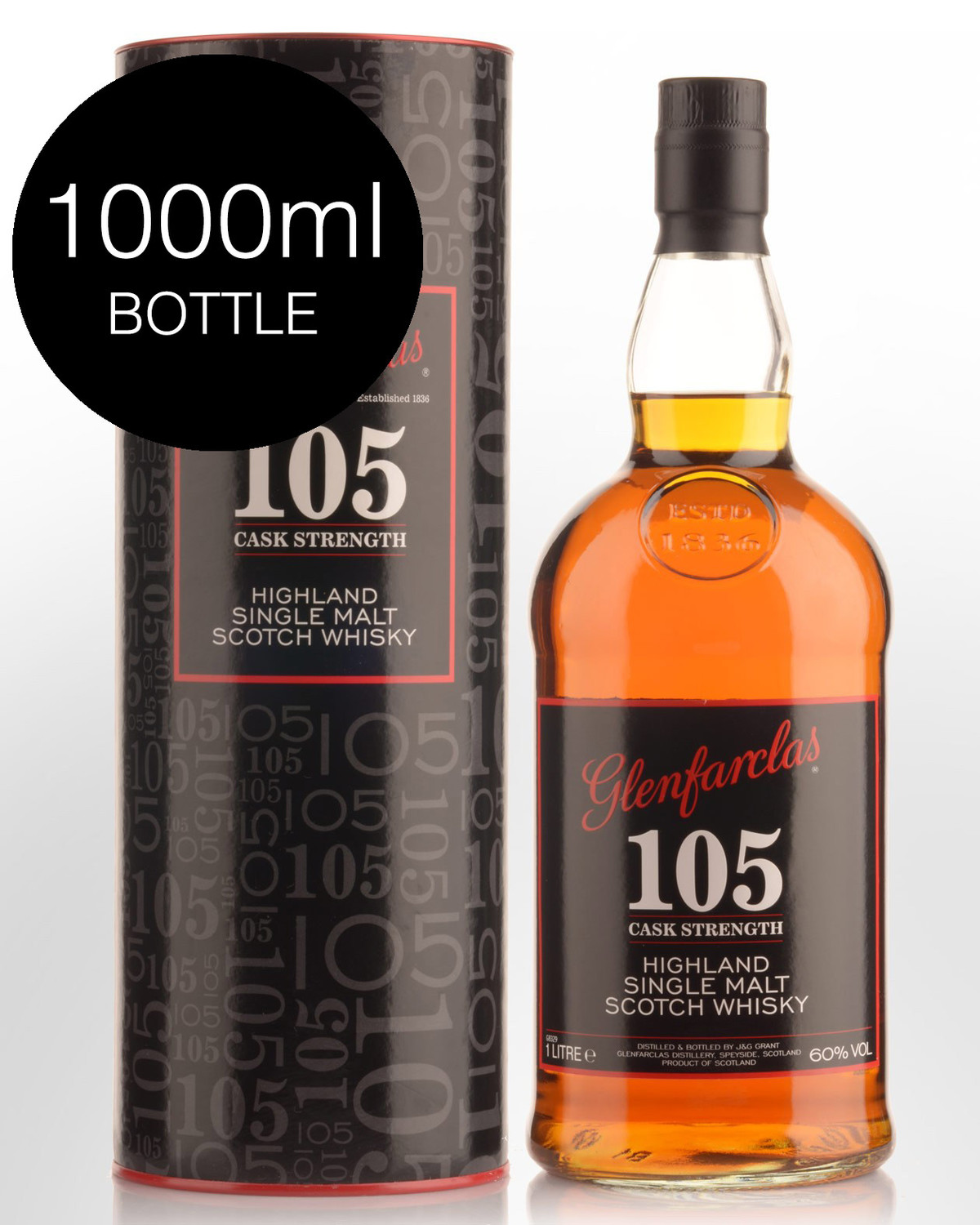 Limit Three per customer

Nick's Import

Reduced
Glenfarclas 105 Cask Strength Single Malt Scotch Whisky (1000ml)
Speyside, Highlands,
SCOTLAND
Unquestionably Australia's Best Deal in Single Malt Scotch Whisky.
Cask strength whiskies have not always been available to the general public. In fact, the very idea was incidental, and only materialised in 1968 when a fourth generation member of the Grant family bottled a single cask straight from the warehouse, and sent the bottles to family and friends as Christmas gifts. George S. Grant created a simple, hand written label for the bottles noting only the name of the distillery and the strength of the whisky (which happened to be 105 British Proof.) By the end of January the recipients requested further bottles. George obliged, and since then, Glenfarclas 105 has gone onto become one of the most highly sought after expressions in the Glenfarclas range.
The increasing popularity of cask strength single malts comes as no surprise. They provide an opportunity to taste whisky in its purest and most natural form without visiting a distillery, and conversely, to dilute to your preferred strength rather than the bottler's. Typically, they have minimal or zero filtration which tends to retain more flavour and texture. One has to take the good with the bad. Extreme alcohol can be prickly, and can even anaesthetise the mouth resulting in a less pleasurable experience. A high tax/alcohol ratio also means such spirits can be excessively pricey. If there was a holy grail of malt, then for many it would be the discovery of affordable cask strength whisky that's also achieved balance - to the degree that you can enjoy it undiluted. This is one. There are 'softer' cask strength releases on the market, but rarely in this style and very, very rarely at this price/volume ratio.
Tasting note: Beautiful polished brass / amber gold. Opening pass detects toffee apple, polished leather and juicy, grapey malt. Second pass finds marzipan and toasted oats followed by crunchie bar and intense vanilla. The aromatic range is matched on the palate, delivering a concentrated, medium dry, peppery attack with a delicious interplay between sugar, tannin and spice. Bracing yet balanced. Finishes with flashes of dates, creme-caramel and crunchie bar before drying with oatmeal biscuit, toffee apple and dappled explosions of sweet spice. Those who religiously follow Aberlour's Abunadh will discover similar thrills here. Tremendous whisky. 60% Alc./Vol.
Other reviews... long, luxurious, with a pulsing vanilla grape mix and a build up of spices; light oils intensify and elongate. I doubt if any restorative on the planet works quite as well as this one does. Or if any sherry cask whisky is so clean and full of the joys of Jerez. A classic malt which has upped a gear or two and has become exactly what it is: a whisky of pure brilliance. 95.5 points
- Jim Murrays Whisky Bible 2014
...This Scotch is named for the proof (105) of a bottle that Chairman John Grant's father, George S. Grant, bottled in 1968 as a Christmas gift for family and friends. Nut-colored, it has a markedly bold toffee aroma and lots of flavor and drama. Hazelnut, espresso and cocoa flavors linger, with hints of allspice and drying oak tannins. Though it needs more than a splash of water to arrive at a nuanced sippability, don't hold that against this almost Bourbon-like beauty. 95 points - wineenthusiast.com
...Sweet scents of Boston cream pie, citrus, and fresh forest, growing more fragrant as the liquid rests in the glass. On the palate, the citrus sweetens to baked orange tart and lemon meringue pie, with underpinnings of chocolate malt, raisins, and pepper spice. The mouthfeel is creamy and concentrated, and the finish is like a rich, full, spiced chocolate dessert. Water enhances things, bringing out more spice and chocolate. 93 points - whiskyadvocate.com, reviewed by: David Fleming 2021
...I'm really following these seminal NASses, the 104-then-105, but last time I tried it that was in 2017 (WF 86). Colour: light gold. Didn't the 105 lose some colour over time? Nose: I seem to remember quite some sherry used to be involved, but this time we're rather on malty and leafy stuff, fruit peelings, honey-glazed vegetable (try that, eggplants, turnips…) and beers. With water: beers, bitters, roasted nuts, pumpernickel. The blackest, moistest breads. Mouth (neat): I find this extremely good, if a little brutal, which was the whole point anyway. Huge maltiness, roasted nuts, concentrated syrups, artichokes and Brussels sprouts, stout… With water: takes water extremely well, it is ready for the 100 metres freestyle at the Tokyo Olympics. Excellent sweeter maltiness, barley syrup... Finish: rather long, perhaps a tad sweet(ish) but all these breads and grains can't be wrong. Comments: gold medal! What a drop, this 105, one day post-Covid we'll go to the distillery and do the largest verticale of 104-105s that's ever been done. For example, this one was maltier, and less sweet than a 2017 batch.
87 points - whiskyfun.com