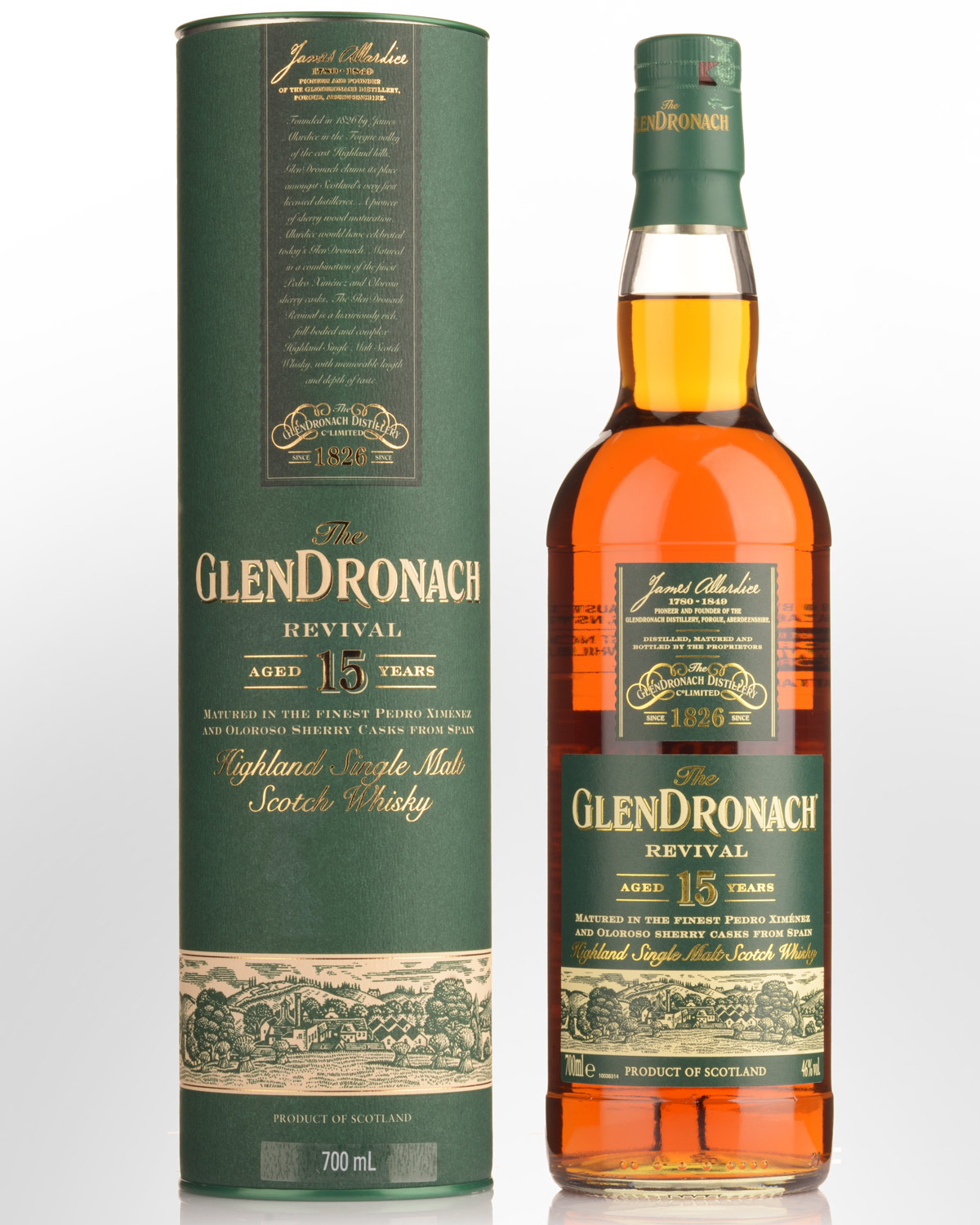 Glendronach Revival 15 Year Old 100% Sherry Matured Single Malt Scotch Whisky (700ml)
Back again! One of Scotland's most sought after 100% Sherry bargains returns.
Six years after it was re-launched in 2009, Glendronach 15 had become one of the most re-purchased whiskies on our shelves. As the unequivocal bargain in its genre, worldwide demand outstripped supply and a three year drought made its absence keenly felt. Returning in 2018, supply could not keep up with demand and it disappeared again only to re-surface in late 2019. Sadly we expect supplies to be intermittent from now on.
As of 2016, Glendronach has been under the ownership of US corporate spirits giant, Brown Forman. Hence, the question on everyone's lips is whether the Revival would maintain the standard set by Billy Walker. Master Blender, Rachel Barrie released last year's 15 year old with the distillery's signature Spanish oak maturation, only this time in both Pedro Ximénez and Oloroso sherry casks (the previous incarnation was 100% Oloroso). This latest release is again a PX and Oloroso maturation and it looks set to stay that way. Consequently, it's not quite fair to compare it to the older Revivals as the formula has changed. The whisky was awarded Best in Show / Double Gold at the San Francisco World Spirits Competition in 2020.
Tasting note: [2019 batch] Deep copper / bronze / flashes of mahogany. Very generous bouquet with a delicately bittersweet nose-feel. Properly sherried, developing hints of peel-heavy marmalade, roasted nuts, fruit'n'nut dark chocolate, raisin cake and new leather. All the signature Glendronach notes are here...and quite intense at the ABV; gently bittersweet oak, understated dried fruits and spicy cinnamon warmth, fading with honey, liquorice bullets and hints of orange spice cake. A step up from the 12 year old and remains one of the few sherried stand-outs in its price bracket. 46% Alc./Vol.
Previous batch tasted... Deep burnished copper colour. An amazing sherry influenced bouquet, instantly seduces with a powerful fresh honey and toast lift; develops heavier fruit marmalade-like scents emerge with an amalgam of spices... Time in the glass yields richer notes of nougat and caramel. Almost as generous on the palate; decadent malt - richly infused with honey and spice, the initial sweet burst beautifully counterpointed by drying oak. Finishes long and warming with delicate dried apricot and spice. A must try - even if just to experience the remarkable aromatics. 94 points
Other reviews... The nose offers rich sherry, ripe cherries, walnuts, milk chocolate, and marzipan, with a savory hint. Full-bodied, with a palate of spicy damsons, cinnamon, dried fruits, and dark chocolate. The finish is long, with cloves and blackcurrants. Luscious! 92 points - Reviewed by: Gavin Smith (Winter 2018), whiskyadvocate.com