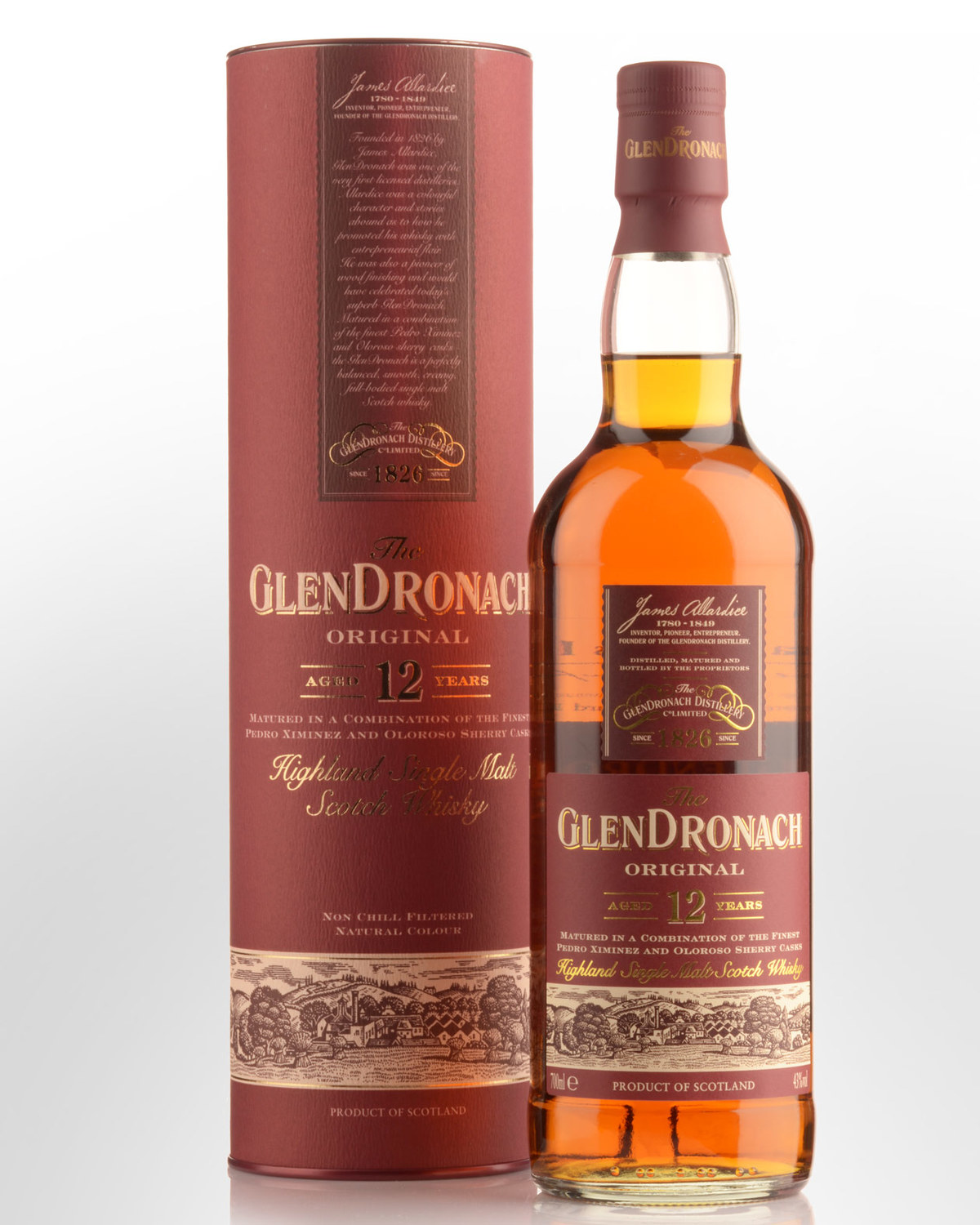 Glendronach Original 12 Year Old Single Malt Scotch Whisky (700ml)
As of 1996, Glendronach was mothballed for a number of years by its then owners, Allied Distillers. It returned to full production in 2002. Allied Distillers was taken over by Pernod Ricard in 2005 and the distillery was passed to Chivas Brothers. In the same year the distillery converted to steam heating (it was one of the last to heat the stills by coal fire). This bottling of the 12 year old is the first 'new' release since the distillery recommenced production following its six year lay off. It's 'upgraded' to 43% ABV, unchill filtered and matured in a combination of Pedro Ximenez and Oloroso Sherry casks.
Tasting notes: Bright brassy gold. Clean, semi sweet scents of dried fruit, cocoa and vanilla; sweet biscuity malt and vanillan oak offer good depth in the early stage, hollowing out towards the finish but otherwise completely unrecognisable from its previous incarnation as a sulphur bomb. 43% Alc./Vol.
Other reviews... [+/- 2021 bottling] We've last tried the 12 in 2017, so time for one of our periodic reviews… Colour: deeper gold. Nose: whiffs of pencil shavings at first, then a growing triple-secness (!?) coming with the usual walnuts and bitter almonds. That's all well and nice, with the pencil shavings going more and more towards cedarwood, which was to be expected. New cigar humidor, marzipan, orange zests... Frankly, this is lovely. Mouth: similar, on more cedarwood, bitter almonds, amaretti, then cracked pepper and a little juniper and caraway. Prunes and sloe. A little oak-led but that's all fine in this context, since the distillate is pretty big in the first place. 43% is a perfect strength here. Finish: rather long, with even more bitter oranges and almonds, caraway, pepper. Fresh oak again in the aftertaste. Comments: firmer and less raisiny than I remembered it, and spicier. Really to my liking, given that the oloroso part seemed to have the upper hand (over PX), even if it was in the minority. 85 points - whiskyfun.com
First tasted 20/07/2011 While it has received mixed reviews, the impression from our initial tasting is that at the time, the distillery was obviously just getting back on its feet. Unfortunately, it shows in the whisky. If you've had different experience with this bottling please let us know. We'd be happy to retaste. Bright burnished copper colour. Hessian bag and rubber band overlay some mild dried fruit / cigar box notes. Ten, even twenty minutes in the glass does nothing to improve the aroma. The palate has good intensity. Medium dry with a vague suggestion of sweet cereals, dried fruit and dilute honey, but drying tannins quickly swamp the mouth leaving little more than a slightly hot, spicy power wave to contemplate. Finishes thin, woody, slightly bitter and rubbery. Short aftertaste. Disappointing. Non chill filtered. 43% Alc./Vol. 79 points
... Nicely sherried. Rich, with maple syrup, honey-drenched citrus, sultana, and a good dried oak spice finish for balance. Well done for a 12 year old, and definite competition for Macallan of the same age. 86 Points - John Hansell - whisky Advocate (Summer 2010)