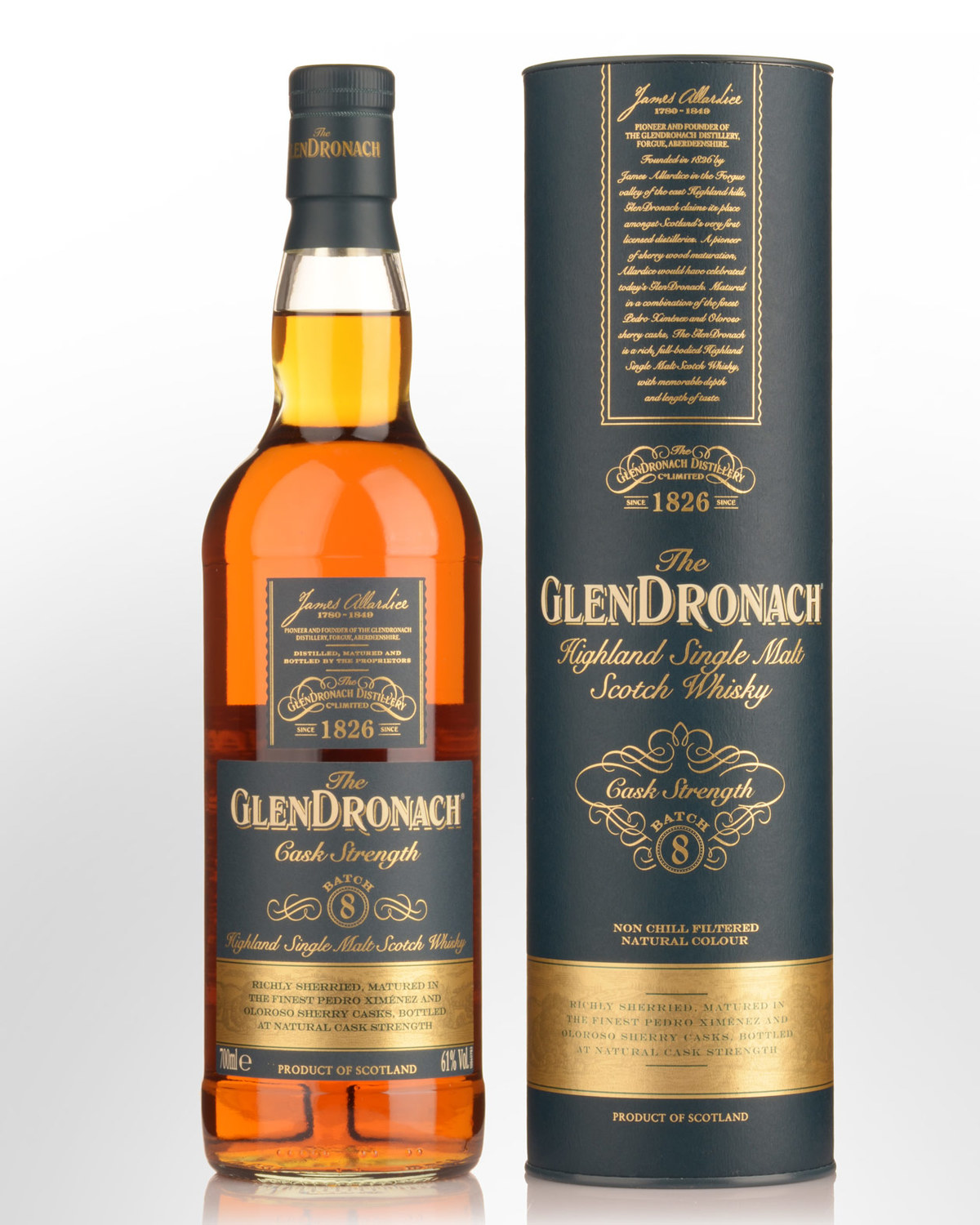 Glendronach Batch 8 Cask Strength Single Malt Scotch Whisky (700ml)
Your final chance at what is reportedly one of the best releases in the Batch Series to date.
Our April shipment was to be the last call on Batch 8. Given that the series is now up to Batch 10, having a third and final chance at a fraction above the opening price presents an extraordinary opportunity for collectors and drinkers. Buyers should also note:
Batch 8 is the only bottling in the series to date to breach the 60% barrier, with almost all other releases bottled at closer to 55%. This is the bomb.

Remaining stocks were already selling at a premium in early 2021. This is essentially a "museum release" near opening price.

Batch 8 is generally described as one of the better releases in the series and remains one of the best 'bang for your bucks' in its category, sporting more 4-5 star user reviews around the web than most similarly priced sherried malts.
Striking a multi-layered balance between richness and boldness, Oloroso and Pedro Ximenez are in command here with a monster alcohol in support. We'd expect this will need a splash of water, although some say it's surprisingly 'easy' despite the extreme ABV. Given the vibe around this series, we expect this to go fast. Limited to 6 bottles per customer. Comes non chill filtered.
Other reviews... As with previous batches, this was matured in a mix of Pedro Ximénez and oloroso sherry butts, puncheons, and quarter casks. The nose offers quite subtle sherry, malt, vanilla, dark chocolate, and black treacle. The palate is notably spicy, with hot ginger, black pepper, cloves, and cinnamon, along with sherry, cocktail cherries, more dark chocolate, and bitter coffee. Long, oaky, spicy, and drying in the finish. 61% Alc./Vol.
91 points - whiskyadvocate.com, reviewed by: Gavin Smith (Spring 2020)
...Oloroso sherry is unsurprisingly prominent on the nose, with lemon curd, baking spices, toffee, and macadamia nuts. The palate showcases milk chocolate with icing-covered cinnamon buns, along with red grapes, dates and prunes, and trail mix with assorted candied fruits and nuts. The finish is zesty and spicy, with an altogether easy nature belying its cask strength. Let this one open up in the glass for a time before enjoying. 90 points - distiller.com