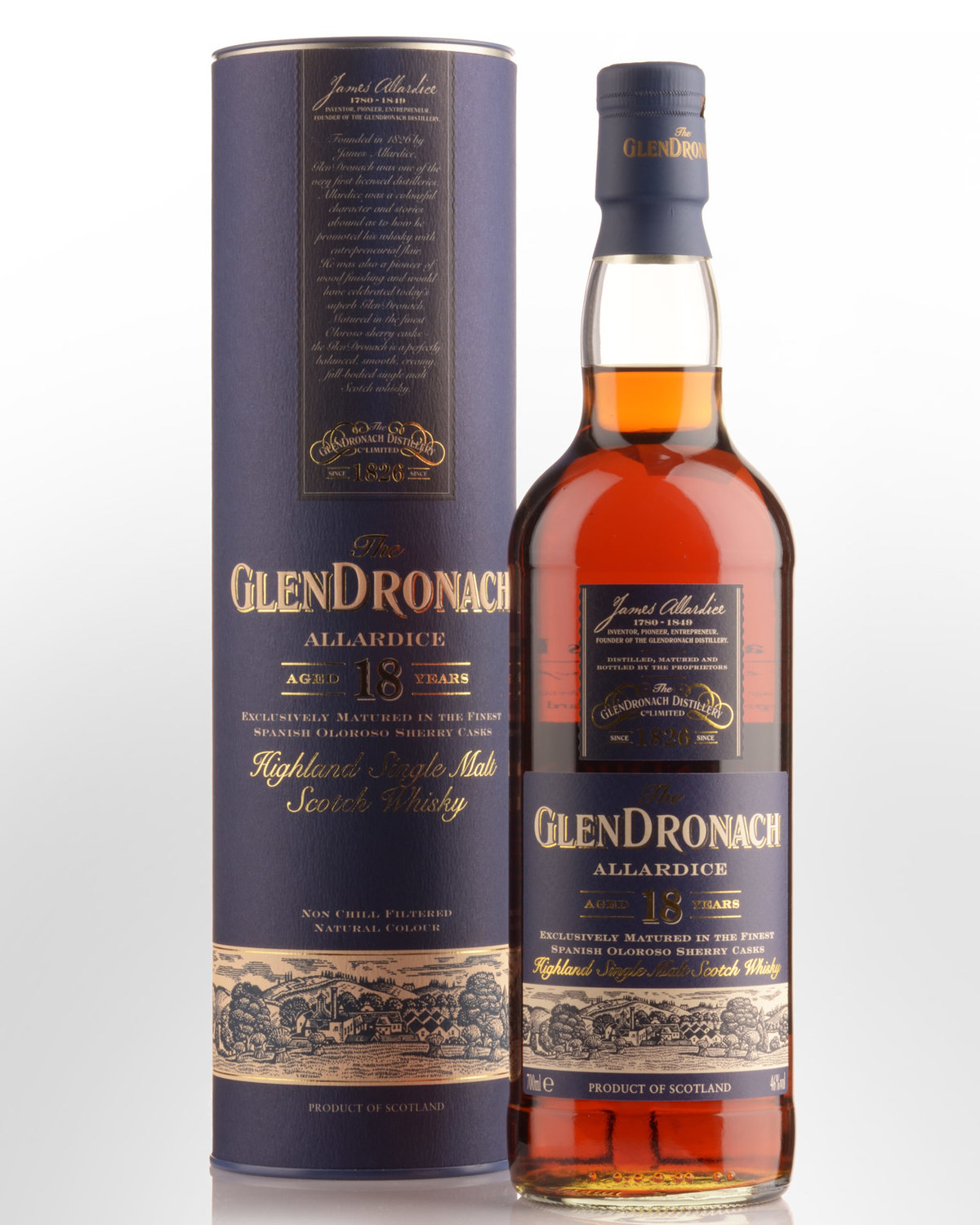 Glendronach Allardice 18 Year Old 100% Sherry Matured Single Malt Scotch Whisky (700ml) - 2018 Batch
Limited to one bottle per customer.
When Glendronach first opened its doors in 1826 many Scottish single malts were matured in Spanish sherry casks. However over the years the ever-increasing rarity and price (they are over 10 times as expensive as 'standard' barrels!) has seen a major switch to American Bourbon barrels by the industry. Indeed today there are perhaps only two distilleries that can truly be classified as 'sherry maturation' houses and only one where 100% of the single malt sold still enjoys its primary maturation exclusively in sherry casks. Glendronach is proud to be that distillery.
Tasting note: [2014 bottling] We first tasted Allardice in 2009. It was not like this. Even more compelling than the 15 year old - it diverges into fully fledged adulthood showing more self restraint and more complexity. The colour beautifully catches the light with its viscous and pure mahogany/copper appearance. Once past the slightly sulphury opening phase, this reeks of Oloroso infused malt with fruit'n'nut chocolate and cinnamon followed by suggestions of marzipan, orange cake and ultra-aged muscat. A superb sniff. On the drier side, but with classic sherry hallmarks; raisin cake, cinnamon and ginger biscuit feature in the initial stages; the oak enters at mid palate offering a mildly tannic bridge which would have otherwise left a hollow if not for the late muscat and cherry chocolate surge. There's hints of sulphur, yet so fleeting and mild to be considered a complexing factor. And the reverberating fade is quite remarkable - soon after it's gone it's back. Comparable to Hors d'Age Armagnac in delivery - the notch up in succulence is Grandeur ($899), but at a fraction of the price the 18 Year Old is a steal. Love this all the more because it rewards focus and long attention. It will be polarising for some, but isn't that what whisky appreciation is all about? 46% Alc./Vol.
First tasted September 2009 Deep, brassy gold colour. Shy aromas. First nosings offer fruit and nut, chocolate fudge and some orange notes. These eventually subside revealing a subtle rubberiness - just light enough to be tolerable. The palate offers good concentration, though it is slightly bitter and somewhat flat with subdued malt and spice notes before the rubberiness breaks through again. Shows moderate length. 86 points
Like most Scottish Distilleries, Glendronach has had a chequered history and has been opened and closed more times than the kitchen door. Founded by James Allardice in 1826, the Duke of Gordon liked the whisky so much that he took Allardice with him to London, to present him to London's gentry. But the success went to Allardice's head. He neglected his distillery until 1837, when it was destroyed by a fire. The licence and the ruins of the distillery were sold to Walter Scott, who worked at the Teaninich distillery. The distillery closed in 1916 and was bought in 1920 by Charles Grant, one of the sons of William Grant. Glendronach remained in the Grant family until 1960 when it was sold to William Teacher & Sons by George Grant. Teacher's has since been acquired by Allied Breweries, currently under control of Allied Distillers Ltd. The Glendronach distillery was mothballed since 1995, but production resumed in 2004. The malt is used in the Ballantine and Teachers blends.