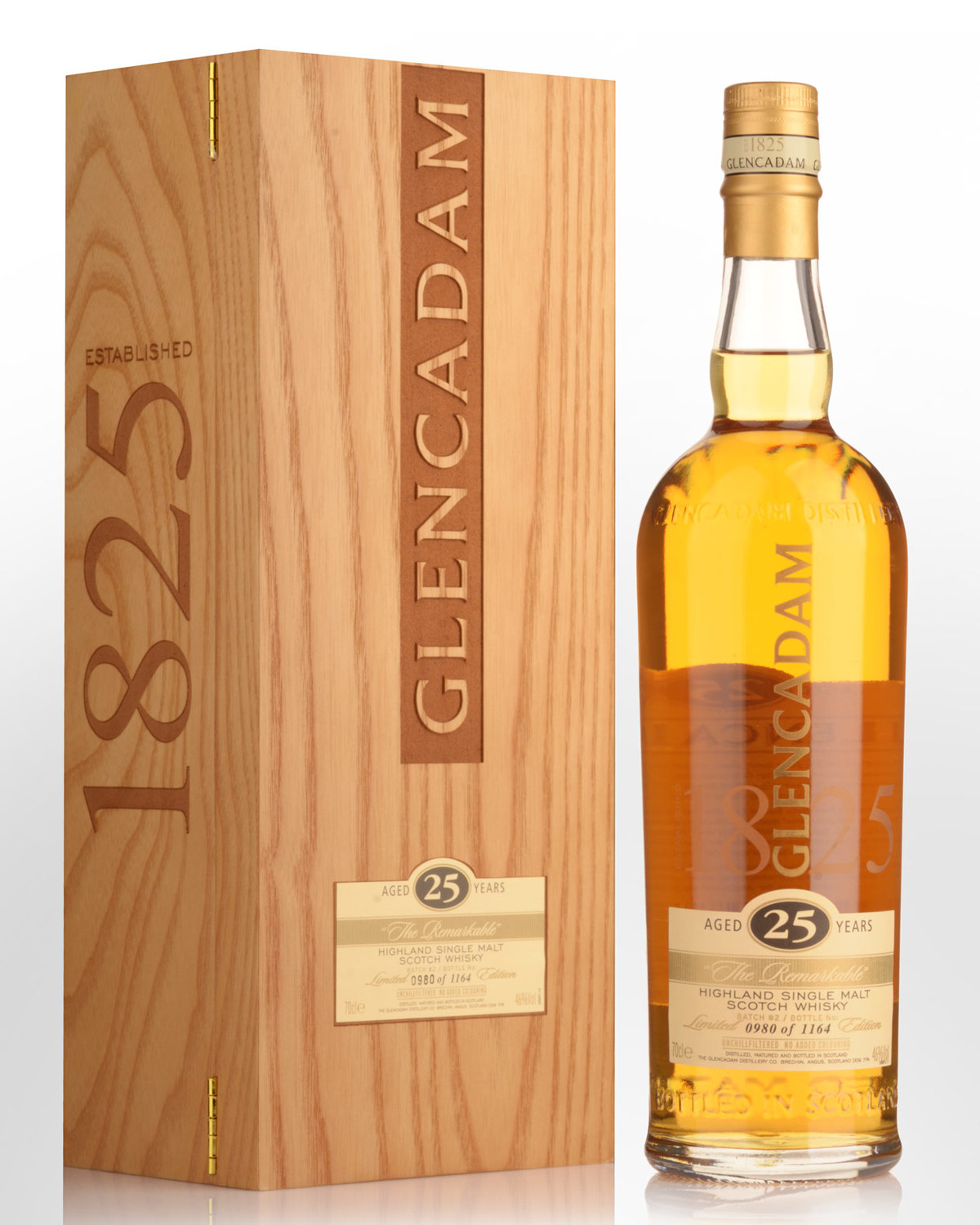 Glencadam 25 Year Old Single Malt Scotch Whisky (700ml)
Extremely limited stocks.
From an outturn of 1164 bottles, the limited-edition 25 Year Old was laid down before the turn of the millennium shutdown of the distillery. Initially launched in 2016 and aged in ex-bourbon barrels, it's reportedly quite sprightly for its age, with a sweet, floral nose, and a supple, creamy mouth feel with rich notes of vanilla, honey and orchard fruits. Non chill filtered. 46% Alc./Vol.
Other reviews... Imagine the best-balanced team Mourinho ever produced for Chelsea. Well, it was never as good as this nose... 95 points - Jim Murray's Whisky Bible 2021
...Refined aromas of dried apricots, strawberries, peonies, candle wax, marzipan, graham cracker, candied ginger, and vanilla frosting carry through to the palate, which showcases sugared almonds, Raisinets, dried apricots, red berry jam, Fig Newtons, and savory tobacco. A few drops of water temper oak tannin. The finish is lengthy and complex, yet soft with orange marmalade, dark chocolate, coffee bean, dried cherries and ginger, and tobacco. There's a lovely delicacy among layered complexity.
93 points - whiskyadvocate.com, reviewed by: Susannah Skiver Barton (Spring 2021)
...Not too sure about the name, sounds a bit like Friday marketing. But yeah, who cares about the names when we've got the ages? Colour: pale gold. Nose: rather very perfect, bright, delicately malty, but with a firm waxy structure, some sweet barley, a touch of papaya, and crushed fresh hazelnuts. Then perhaps cigarettes and a little cedar wood, plus a little praline. This is some very elegant nose. Indeed, rather remarkable. Mouth: starts with bright yellow fruits, yellow peaches, even a touch of pineapple, a drop of litchi juice, then we rather have more tropical fruits (more papayas, perhaps guavas) and pink grapefruits. Some vanilla but not much, and a little sugar syrup, although it never gets sugary as such. Finish: medium, really fruity, with little oakiness and rather crisp oranges plus juicy marzipan. Also sugar Easter eggs? Comments: I knew this was going to be pretty excellent. It's rather sweet on your palate. 87 points - Serge Valentin, whiskyfun.com