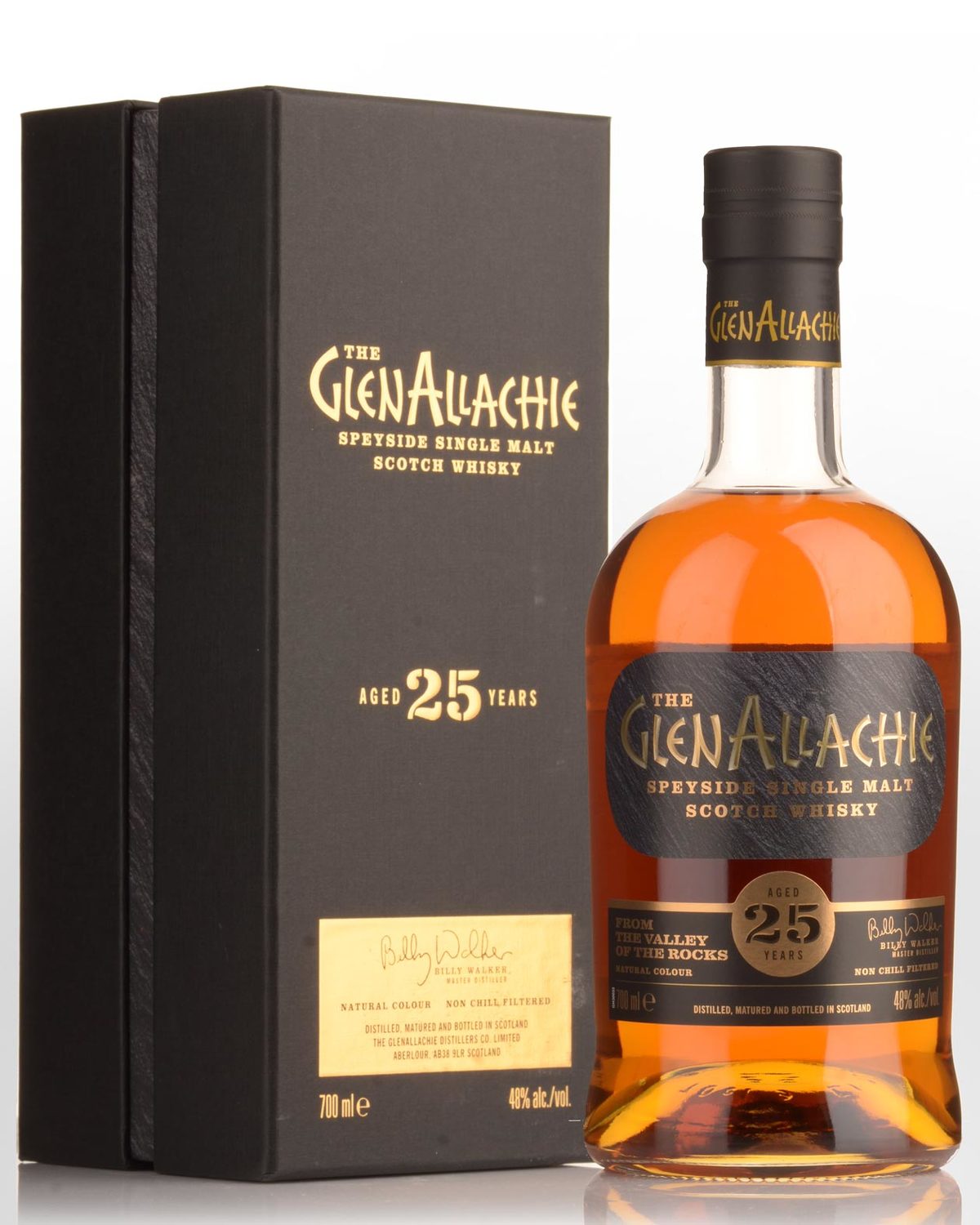 Glenallachie 25 Year Old Single Malt Scotch Whisky (700ml)
Speyside, Highlands,
SCOTLAND
Tasting note: Matured in a combination of Pedro Ximinez and Oloroso casks and bottled at a slightly higher ABV, this is the pinnacle of Glenallachie's new core range with just 160 bottles offered to the huge US market. Australia recently received a handful. It's hard not to like what happens to Glenallachie as it ages. The extroverted richness is tempered, and the malt takes on a more mature, integrated persona. There's still no shortage of flavour, especially ample dried fruit and chocolate box notes, however the layers and length make this more of a thinking man's malt. The freshness of youth is also nicely retained at the finish. 48% Alc./Vol. Non chill filtered. Other reviews... The oldest bottling in the range, this was aged in a combination of Pedro Ximénez, oloroso, and American oak casks. Farmyard aromas, with oak and dark chocolate. Very smooth and supple on the palate, with orange marmalade, raisins, and old oak. The finish is quite short, with dried fruit and milky coffee.
89 points - whiskyadvocate.com, reviewed by: Gavin Smith (Winter 2018) ....Some PX in action again, it seems. What was done at GlenDronach seems to be done at GlenAllachie too, but as Audrey Hepburn used to say, "Why change?". No, that's an actual quote. Colour: gold. Nose: is it normal that I get something reminiscent of Bruichladdich? Such as melons and juicy peaches, with some 'Atlantic Freshness' too? Sorry if I sound like a bottle neck hanger. Then some custard, orange cake, a very discreet sourness (vanilla yoghurt), and notes of fresh sweet bread, orange blossom water... And very little PX. In short, no truckloads of grassier raisins on steroids. Mouth: we're closer to the 10 CS, with quite some youth and probably not a feeling of 'unhurried 25 years old malt whisky'. Not what they claim to anyway. Some oranges, pepper, a wee camphory/mentholy side, some nutmeg, and some rather grassy fruits. Perhaps bilberries? Whortleberries? Finish: medium, fruity and spicy, not unlike some Indian sauces that you would pour over, say good chicken. Have to try that one day. Notes of lavender sweets again in the aftertaste – no, certainly not Parma Violets, this is not Bowmore 1985! Comments: once again, an unusual drop, and a style that's rather new, a bit reminiscent of what some new world distilleries are doing with smaller casks. Really worth checking, I believe they have found, or create 'an own style'.
85 points- Serge Valentin, whiskyfun.com Notes from GlenAllachie... Aromas of sweet spices, marmalade and sultanas balanced in total harmony. The palate offers lashings of sultanas, pineapples and dark chocolate, followed by layers of Christmas cake, marmalade and sweet spices.