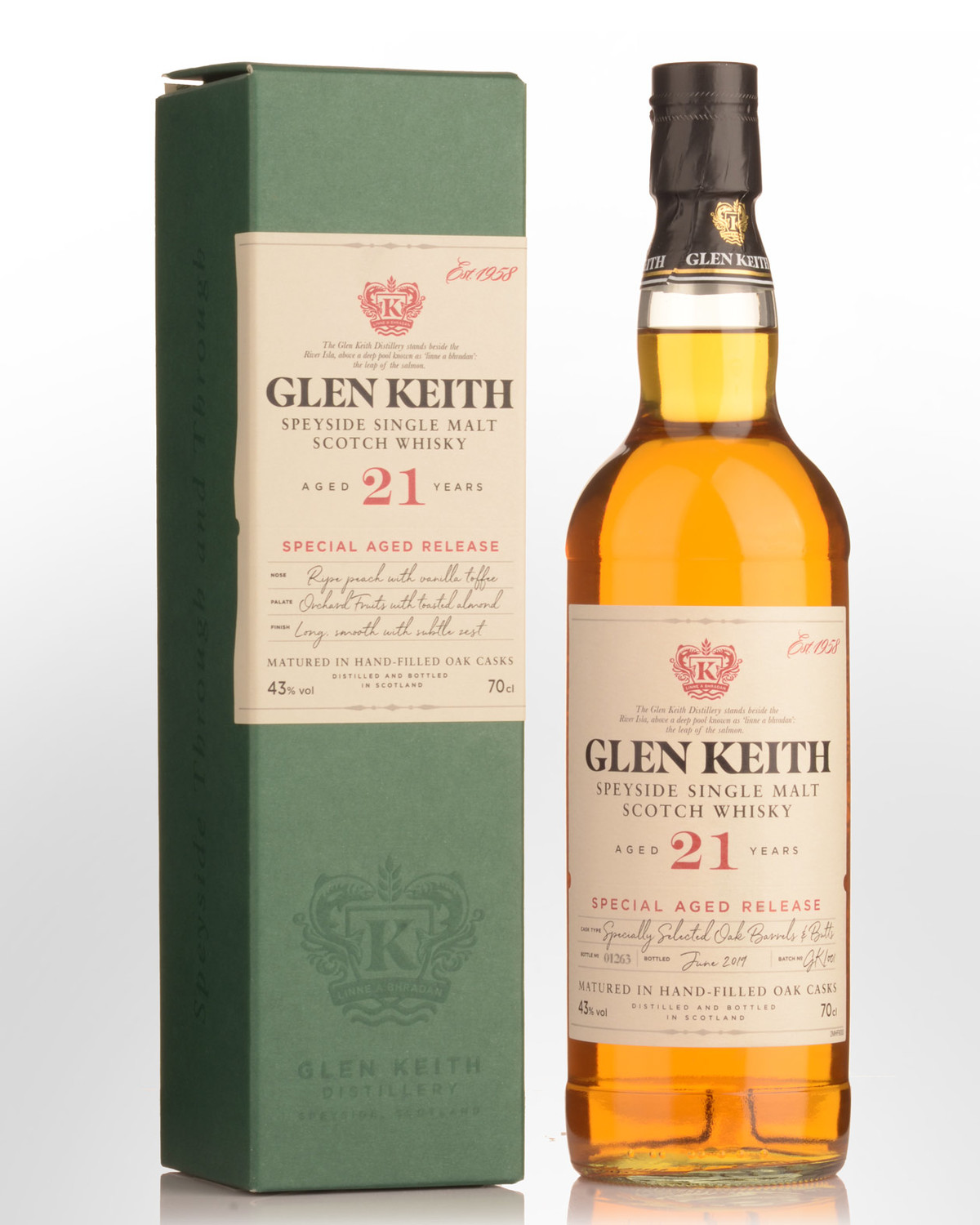 Glen Keith 21 Year Old Single Malt Scotch Whisky (700ml)
Speyside, Highlands,
SCOTLAND
Following Diageo's lead, Chivas are offering a 'Secret Speyside Collection' to show off whiskies from some seldom-seen distilleries. This well-aged Glen Keith was drawn from 'specially selected barrels and butts' and is summed up as fruity, nutty and soft, even "a little old fashioned". Very limited stocks.
Other reviews... This newish one by Chivas Bros., from a blend of 1st fill ex-American oak and refill European oak casks, with a livery that reeks of good old George VI's days. No? Colour: gold. Nose: oh, praline cream, butterscotch, Demerara sugar, hazelnut filling, crème brulée (bigly – whoops, I suppose you can't say that anymore), maple butter, then apricot jam and all-flower honey. Fresh raisin rolls too. This baby's got a clear regressive side, I can't see who wouldn't enjoy this nose. Please keep away from children! Mouth: that's the thing, sometimes you have to enjoy slightly simpler, less challenging (some would say less masturbatory) malt whiskies, and this is a fine example. In a way, it's a slightly tarter and tighter Glenlivet, with more citrus. Other than that, we've got anything that you would find in a tearoom, so tea (wow, S.!), scones with clotted cream, teacakes, various buns, cookies, cucumber sandwiches (oh, not!)… and of course, malt whisky under the table. Very good, if a little old-fashioned. Finish: medium – not short – and on malted barley and cakes. Earl grey, please. Comments: delicate and indeed, a little antiquated I would say. Very charming. 87 points - whiskyfun.com
Gold - Distillers' Single Malts 21 years old and over - 2020 International Spirits Challenge