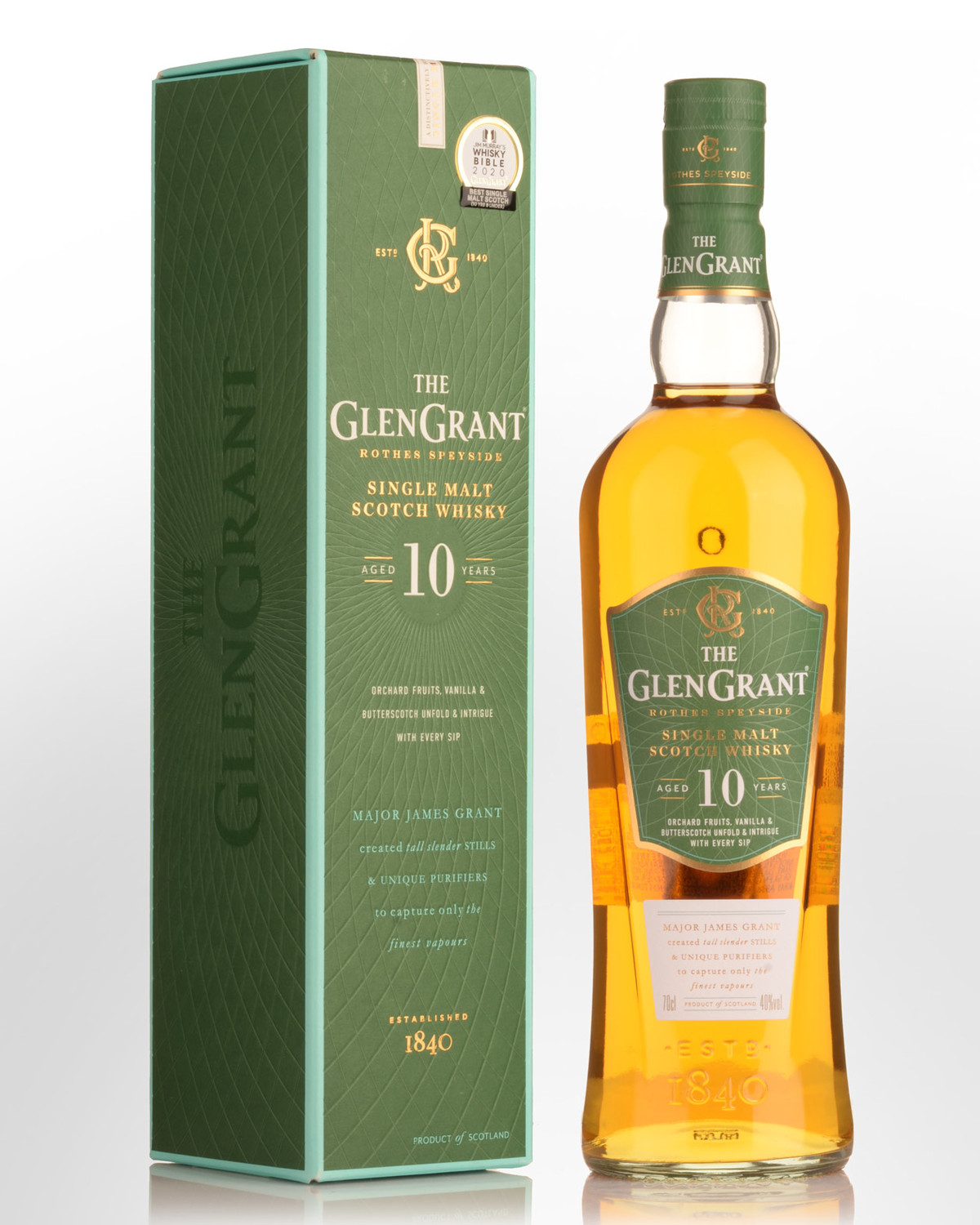 Glen Grant 10 Year Old Single Malt Scotch Whisky (700ml)
Speyside, Highlands,
SCOTLAND
Awarded: 'Best Single Malt Scotch 10 Years & Under'
- Jim Murray's Whisky Bible 2015
The Glen Grant distillery is named after its two founders, James and John Grant who built the distillery in Rothes in 1840. After their death, the son of James, Major James Grant took over the business, and built another distillery across the road naming it "Glen Grant II" (today known as Caperdonich). The Major always aimed at producing a first rate malt, and so designed the distilleries especially tall, slender stills and purifiers himself. He reputedly enjoyed leading guests through his exotic gardens to a nearby falls where, taken from his secret whisky safe, he'd offer drams of Glen Grant accompanied by spring water drawn from the same Speyside burn that still feeds the distillery today. When the Major died, his grand son, Major Douglas Mackessack took over the distillery, continuing its success.
Like most distilleries, Glen Grant closed its doors during the two World Wars due to a lack of barley and has since changed ownership several times. Most recently, the distillery was sold in 2006 to the Italian group Campari as a result of the acquisition of Allied Domecq by Pernod Ricard. Glen Grant remains one of the world's best-selling single malts (being especially popular in Italy), and is also available in various independent and vintage bottlings.
Tasting note: Pale straw colour. Moderate bouquet yields semi sweet, mildly fruity scents (nashi pear) followed by hints of dried grass. Light to medium bodied with subtle flavours of biscuity malt, vanilla and spice. Finishes dry and clean with a touch of fruitiness offering freshness. A little short. Light easy drinking. 40% Alc./Vol.
Other Reviews: (95 points) - (n23.5) OK: let's take turns in counting the rungs on the barley ladder here...the usual crisp aroma, but softened by deft, if unspecific fruitiness (maybe the distant aroma of a very old orange and by no means unpleasant!), myriad vanilla and butterscotch notes can do without the toffee one; (t24) magnificent! A malty delivery which simultaneously melts in the mouth, yet offers granite-like barley that crashes into your teeth; the star, perhaps are the sugars which vary from caster, through golden syrup and pans out somewhere in the muscovado range - curiously honey-free, though; (f23) a tad tangy, though the caramel returns to turn out the lights after the butterscotch and marzipan say goodnight...; (b23.5) unquestionably the best official 10yo bottling i have tasted from this distillery. Absolutely nails it! Oh, and had they bottled this at 46% abv and without the trimmings...my word! Might well have been a contender for Scotch Whisky of the Year. It won't be long before word finally gets out just how bloody good this distillery is. - Jim Murrays Whisky Bible 2013