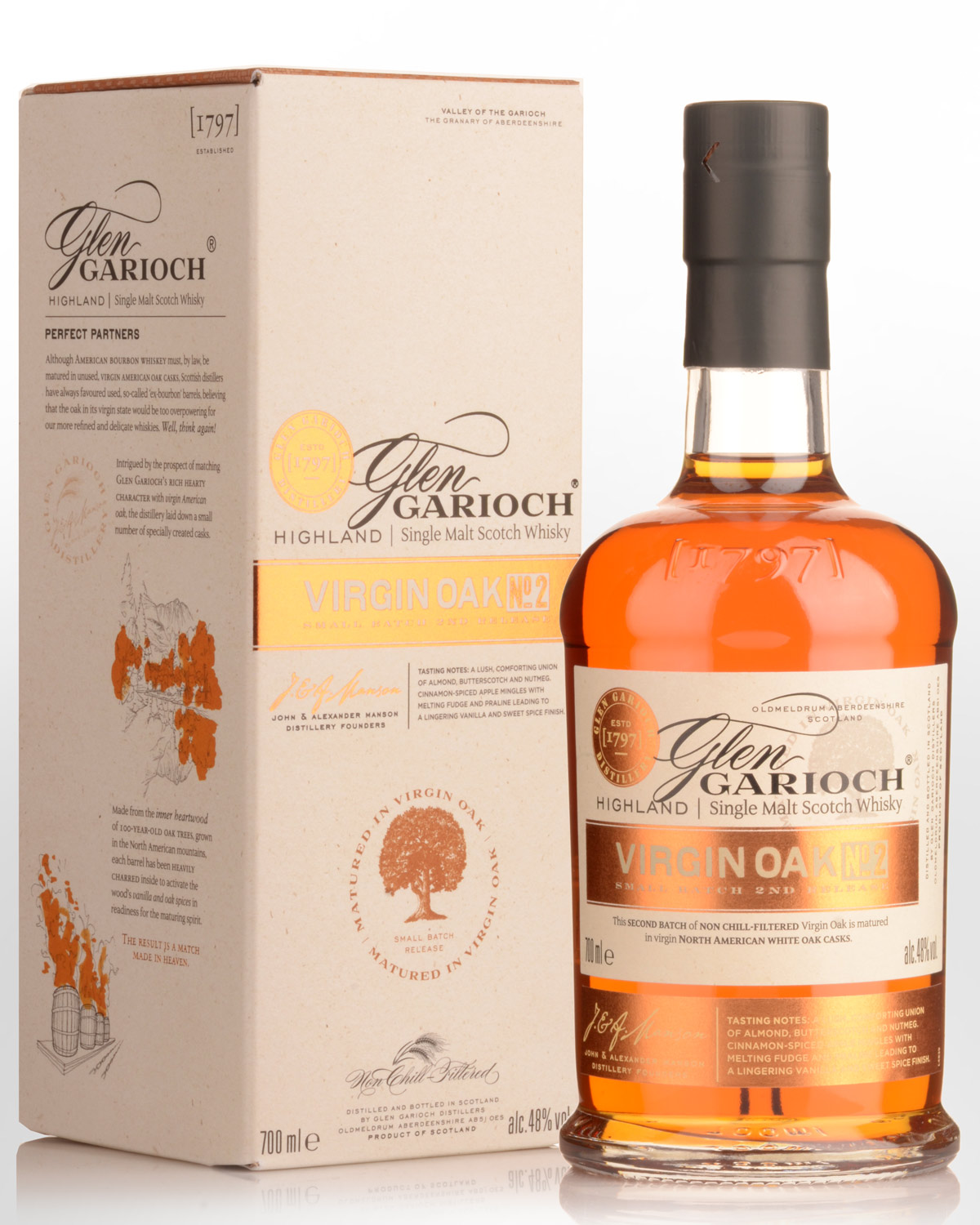 Glen Garioch Virgin Oak No.2 Single Malt Scotch Whisky (700ml)
Speyside, Highlands,
SCOTLAND
A Glen Garioch entirely matured in virgin white oak casks. These barrels were made from the inner heartwood of 100 year old North American oak trees. The barrels were heavily charred to further increase the oak influence. Comes non chill filtered.
Other reviews... Glen Garioch spirit is sufficiently robust to cope well with virgin oak, and the nose of this expression yields the bold aromas you would expect from heavily-charred virgin oak maturation: spicy milk chocolate, buttery malt, and ripe peaches. Cocoa, malt, and cloves on the palate, plus lots of wood spice. The finish yields vanilla, ginger, and the inevitable oak.
90 points - whiskyadvocate.com, reviewed by: Gavin Smith (Summer 2020)
Better do this one first. NAS and new oak, what could go wrong? I remember the first batch, back in 2013, was extremely tannic (WF 70) but the world is all about progress, is it not? Colour: gold. Nose: the noses are always fine, in this case full of quince jelly, papaya and guava, cider and plum pudding. Tarte aux quetsches, bettelman (Alsatian clafoutis – right), bread pudding, nougat. No complains at all this far, on the contrary. Come on cheeks, tighten up… Mouth: oak-doped for sure, this is more an oak concoction than 'whisky'. This feeling of having downed the whole teapot (I mean its content) plus turmeric, ginger, cinnamon and nutmeg at the power of two. Some oranges and apples are trying to find their way in this forest but that's really too tough. A spoonful of curry powder. Finish: long, spicy and tannic. Green walnuts, resins and cracked black pepper in the aftertaste. Comments: a true lumberjack's tipple. Not quite my style I'm afraid. 72 points - whiskyfun.com