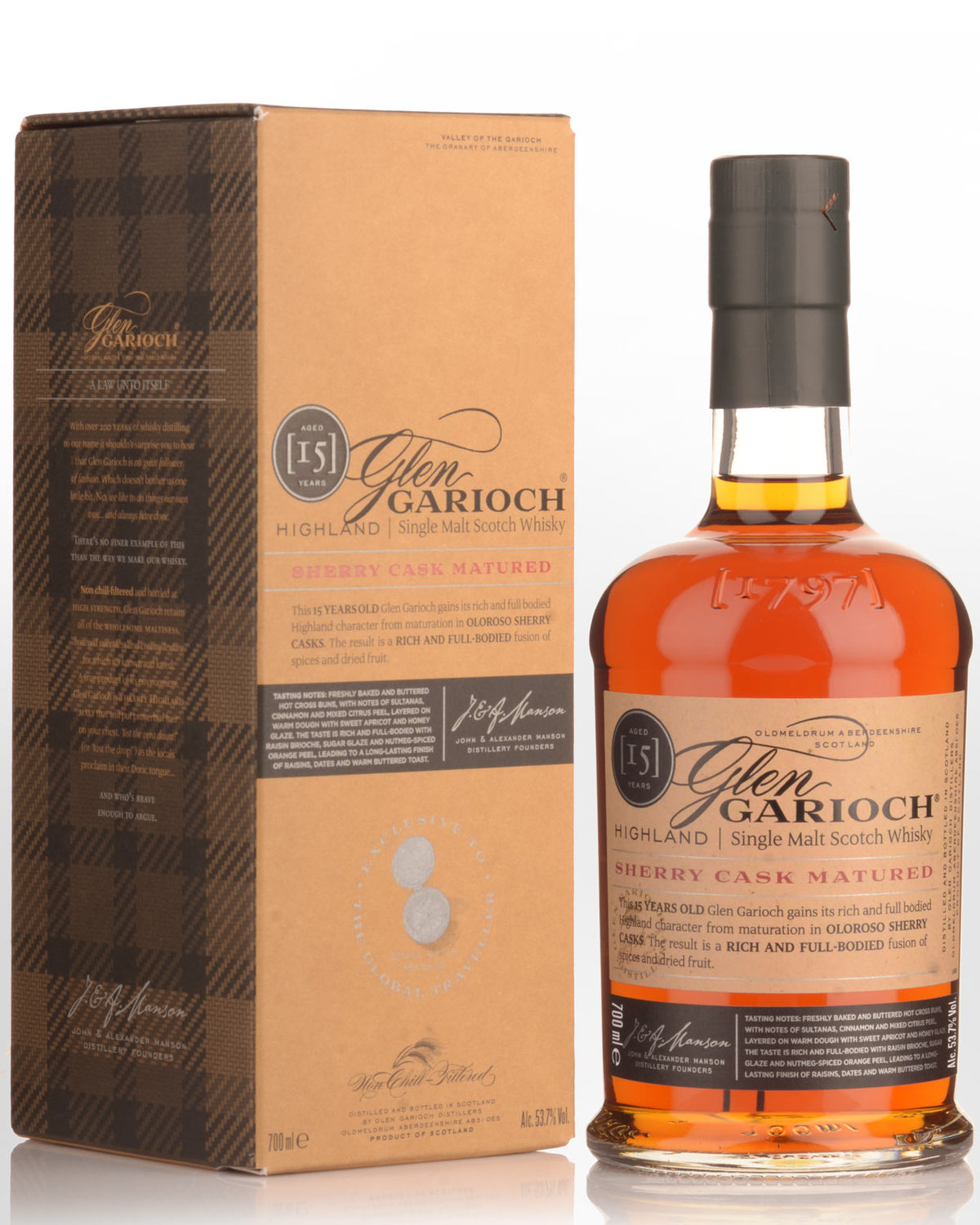 Limit Two per customer

Nick's Import

Discontinued
Glen Garioch 15 Year Old Sherry Cask Matured Cask Strength Single Malt Scotch Whisky (700ml)
A cask strength oloroso gem. Highest recommendation.
Was selling for AU$200 at UK retailers, now discontinued. Get some of this - you won't regret it!
If you're looking for cask strength Oloroso sherry matured malt that's also affordable, and with a decent age statement, this ticks all the boxes. There are lots of very enthusiastic reviews from bloggers and whisky lovers online for this release, with the consensus being it's "A true old-school sherry whisky." So when we were (again) offered a parcel at a price that was impossible to resist, we took everything we could get. Sourced from one of the oldest operating distilleries in Scotland and now discontinued, we may / may not be able to source more in future shipments.
Tasting note: Brilliant copper in colour. A touch of sulphur from a fresh bottle blows off after air contact. Given time, there's beautiful sherry pick up on the nose: Dense and almost nutty, with fruit cake, cinnamon toast, liquorice root and zesty peel freshness. Air contact draws out raisin slice, pepper, dark chocolate and hints of vanilla. Juicy and waxy on entry with impressive sherry definition: Raisin cake, orange zest and baking spices build with the brittle malt in a full bodied attack. The high ABV barely rears its head. Gently bittersweet, the finish turns pleasingly astringent and nutty with lingering cigar box and spice. A big bang-for-your-buck malt from an ever dwindling category. Rewards extended breathing. 53.7% Alc./Vol. Non chill filtered.
Initially, whisky produced at the distillery was transported to nearby Aberdeen by horse and cart, to be sold to blenders and wholesalers. The late 1800s saw a large parcel of the company purchased by William Sanderson founder of William Sanderson & Sons, which saw the malt coupled with grain whisky from the North British Distillery and used in the hugely successful Vat 69 blend until the First World War. When the younger staff went to serve in the military, low volume production was maintained throughout the period.
Prior to prohibition in the United States, which saw demand plummet, Sanderson & Sons purchased the remainder of the company. This would later prove to be a fatal mistake. Sanderson & Sons were forced to put the distillery up for sale in 1933 - the same year prohibition ended. Scottish Malt Distillers purchased Glen Garioch in the late '30s, but by the late '60s the distillery was again up for sale, due to frustration with Glen Garioch's limited capacity. In particular, the water source wasn't able to keep up with demand. 1970 saw the purchase of the distillery by Stanley P Morrison Ltd, who immediately started looking for an additional water source in order to expand production.
Glen Garioch's first Single Malt bottling was released in 1972, presumably from material distilled prior to Morrison's acquisition. Readers might recall a recent mention of the Scots being eager to save a dollar, which resulted in the widespread use of American ex-Bourbon casks. This same philosophy lead to Glen Garioch creating enormous greenhouses near the distillery for the cultivation of fruits, vegetables and flowers by employing the excess heat from the distillery. An ingenious environmentally friendly approach that would be applauded today! The greenhouses continued until the early '90s when the project was ceased. It seemed that the marketing of fruit and vegetables was slightly different to whisky, and juggling between the two in an increasingly competitive market place proved difficult. In 1995, following Suntory's purchase, the distillery was mothballed when ownership was transferred to Beam-Suntory's subsidiary 'Morrison Bowmore'.
Following its reawakening in 1997, the distillery released a series of bottlings. Clearly, the new owners have great confidence in the quality of the malt here, with all of its production dedicated to single malt rather than blends. The equipment is now modern. Stainless steel washbacks and short ferments bestow " a deep cereal and spice note to the new spirit which also has a distinctive waxy, tallow-like, character". Until recently, the house style has remained unpeated.