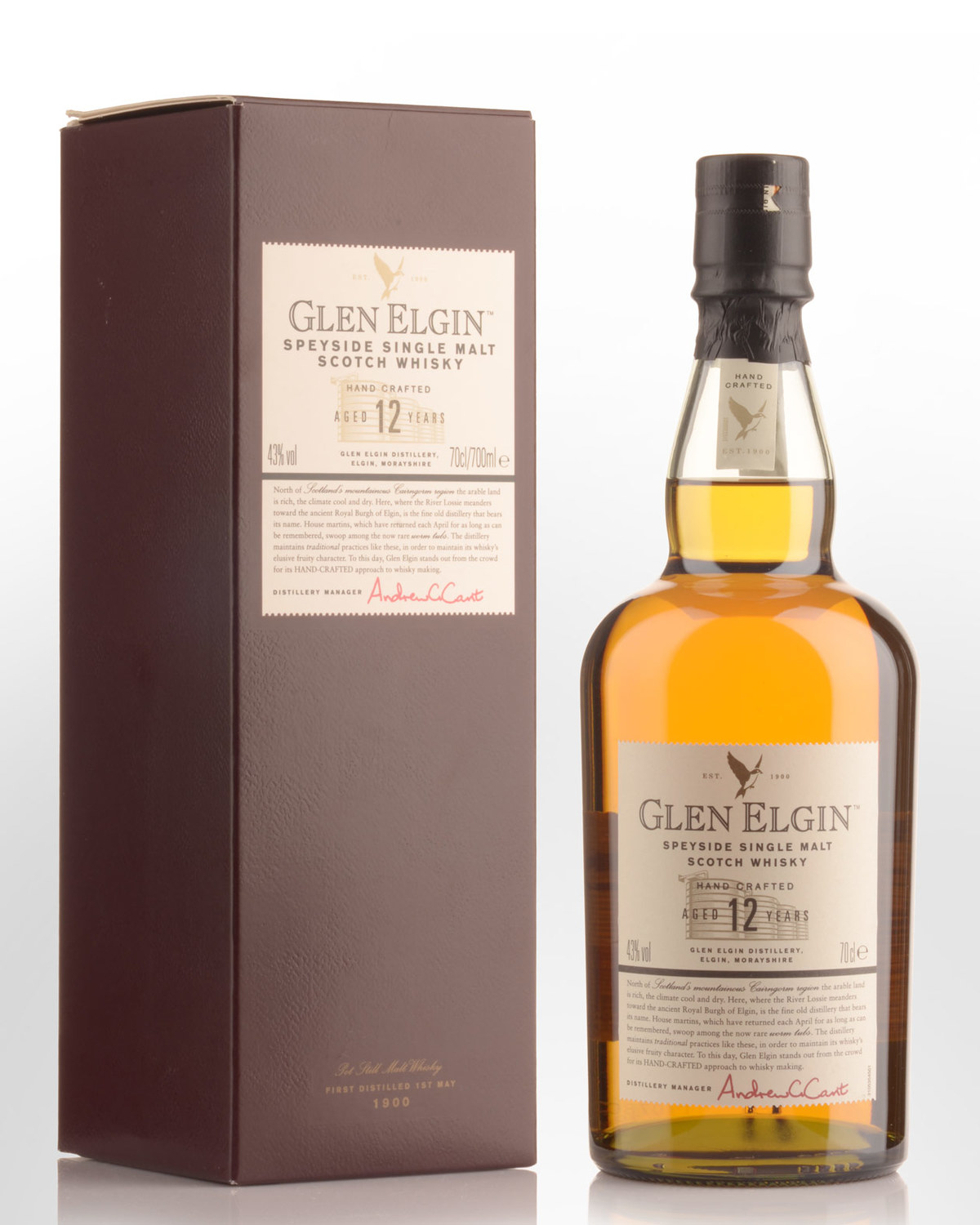 Glen Elgin 12 Year Old Single Malt Scotch Whisky (700ml)
Speyside, Highlands,
SCOTLAND
"Absolutely murders Cragganmore as Diageo's top dog bottled Speysider... Brilliant stuff!" - Jim Murray
Tasting note:
There's a minor cult following among malt aficionados for Glen Elgin, and you can see why. This is a lovely 'old fashioned' style, backed up by high quality oak. Amber gold. Delicate whiffs of tea biscuits, grain store, old parchment and faint beeswax greet the nose. Swirling and air time draws out distant dried fig and apple. In the mouth, it's beautifully rounded, delicious, no-nonsense whisky that feels and tastes more polished and much more expensive than it actually is. A seamless integration of fruity / honeyed / muesli bar-like flavours end in a lipsmacking finish, while lingering oily sweetness and trace peat add complexity to the final stages. Value buy.
43% Alc./Vol.
Other reviews...
Nose: Blistering, mouthwatering fruit of unspecified origin. The intensity of the malt is breathtaking. Taste: stunning fresh malt arrival, salivating barley that is both crisp and lush; then a big round of spice amid some squashed, over-ripe plums. Faultless mouthfeel. Finish: the spice continues as does the intense malt but is devalued dramatically by a bitter-toffee effect. …The marks would be several points north if one - rightly or wrongly – did not get the feeling that some caramel was weaving a derogatory spell. Brilliant stuff nonetheless…
89 points
- Jim Murray's Whisky Bible 2020
... The least well-known of the Fogwatt trio which includes Longmorn and BenRiach, it's unlikely that Glen Elgin will become a major brand anytime soon, given how important it is to blenders. A combination of long, slow ferments, and distillation coupled with worm tubs gives a ludicrously fruity spirit, which here is bulging with ripe peach, apricot, and Galia melon coated in cinnamon and nutmeg, given thick weight by the worm tubs. A classic.
87 points
- whiskyadvocate.com, reviewed by: Dave Broom (Summer 2013) Glen Elgin was built and designed by the notable distillery architect Charles Doig. The distillery was founded at the end of the whisky-boom in 1898 when Leith whisky blender, Pattisons, famously drove a buoyant market for malt whisky into recession. (Local legend has it that many of the workers went unpaid and that the steeplejacks only got their money when they threatened to demolish the chimney-stack). Despite the crisis, the owners William Simpson
(former manager of Glenfarclas)
and James Carle decided to continue their activities on a smaller scale. Unfortunately, they were forced to end the production and to sell their distillery as soon as November 1900, just six months after their first distillation.
Speyside's newest distillery changed hands once more in 1902 and again in 1906, when it at last began a stable period of almost 25 years in the hands of Glasgow blender, John J. Blanche. In the 1930s, it became part of Scottish Malt Distillers, for whom it was an important component of the well-known White Horse blend. As most distilleries had to, Glen Elgin again closed during World War II. Amidst all the uncertainties, innovations were understandably rare during Glen Elgin's first half century, though one is of interest : The site had partly been chosen for its ability to make use of abundant water supplies from the Glen Burn to drive a turbine that provided most of the power needed to run the machinery. As a result, electricity from the national supply was not needed until 1950. The distillery was finally refurbished in 1964 and the number of stills tripled. But the distillery closed yet again in 1992 and 1995. Today, the major part of the production continues to be used in the White Horse blends, however Glen Elgin again recently became available as a single malt, with exports of the 12 year old, mainly to Italy and Japan beginning in 1977.
As a Speyside malt Glen Elgin's 'house style' remains mellow and sweetly honeyed. Soft spring water comes from the area of Millbuies Loch to the southeast of the distillery.