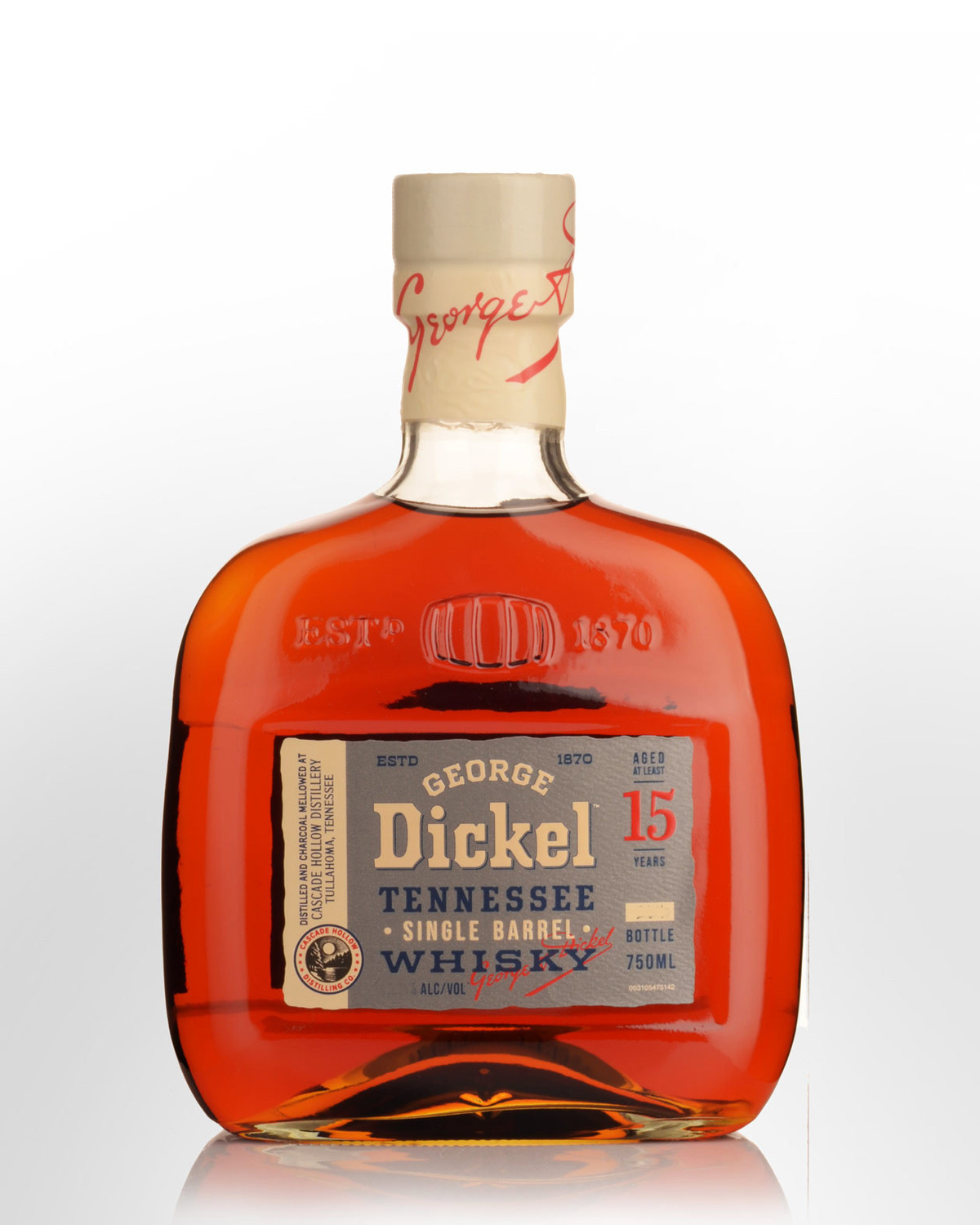 George Dickel Single Barrel 15 Year Old Tennessee Whiskey (750ml)
NB: Alc./Vol. may vary from batch to batch. Diageo says the stocks in the program range between 40%-52.3% ABV.
Released in 2020 as part of a series of 'peak age' editions from Dickel, these single barrel / high strength gems will please fans of Tennessee styles. Given they're single barrel bottlings, official tasting notes will vary. According to Dickel the profiles will range from "...notes of vanilla, toffee and treacle to rich leather, saddle oil and wood, to a more delicate perfume of fruit or lavender notes."
The Cascade Hollow distillery has been quietly producing exceptional whiskeys for years. Only recently has Dickel stepped into the spotlight, supplying a bevy of brands with well-aged Bourbons, filling the void of older MGP stocks which are now drying up. After winning several awards, including the #1 whisky on Whiskey Advocate's top 20 list, Dickel's older age statements are now in high demand. This 15 year old single barrel expression is also a relative rarity from the corporate side of the Bourbon market - and a welcome change from previous official bottlings. Going by the review from Whisky Advocate, it seems Master Distiller, Nicole Austin has saved the very best for these releases.
Other reviews... This has Dickel's distinctive oily grain aromas: It's packed with corn and peanuts, and also sweet with brown-sugar oatmeal and maple candy. Add a little water and voila! Orange peel and Luxardo cherry appear, creating an instant Old Fashioned. The palate is chewy and full-bodied, pepped up with cinnamon and dried ginger, and lengthened by grape jelly, Coca-Cola, Corn Nuts, and dried cherries. A full and lengthy finish sings with ginger, peanuts, and chocolaty oak. 52.3% Alc./Vol.
95 points - whiskyadvocate.com, reviewed by: Susannah Skiver Barton (Spring 2021)