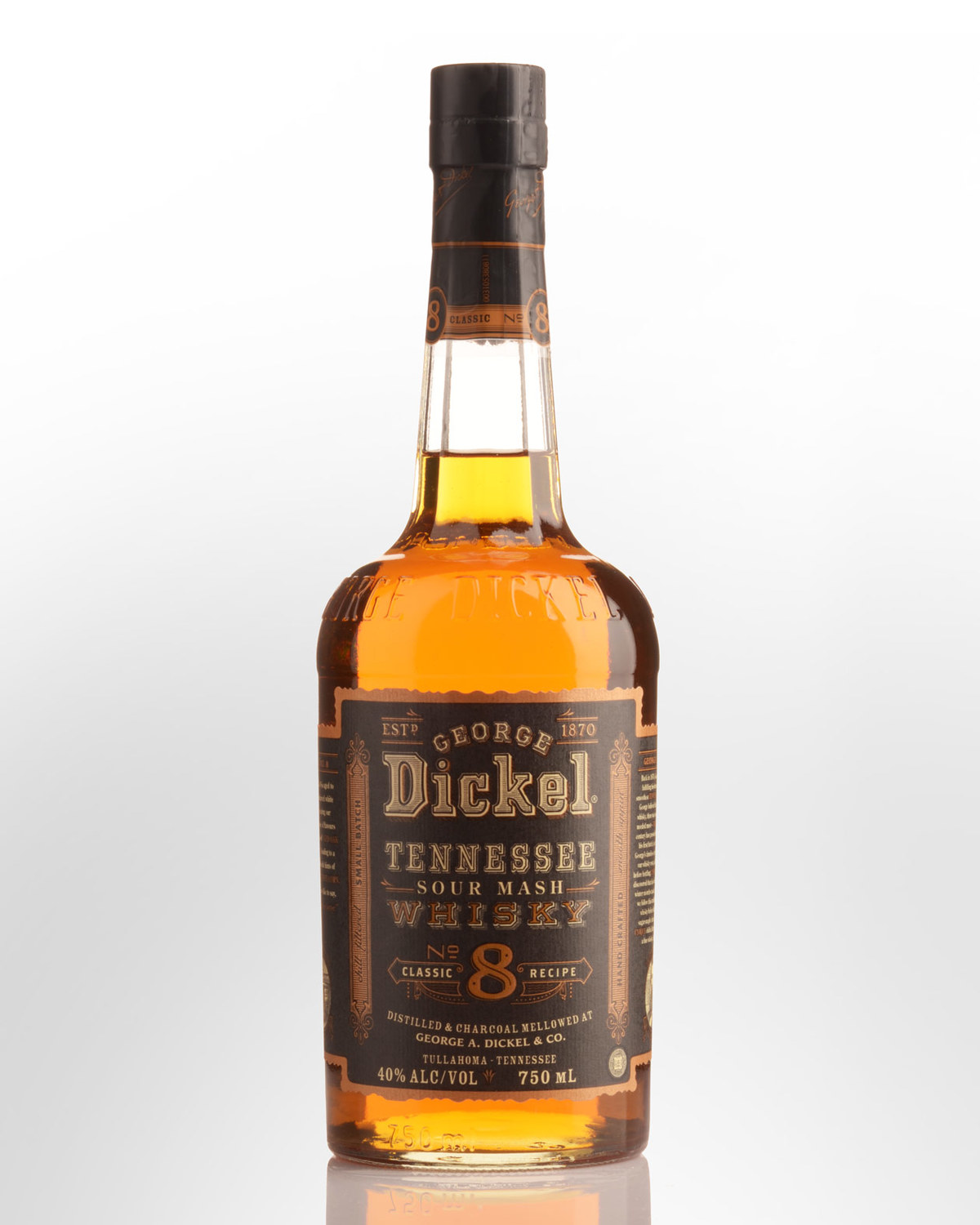 George Dickel No.8 Tennessee Whiskey (750ml)
Presently run by Master Distiller, John Lunn, who continues the hands on process as set forth by George Dickel and again by Ralph Dupps, Dickel whiskey is produced from a mash of corn, barley and rye. The grains are finely ground at the distillery before being cooked. They are then cooled in mash tubs by pure spring water from Cascade Spring, located about one-half mile up the road from the distillery.
Fermentation is begun using a proprietory yeast, followed by a double distillation - firstly in a column still, then in a pot-still. The process of charcoal mellowing then occurs, which defines the difference between Tennessee whiskey and bourbon whiskey. In this process, the double-distilled whiskey is filtered through sugar maple charcoal. Dickel's mellowing process is unique in that it is chilled prior to the filtration process. This process of chilling the whiskey resulted from George discovering that the batches of whiskey he tasted during the winter were noticeably smoother than those he tasted during warmer weather. He called this process chill mellowing.
The first step in the mellowing process is selecting and cutting sugar maple trees. Trees are cut in the winter months when the sugar maple's rich flavour is stored in the trunk of the tree. The trunks are allowed to season and cut into strips. These strips are hand-stacked and set ablaze in the open air. This process allows the smoke's impurities to escape from the resulting hard charcoal. The hard maple charcoal is crushed by hand and packed into one of six mellowing vats located at the distillery. About ten feet of charcoal is packed into each vat.
Two virgin wool blankets are placed on the top and bottom of the charcoal. The top blanket ensures that the newly chilled whiskey uniformly reaches into the vat, while the bottom blanket keeps the charcoal from escaping as the whiskey leaves the vat. The entire chill charcoal mellowing process takes seven to ten days to complete, and though this extra process is time consuming and expensive, the distillery believes the end result speaks for itself. The whisky is finally aged in new, charred American white oak barrels. Full barrels are aged just up the hill from the distillery in the industry's only single-storied iron-clad warehouses.
Dickel No.8 received a silver medal in 2005 at the San Francisco World Spirits Competition. More recently it was lauded with the prestigious Gold Medal.
Tasting notes:
Bright topaz. Aromas of toasted toasted marshmallow, sweet corn and vanilla bean as well as hints of rye freshness. A youthful but nicely rounded whiskey with attractive corn, toasty oak, cocoa and peppermint notes leading into a gently spicy finish. Value buy.
40% Alc./Vol.
Other reviews... A great value. Fully matured and very civilized. Good enough to drink neat, yet inexpensive enough to use as a mixer. Creamy, silky notes of vanilla, caramel, and honeyed corn, along with citrus and pineapple, with a slight dusting of cocoa powder. Gentle finish. 85 points
- www.maltadvocate.com, (Vol. 15, #4) Reviewed by: John Hansell