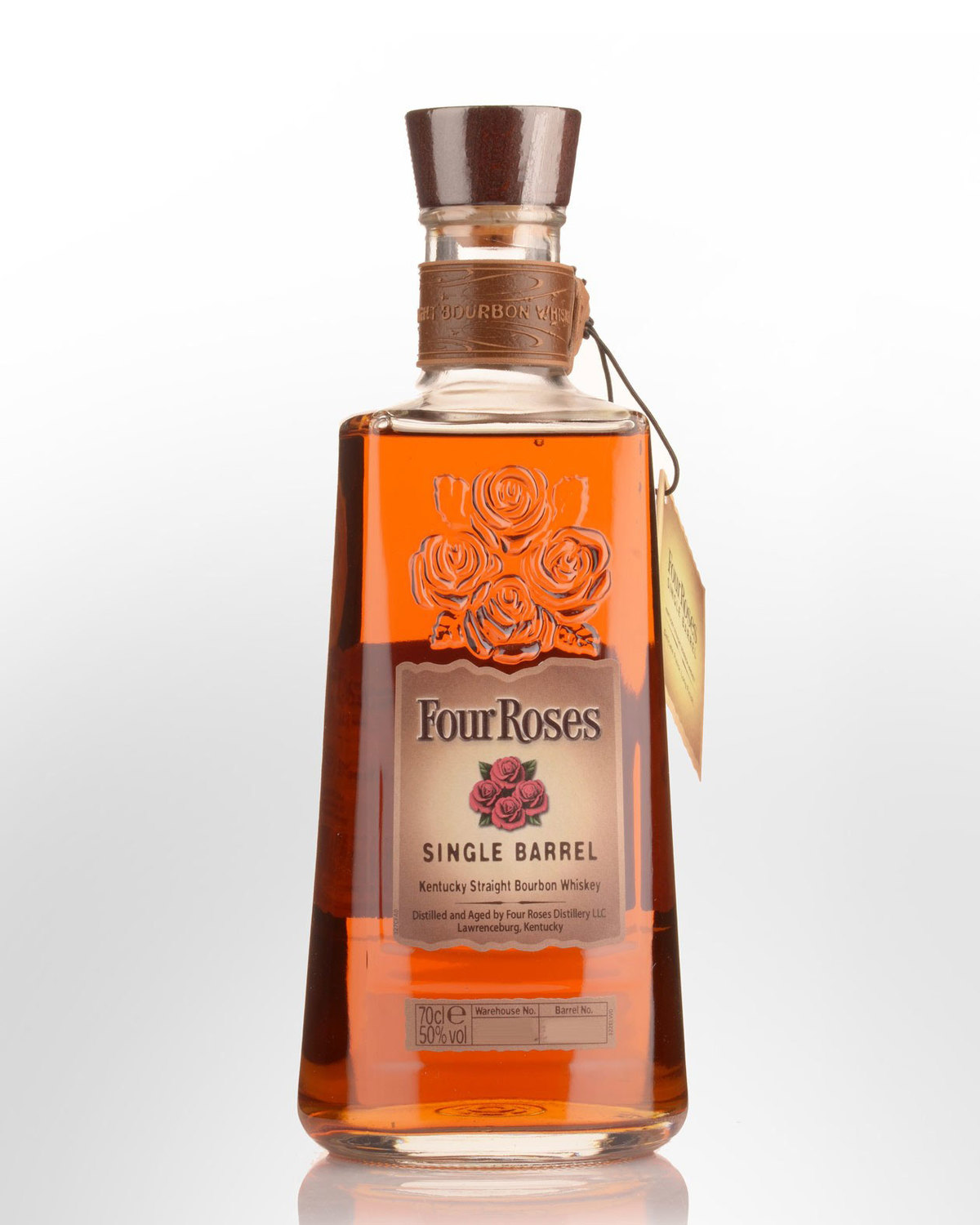 Four Roses Single Barrel Bourbon Whiskey (700ml)
"...you can buy me a dozen of these roses any day of the week." - breakingbourbon.com
Produced from a mashbill of 60% corn, 35% rye, and 5% malted barley, the strain of yeast used for the Single Barrel bottlings is Four Roses' version "V" which is described as being "delicately fruity, spicy, and creamy." (The distillery is unique in that it uses five different strains to create ten different whiskies). Ages will vary in this series, (a seven year minimum is cited by one source). Regardless, the aim is to bottle when the whiskeys are deemed to have reached their peak, with each barrel yielding approximately 180 bottles. Each release is individually marked with a warehouse and barrel number which is not predictable and subject to change without notice. It's also part of the fun: No two barrels create identical tasting Bourbons, thus the single barrel concept provides the opportunity to appreciate and compare whiskies from different barrels and aging locations.
[Barrel RN 8-4R tasted] Bright burnished copper penny colour. A robust Bourbon sniff with a dense core of vanilla custard and caramel fudge overlaid with peppermint, balsa wood, cocoa and hints of cherry. Concentrated yet controlled with razor sharp sweet/dry balance; a burst of vanillan oak, honey and spiced peach, offset by a tangy, vibrant finish. Glace cherry is followed by late mint freshness. Text-book poise and length. As complete a Bourbon as you could expect to find in its category, this really over delivers. 50% Alc./Vol.
Other reviews... This gently honeyed bottling is a very good example of the distillery looking tough...but being a real sweetie. 50% Alc./Vol.
92 points - Jim Murray's Whisky Bible 2023
...Full of flavor, regularly available on shelves, and a reasonable price… you can buy me a dozen of these roses any day of the week. I found this bottle of Four Roses Single Barrel OBSV to be spicier than the Four Roses Small Batch, which I normally find to be a subtle balance of sweet and I often describe as a good beginner bourbon. I'd say a good description for the standard Single Barrel offering, is that it's the grown-up version of their small batch product. The flavor is fuller, the finish is longer... - www.breakingbourbon.com
...'After a false start several years back, it's a pleasure to finally see Four Roses Single Barrel available... This whiskey is nicely balanced, with a teasing subtleness to it. I particularly enjoy its delicately honeyed, floral, crisply spicy aroma, with underlying notes of vanilla cream and candied fruit. These flavors follow through on the palate, initially with honey-laced fruit, caramel, and soft vanilla notes, leading to a dry spiciness (mint, cinnamon) and refined oak. It finishes crisp and pleasingly dry...' 88 points- The Malt Advocate, (1st Quarter 2005)
The Four Roses distillery is located in Lawrenceburg, on the banks of the Salt River in Anderson County. The distillery has a unique Spanish Mission-style architecture rarely seen in Kentucky and is listed on the National Register of Historic Places. The company attributes their products quality to several factors: A unique Limestone water source, the spring-fed Salt River; a high quality grain source (Four Roses are the only distillery using the same grain source for 45 years, paying a premium for quality); Two Mash Bills in daily production - one mash bill contains significantly more rye than any other Bourbon, resulting in a spicy, full-bodied taste; and five proprietary yeast strains, each producing uniquely different flavours.