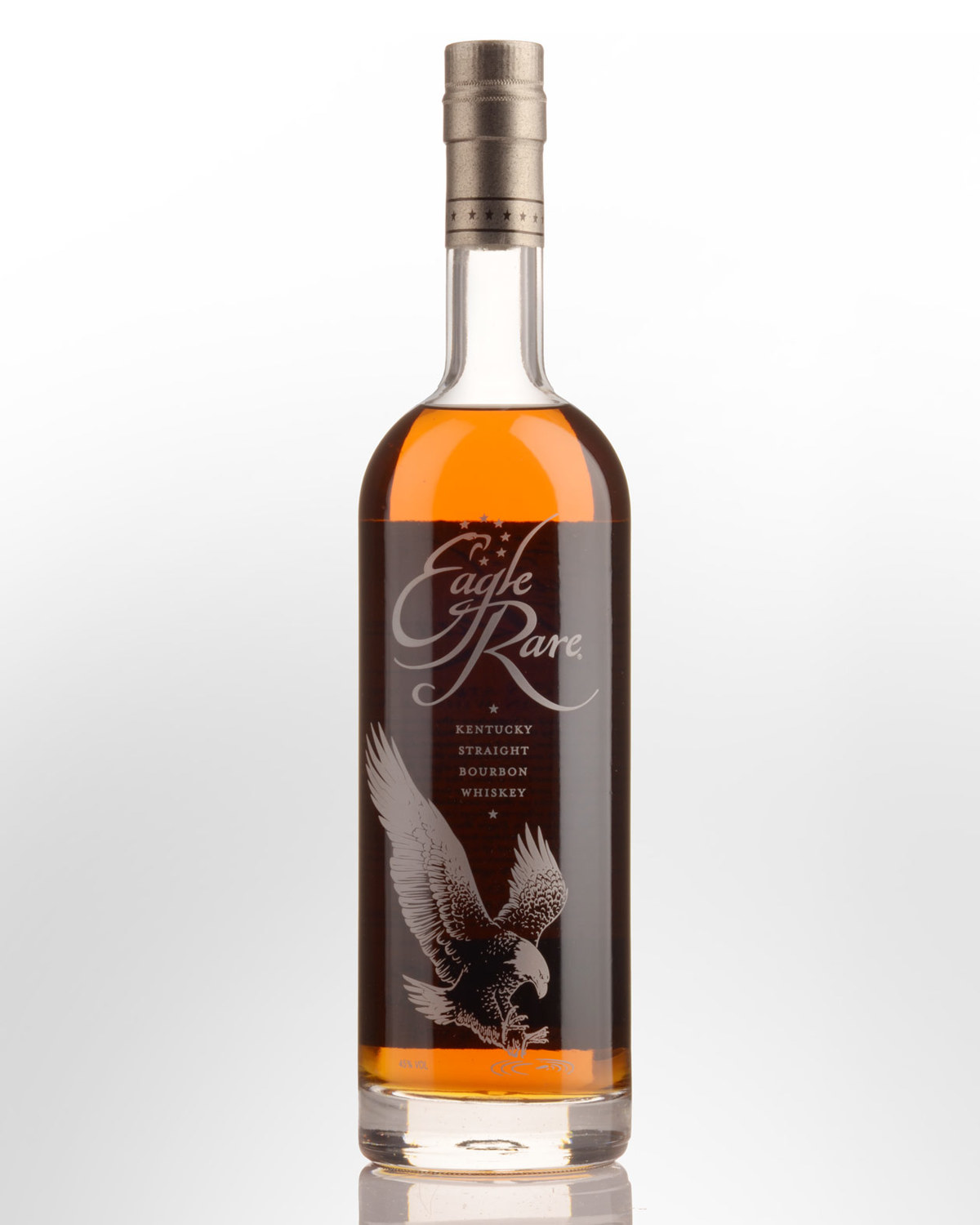 Eagle Rare 10 Year Old Bourbon Whiskey (700ml)
"One soaring, beautiful eagle." - Jim Murray's Whisky Bible
We first tasted Eagle Rare in 2006 when it was labelled 'Single Barrel'. As of 2019, that changed to a multi-barrel blend with a ten year old age statement. It remains a standout value - an American whiskey with the unusual credentials of maintaining a reputation for exceptional quality while being relatively easy to come by. The profile confirms a #1 Mashbill from Buffalo Trace, which is reported to be low rye (10% or less), yielding notes of caramel, new charred oak, liquorice bullets, cocoa and peppermint rock lollies plus cinnamon in support. The complexity grows with time. Re-tasted from a 20ml sample, it's lean on entry, but fills out beautifully into a medium-bodied, chewy whiskey with muted rye spices before vanilla and Bounty Bar flood the finish, the sugars checked by balancing oak and more creamy vanillas. Ever reliable and better than many Bourbons at twice its price, Eagle Rare remains hard to beat. 45% Alc./Vol.
Other reviews... One soaring, beautiful eagle. 95.5 points - Jim Murray's Whisky Bible 2021
...Rich amber color. Sweet dried orange peel, spicy honey, coconut fruit, and a touch of shellac. A fresh, smooth entry leads to an off-dry, rich full-bodied palate with even toffee, macerated cherry, nut, and brown spice flavors. Finishes with a sweet spicy fade of dried fruits, vanilla and oak. Great balance and vitality. International Review of Spirits Award: Gold Medal 92 points (Exceptional) - tastings.com
...Right from the start, this whiskey shows itself as fresh, balanced, and restrained. Aromas of citrus and apple kick things off, with plenty of rye-driven baking spice filling in the cracks. There's plenty of vanilla and caramel in the mix, too — all hallmarks of well-aged (but not overly old) bourbon. The palate is lightly sweet and soothing — almost soft, despite its 45% abv — with butterscotch and caramel apple notes dominant. A very light oak influence pervades, though again this feels restrained and well-integrated with the rest of the experience. The finish folds in a note of chocolate banana cream, and concludes on a rolling, lingering, and lightly fruity note with plenty of baking spice in the mix. Soothing and lush, it's one of my favorite bourbons that also happens to be very easily obtainable. - drinkhacker.com
... Nose: leathery and honied...Taste: at first sweet corn, then a gradual build up of spices…long, lots of vanilla threading through…just one of those effortlessly brilliant whiskeys that seem to get it right without trying… 94 points - Jim Murray's Whisky Bible 2006.