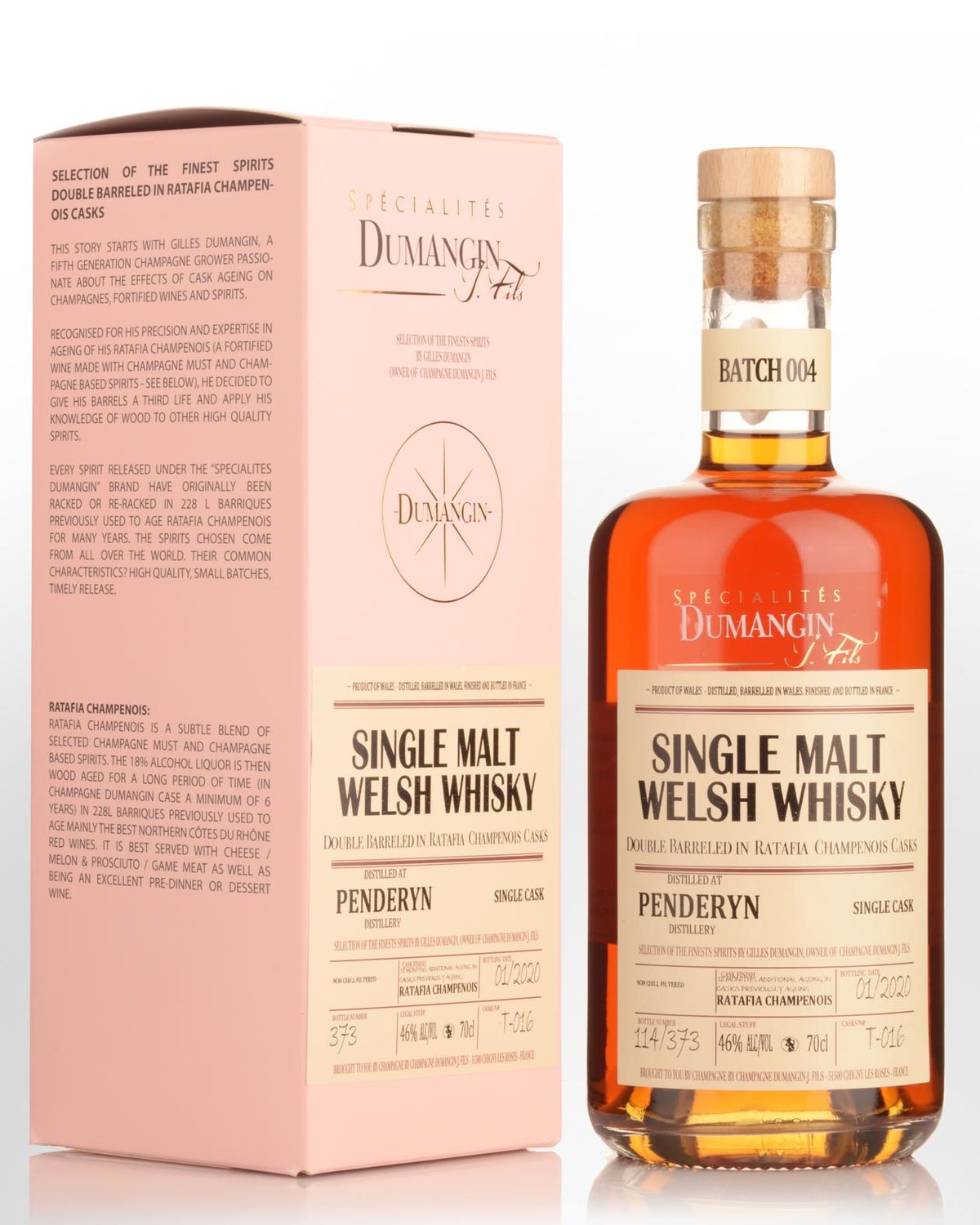 Dumangin Penderyn Batch 004 Single Cask Single Malt Welsh Whisky (700ml)
WALES
Effortlessly elegant, and with a sensuality rarely encountered in whisky of any persuasion.
The story behind these remarkable whiskies begins and ends in Champagne.
Maison Dumangin J. Fils has been producing wines from the Montagne de Reims for well over a century. Gilles Dumangin returned to the Domain in 2000 after studying in London. A small wine merchant, not far from Harrods had introduced him to a Tain L'Hermitage finished single malt. It was love at first taste. Gilles was inspired to create his own delicately tannic 'Ratafias Champenois' (a fortified wine made with Champagne must and Champagne based spirits) using second-fill barrels from the Côtes-du-Rhône Septentrionales (x-Syrah). He now applies the same principles to single cask whiskies - this time with a Champagne twist, using the same barrels that aged his Ratafia Champenois. The Dumangin whiskies follow in the footsteps of French pioneers like Michel Couvreur - only there's another layer of expertise bought to the table. While Gilles clearly has a 'magic touch' when it comes to selecting and maturing world class singles and grains, he isn't just a buyer and bottler. He's an acclaimed winemaker applying his know-how. Whiskies arrive in Champagne to complete their maturation in 228 litre barriques in the cellars at Chigny-les-Roses. The Ratafia finishing gives them a distinctive signature: a subtle yet delicious, creamy, fruity twist unique to Champagne.
Tasting note:
Young to middle-aged Penderyns have been receiving rave reviews for some time now. This one's spent four years in a Bourbon barrel followed by 18 months in a Ratafia Champenois cask. Opening aromas of sweet oak, pecan pie and shortbread build with poached orchard fruits. Unfolds like a fine wine in a gorgeous, off-dry rush of buttery vanillas, ripe grapes, honey and dried fruits with just a hint of citrus. The malt glazes the tongue. Rebounds with sweet grape and pear, but ends with hints of something more exotic (ripe nectarine, Feijoa (?). So finely tuned, this has a cognac-like elegance and a sensuality rarely encountered in whisky of any persuasion. Superb.
46% Alc./Vol. Non chill filtered. 373 bottles produced.