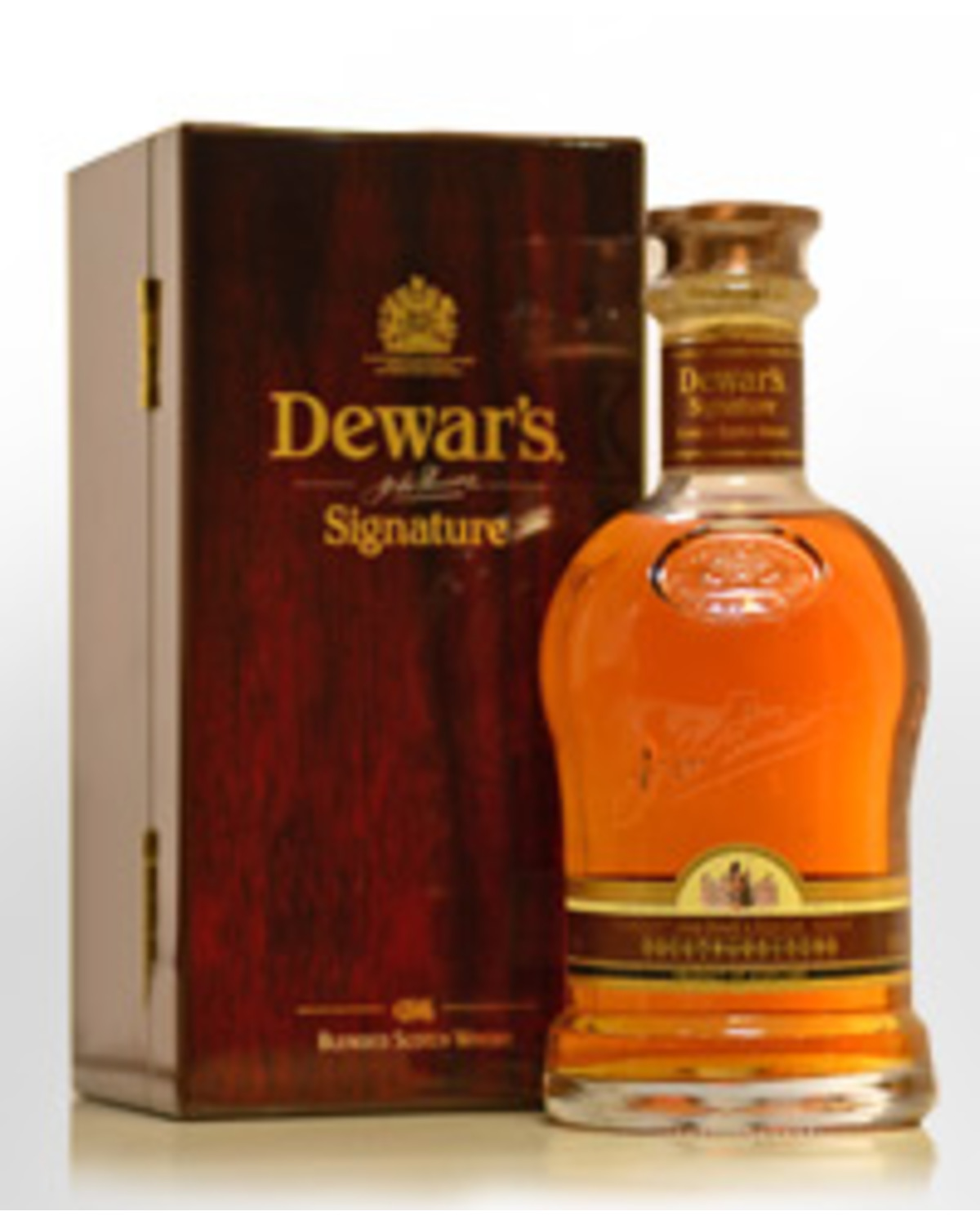 Dewar's Signature Blended Scotch Whisky (750ml)
SCOTLAND
"…a blend-drinker's blend that is uncompromising…serious whisky. 93 points."
- Jim Murray's Whiky Bible 2006
Dewar's has a storied whisky blending heritage that goes back over 150 years. In the course of these 150 years, Dewar's has only had six master blenders. The current master blender, Tom Aitken, is considered a true virtuoso in the world of Scotch Whisky blending. The most recent testament to his talent are the two consecutive Double Gold medals that his 12 Year old Dewar's blend earned at the San Francisco Spirits Competition.
The 'Signature' is the blend that Tom Aitken created as his masterpiece at the height of his skill. It is his legacy to the Scotch world, the most compelling representation of his talent and pride. At the heart of Dewar's Signature is an exceptional Aberfeldy single malt whisky of great age, incorporating only the rarest whiskies from each distilling region of Scotland are layered into the blend. The end result is an exquisitely balanced whisky accented with notes of honeyed heather and sweet smoke indicative of serious aging. In the words of renowned whisky critic, Jim Murray, DEWAR'S Signature is, "an outstanding addition to the highest echelons of blended Scotch".
NB: Some minor scuffing to the gift box.
Tasting Notes: Nose: Chewy with some complexity: stewed fruits (apricot), barley sugar, sealing wax, sultana, coconut, light sweet spices and crystallised fruit. Palate: Perfumed start, dried apple and a hint of smoke. Bitter chocolate. Layered, honeyed. Finish: Oaky, mature. Comment: Broader than most. Great blending of old, mature whiskies. 43% Alc./Vol. Rating: 8.5
- tasting note sourced from David Broom, www.whiskymag.com
Other reviews...Johnnie Walker Blue, meet Dewar's Signature. Signature is Dewar's introduction into the ultra-premium blended scotch category. Like Johnnie Walker Blue, Signature bears no age statement, but I'm told that a 27 year old Aberfeldy is the heart of the blend. The first release consists only of 1,000 individually numbered bottles, and they're only available in New York City. I'm always a little skeptical of very expensive blends that come in fancy packages. There are some very good, reasonably priced blends in the 10-20 year old range, and the expensive ones are often only marginally better, if that. But I like this whisky a whole lot better than the standard Dewar's White Label, and it is also superior to Dewar's 12 year old—a whisky which I find to be quite enjoyable. While maintaining the Dewar's profile—nicely balanced—this whisky offers greater depth, maturity, and complexity without being too woody—a creamy, malty foundation makes sure of that. The whisky expresses a rich, honeyed maltiness which combines nicely with notes of golden raisins, vanilla, caramel, and crème brûlée, with just a hint of spicy oak notes for complexity. Signature is a different style when compared to Johnnie Walker Blue—it's more elegant and bashful—but, like Blue, I put Signature on my short list of the finest blends on the market. Rating: 92 - tasting note sourced from John Hansell, The Malt Advocate