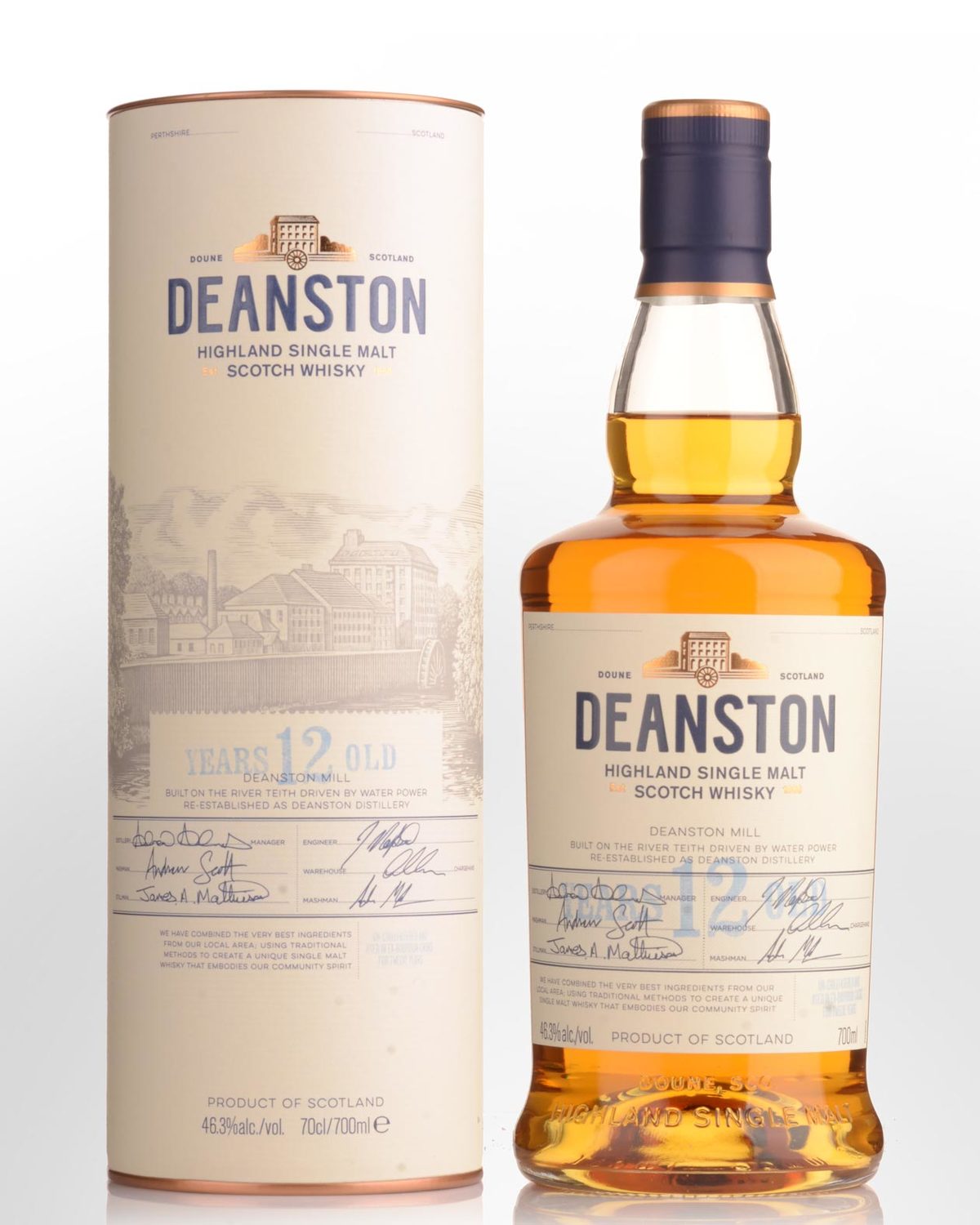 Deanston 12 Year Old Single Malt Scotch Whisky (700ml)
Located just outside the town of Doune in Perthshire, the Deanston Distillery is located on the banks of the River Teith. Originally a cotton mill, it was converted to a distillery in the 1960s and like many others prospered in the whisky boom of the 1970s when it was purchased by Invergordon Distillers. The 'Great whisky lake' of the 1980s saw many distilleries mothballed as supply exceeded demand, this included Deanston which closed in 1982. In early 1990 the distillery was purchased by Burn Stewart Distillers, with the intention of primarily utilizing its produce into blends such as the 'Scottish Leader' (not seen in Australia). Today, somewhere in the region of 15% of whisky produced at Deanston is destined to be bottled as stand alone single malt.
The stills at Deanston have narrow necks with ball-shaped bulges, the arms slope slightly upwards which encourages reflux, which in turn produces a lighter spirit. A reliable supply of water from the River Teith, combined with cool, humid conditions make the location ideal for the maturation of whisky. Interestingly, the distillery is also self-sustaining (the only one of its kind in Scotland) having implemented water turbines for power.
Bottled un-chill filtered, Deanston has been aged in ex-bourbon barrels for an average of 12 years. Master Distiller at Deanston, Ian MacMillan comments '...we 'marry' the component casks of this whisky in new oak for a few weeks prior to bottling, as this gives us more sweetness. You've already got a sweeter whisky with more oak anyway, due to the lack of chill-filtration."
Tasting notes: Pale gold colour with a greenish tinge and water like hue. Soft, sweet aromas gradually tease out orange cake and gingerbread like scents over hints of pine wood and cocoa - reminiscent of a young Cognac only much, much more subdued. The palate is bigger and spicier than the nose suggests offering toffee, ripe apple and gingerbread like flavours. Warm, spicy mouthfeel. Subtle aftertaste of spice and sweet cereals, followed by a lingering grassiness. A highland whisky that bears some associations with traditional Lowland styles. A good everyday drinker.
Other reviews... Antique gold colour. The flavours are bright and fresh, with notes of citrus, pineapple, lemongrass, and subtle ginger, all on a bed of clean honeyed malt, light toffee and soft vanilla. Gentle, easy-going finish. A pleasant "any time of the day" dram. 82 points - John Hansell - Malt Advocate
 Click here to learn more about Scotch Whisky