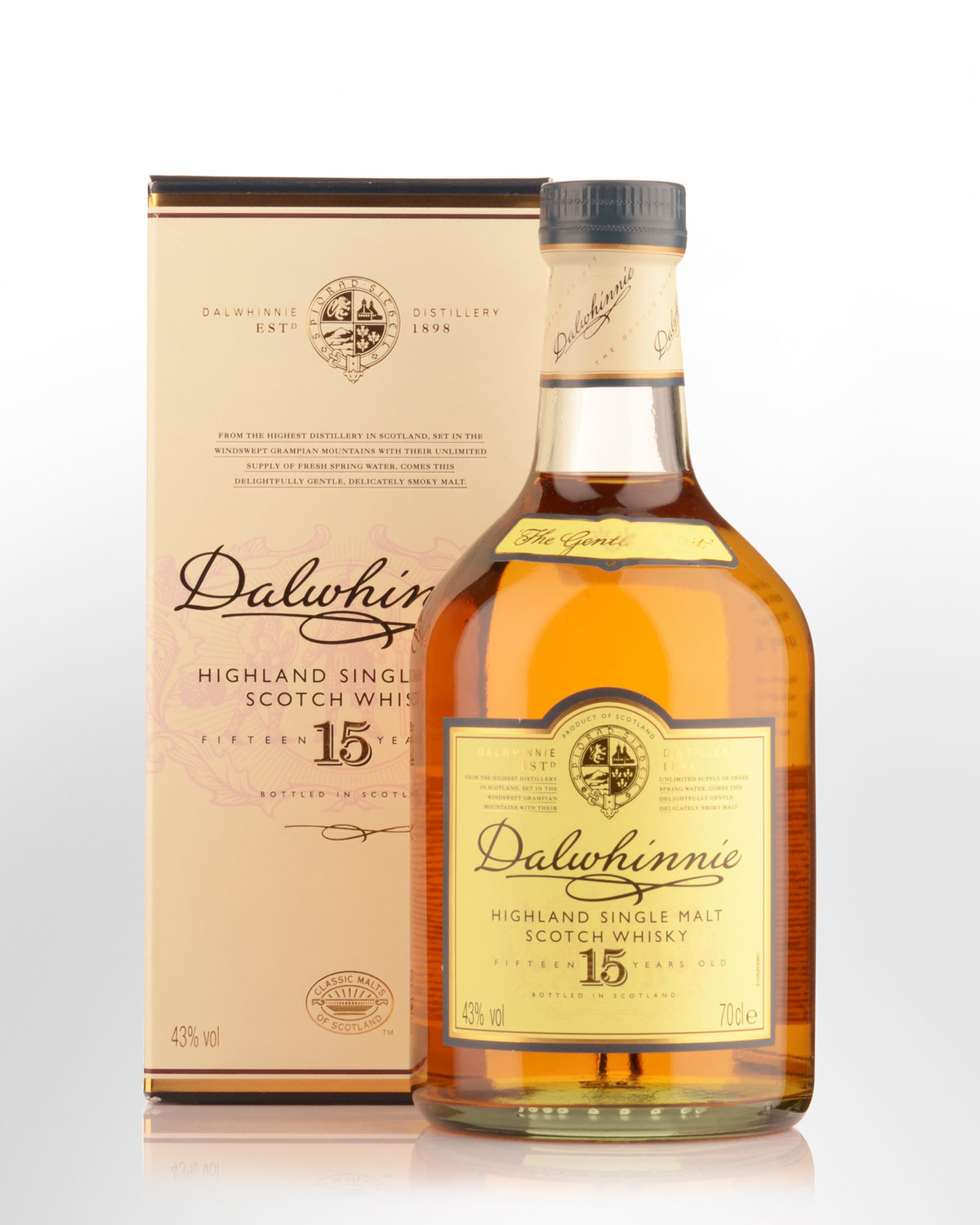 Dalwhinnie 15 Year Old Single Malt Scotch Whisky (700ml)
Speyside, Highlands,
SCOTLAND
From the highest distillery in Scotland (at 326 metres above sea level), set in the windswept Grampian mountains of the Highlands, comes this delicate malt to be savoured. Originally called 'Strathspey', the Dalwhinnie distillery was founded by James Buchanan in 1897. Buchanan became well known for his 'Buchanan' and 'Black & White' blends which used Dalwhinnie as a core component. Later renamed 'Dalwhinnie', (Gaelic for "meeting place" ) the distilleries site is where cattle drovers and smugglers met on their way to markets in the south.
The whisky itself is often referred to as 'The Gentle Spirit', in contrast to the rugged environment it is produced in. (Staff at the distillery have been known to climb out first-floor windows in order to get to work when snow piles up in the hard winters.) This is testified to by its subtle, smooth, lightly smoked character and heathery, honey finish. Barely classifiable as a Speyside distillery, Dalwhinnie's location is at least forty kilometres south of the dense collection of stills in the 'lower Spey'. The distilleries endless water supply comes from the Allt an t'Sluic spring, bedded in granite. Current management boast their use of traditional wooden washbacks and distinctive lye pipes leading from the tops of the stills.
Other reviews… Nose: sublime stuff: a curious mixture of coke smoke and peat-reek wafts teasingly over the gently honied malt. A hint of melon offers some fruit but the caressing malt stars; Taste: that rarest of combinations: at once silky and malt intense, yet at the same time peppery and tin-hat time for the tastebuds, but the silk wins out and a sheen of barley sugar coats everything, soft peat included; Finish: some cocoa and coffee notes, yet the pervading slightly honeyed sweetness means that there is no bitterness that cannot be controlled; Balance: a malt it is hard to decide whether to drink or bath in: I suggest you do both. One of the most complete mainland malts of them all. Know anyone who reckons they don't like whisky? Give them a glass of this ~ that's them cured. Oh, if only the average masterpiece could be this good." 95 points. - Jim Murray's Whisky Bible 2018.