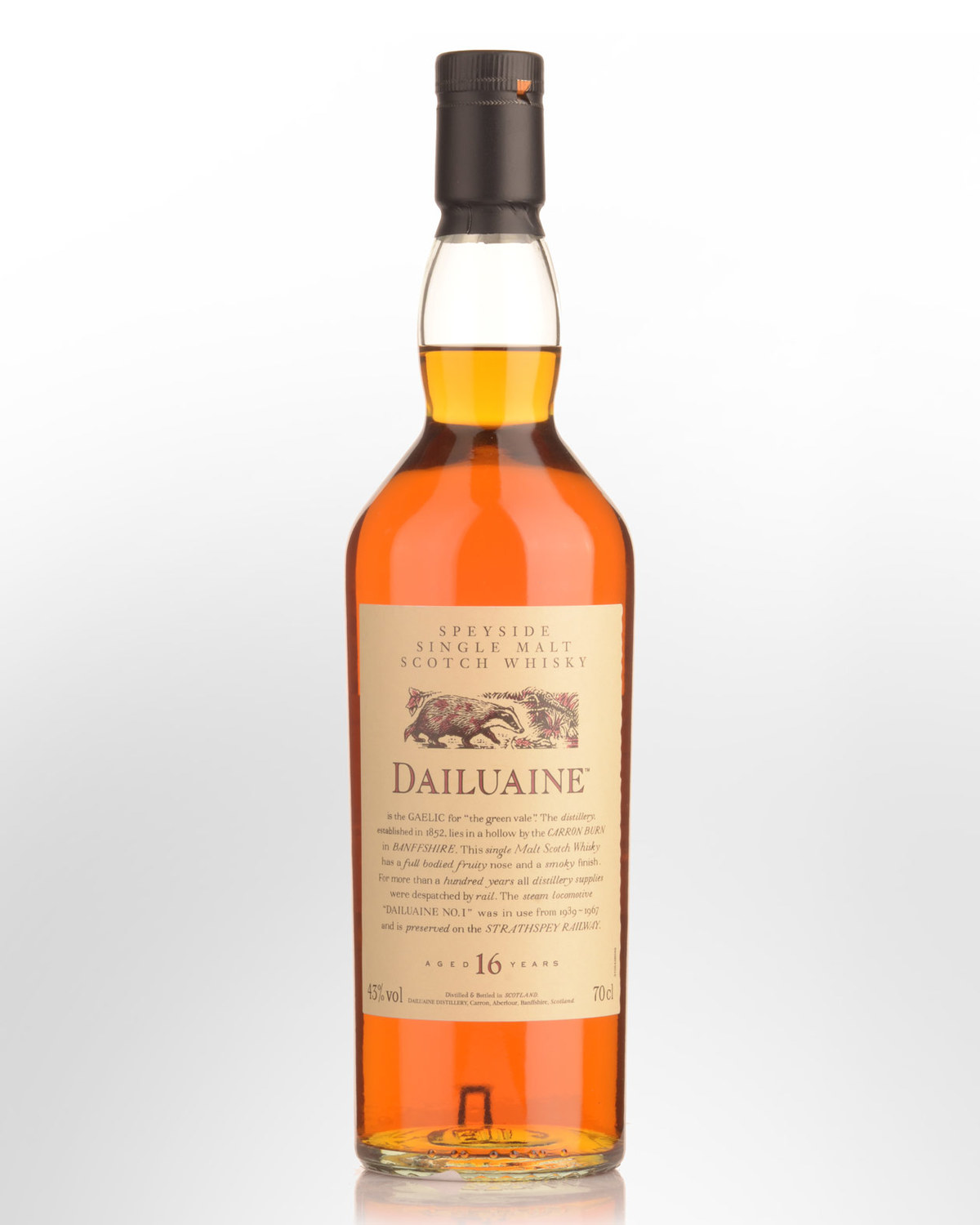 Dailuaine Flora & Fauna 16 Year Old Single Malt Scotch Whisky (700ml)
Speyside, Highlands,
SCOTLAND
"Substantial. One for a cigar." - Dave Broom, whiskyadvocate.com
Pronounced "dal-u-ayn", many visitors to Speyside would be blissfully ignorant of the existence of this gem. A mile off the main Aberlour to Grantown road, the only evidence of its whereabouts are the plume of steam and unmistakeable smell of the Dark Grains plant. The location inspired Alfred Barnard to write,"Never was there such a soft, bright landscape of luxuriant green, of clustering foliage, and verdant banks of wildflowers, ferns and grasses." The undoubted beauty was not the reason the site was chosen - good quality water from the Bailliemullich Burn, the local supply of barley and the proximity to the Speyside Railway Line are more likely reasons.
Built in 1865 the distillery was once part of the Dailuaine-Talisker Distilleries Co Ltd which owned the renowned Skye distillery and later went on to build Imperial. Dailuaine has seen several significant changes. A Dark Grains plant was commissioned to process pot ale and draff into a high protein cattle feed. The splendid granite double-storey dunnage cask warehouses lie empty, as all Dailuaine whisky is tankered away to be filled into casks at a central warehousing complex. Today this whisky forms a major part of Dewars blended whisky thanks to its robust flavours, but is also produced in smaller quantities as a single malt.
Other reviews… These days the mighty Mortlach is a known quantity, but Diageo's two other meaty sites—Benrinnes and Dailuaine—remain in the shadows. This is big, boisterous, and sherried, but there's less of the gravy-browning elements you get from the other two; at Dailuaine it is fruit that is promoted alongside Seville orange, treacle, and the inevitable raisin and date. There are nods to PX sherry as well. Every bit as good as Mortlach.
88 points- whiskyadvocate.com (Summer 2013), reviewed by: Dave Broom
...I last tried the F&F around the year 2000, so even before Whiskyfun. WF 81 but a lot of water has gone under the bridge since those heroic (ahem) times. Colour: gold. Nose: cake and grasses, a touch of plasticine and soap, sulphur stones, mown lawn, ink, roasted walnuts… This really is a singular style. Shall we call it 'un-commercial'? Mouth: rather un-commercial indeed, malty and grassy, with something burnt, notes of Mars bars (or any other bars, really, Twix, whatever…) and growing notes of chicory and office coffee. Finish: medium yet fatter, and very malty. Was it finished in Ovaltine casks? Comments: this humble taster hasn't changed one iota within 18 years. Is that bad, doc? 81 points - whiskyfun.com
...Nose: Clean. Sweetish. Pronounced barley sugar. Some sherry. Palate: Medium-bodied. Very smooth indeed. Clean, malty, nutty. Finish: Nice balance of fragrant smoky dryness. Overall: Almost too perfect. Beautifully put together, but not quite memorable.
- Michael Jackson, whiskymag.com