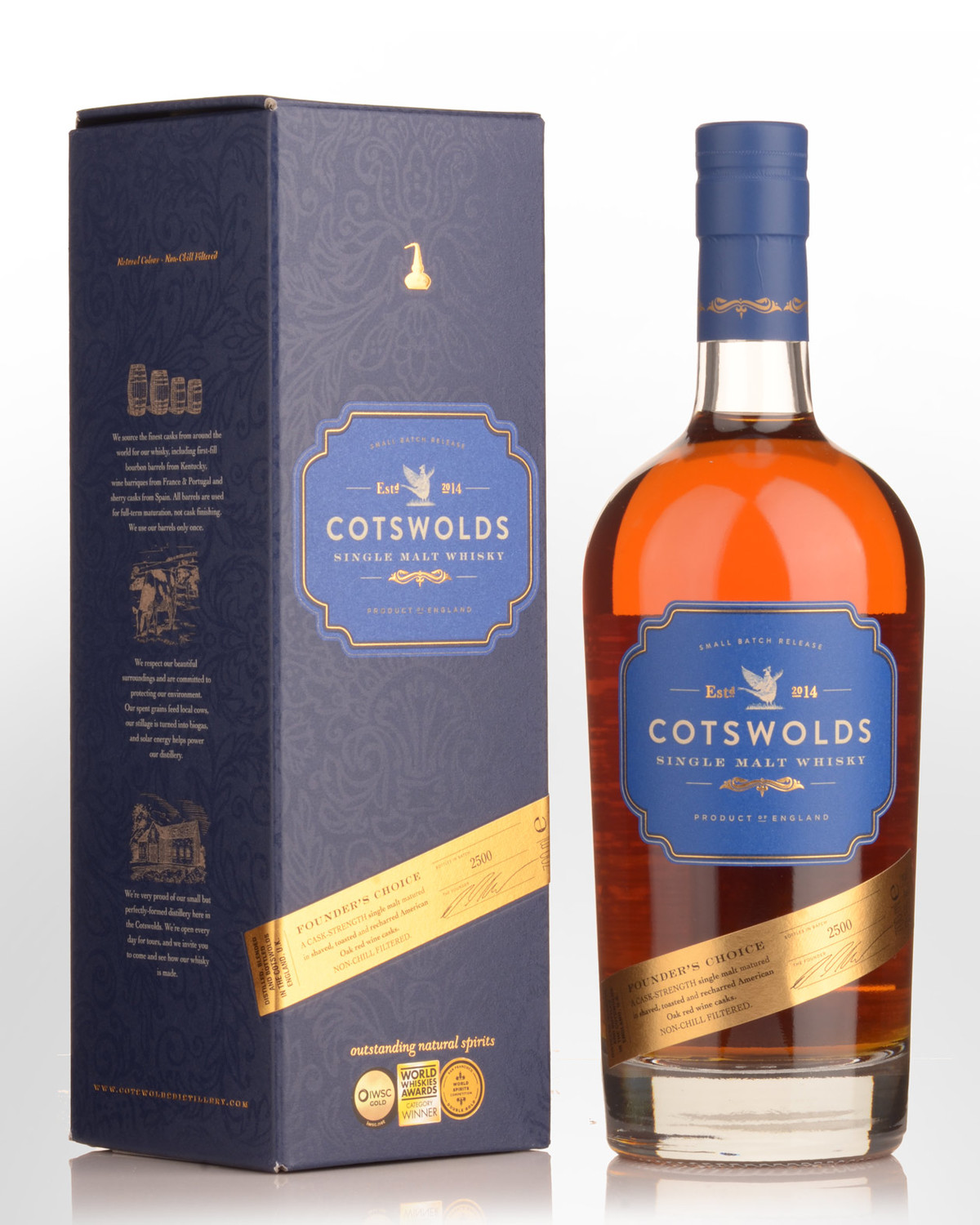 Cotswolds Founder's Choice Cask Strength English Single Malt Whisky (700ml)
UNITED KINGDOM
"...truly won over by the way this flits from enormity to refined elegance..."
- Jim Murray's Whisky Bible 2021
This release sees Cotswolds' creamy, fruity new-make filled into American oak STR barriques for just over three years. The Master Blender selected nine for the final cut. The inaugural batch was dedicated to industry legend, Dr. Jim Swan, who encouraged Cotswolds to shave, toast, and re-char red wine barriques. Subsequent batches have followed. The highly active casks were finally disgorged and bottled at natural cask strength, non-chill filtered and with no added colouring. Once again Jim Murray et al were impressed, with the whisky taking out "Best English Single Malt" at the WWA in 2019. Very limited stocks.
Other reviews... The beauty of a whisky at this strength is that the sharpness of the wine casks is at full volume, their salivating qualities heading through the roof. The nose may be little more than a caress - but no such subtlety here as the barley gangs up into something more rich and remarkable. ... long, and after that big fruit explosion, emollient and concentrating on all the softer, more honeyed aspects of the malt. Those partial to a slice of butterscotch tart will also find favour with the delicate finale. How can one not be truly won over by the way this flits from enormity to refined elegance?
95.5 points - Jim Murray's Whisky Bible 2021
... this has developed aromas of cherry, dried goji berries, rose petal, vanilla cake mix, butterscotch, and muted spices. It still feels young at this mighty strength. Warm red fruits of cherry and strawberry slam into a distortion of allspice, clove, and tongue-searing alcohols, which are quelled eventually by sweet notes of creamy toffee and mint. (3,000 bottles)
87 points - whiskyadvocate.com, reviewed by: Jonny McCormick (Spring 2019)
World Whiskies Awards Category Winner: 'Best English Single Malt' 2019.
San Francisco World Spirits Competition Double Gold.
Notes from the producers.... Nose: Dry hay and cut wood, with dark chocolate and dried figs, and plums in sweet syrup. Palate: Warming cereal and toast notes, with lots of fresh red fruits and butterscotch. Finish: Hints of spicy oak, lots of dried fruit and a lingering nutty, dry note.