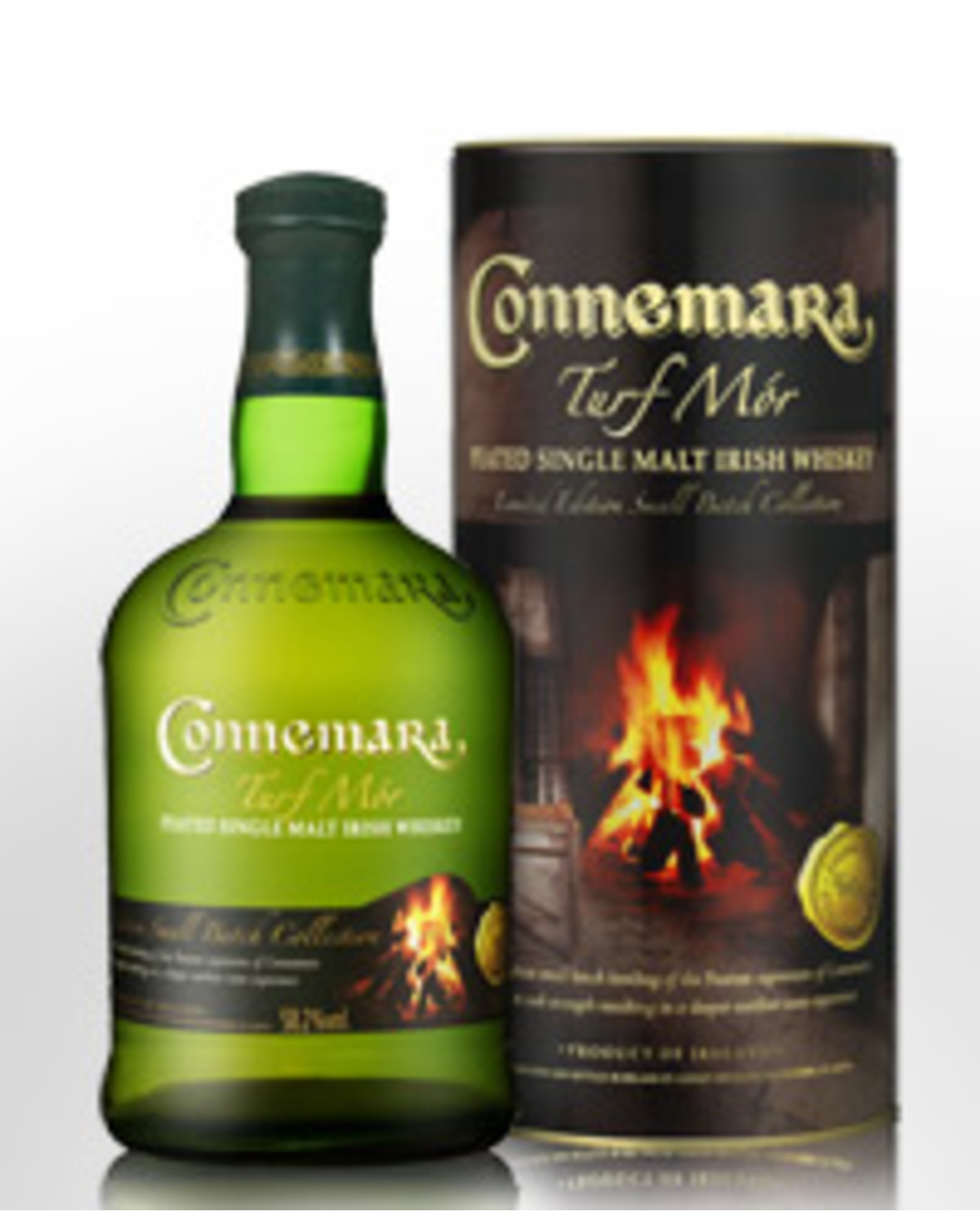 Connemara Turf Mor Cask Strength Single Malt Irish Whiskey (700ml)
By now, most readers will be acquainted with Connemara, and so the concept of smokey Irish whiskey will not be new. Produced at the Cooley Distillery, Turf Mor (meaning "Big Turf") which is the second of Connemara's limited edition 'Small Batch' offerings turns the volume up a notch. It has around 55 ppm of phenols which is the well into the Ardbeg-Laphroaig-Lagavulin range making this the peatiest Irish whiskey yet.
Awarded a 'Gold Medal' and 'Best in Class' at the IWSC in 2011.
Tasting note: Very pale straw appearance. Opening sniffs detect sweet manure-like scents - cow pat combined with sweet soot together with underlying hints of caramel and choc fudge. The farmyard notes slightly retreat on the second pass. Entry is discreet and soft. Mid palate explodes on the tongue delivering a semi sweet fusion of caramel, cocoa and elastoplast. Well balanced and pleasantly warming spices add depth. Concludes bone dry and fresh with the cocoa and elastoplast flavours fading into the lengthy aftertaste. Earhty and robust. Another compelling addition to the Irish whiskey scene.58% Alc./Vol.
Other reviews... 94 points - Jim Murrays Whisky Bible 2013size>
...This is the first time I ever detected dung (albeit subtly) in a whiskey — and only on the nose, thankfully. It's curiously intriguing. The style of peat used, along with the youth of this whiskey, has a distinct impact of the whiskey's flavor. It's sweet and smoky, which works well. Throw in some bacon fat, diesel oil smoke (like at a boat dock), anise, ginger, honeyed malt, barley, lime, and pear. Underneath all that peat lies what seems like a fairly young whiskey, because it is very brisk and vibrant, but not excessively so. Bonus points for distinctiveness. 88 points - www.maltadvocate.com, (Vol. 20, #1) Reviewed by: John Hansellsize>