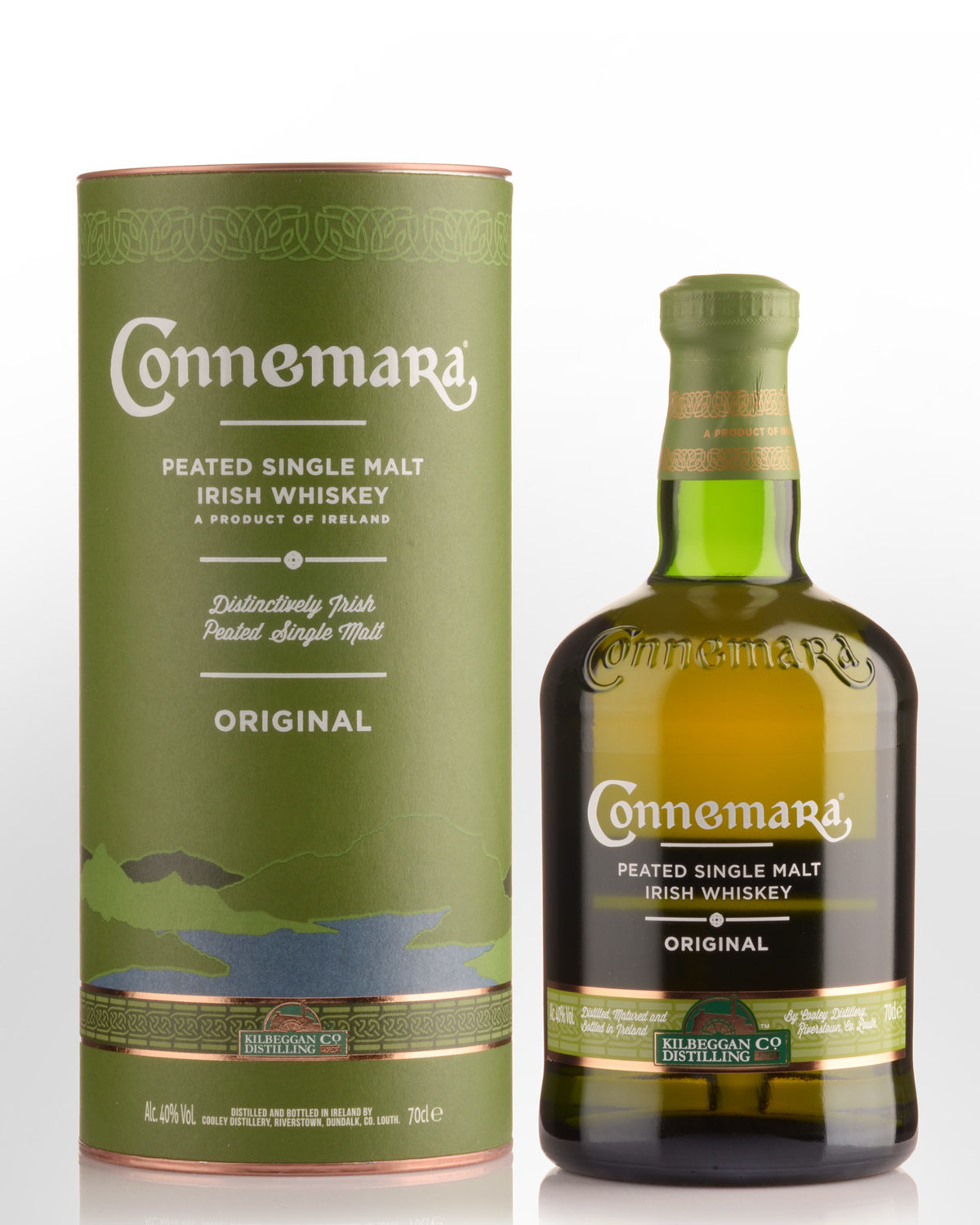 Connemara Peated Single Malt Irish Whiskey (700ml)
"Seriously sexy peat at work here." - Jim Murray
Connemara is a wild, mountainous region on the west coast of Ireland, lying between the Atlantic Ocean and Loughs Corrib and Mask. The peat bogs of Connemara are major fuel sources to the region and have played an important role throughout Irish history as an energy source and in the production of whiskey. However, as many of the distilleries in Ireland were located alongside a canal, the transport and use of coal in distilleries became more efficient than peat. This temporarily killed the tradition of drying malted barley over peat fires in the production of whiskey. Managing Director of Cooley Distillery, David Hynes and chairman John Teeling have resurrected this traditional Irish custom, creating Ireland's only peated malt. Noted whisky writer, Michael Jackson commented of Connemara
"The revival of rustic peatiness adds a whole new element to today's palette of Irish whiskey flavours…Lots happening. Chimney pots of smoke. I love this whiskey."
(Whisky Magazine Issue 15)
Connemara Peated Single Malt was placed fourth in the Irish Whiskey category at Best of the Best 2003 and received a double gold and Best of Irish at the San Fransisco World Spirits Competition 2004.
"Beautifully gilded in peat reek, this rare and highly original spirit is more than a must for lovers of peated whiskey."
Tasting note: The latest bottling from Connemara sees a packaging update. Gold colour with pale straw hue. Potpourri scents at first, with lavender particularly evident, then deeper orange marmalade and toasty oak notes with the peat being sweet and reminiscent of smokey bacon. Soft, round palate entry leads into a brittle, sweet grainy burst with a chewy mouthfeel. The perfectly harmonised peat neither dominates nor detracts from the primary flavours. Finishes with moderate length and turns drier with vanilla, toffee apple and spice. An Irish with real complexity and soul, only the poem ends a little too soon.

Other reviews… Seriously sexy peat at work here. 89 points. - Jim Murray's Whisky Bible 2021
Nose: Sweet, clean peat, vanilla and - floral notes. One of the most profound and complex of Irish noses. Palate: Again very sweet, peaty. Softly honeyed and oily Mild molasses, fabulously smoky. Finish: Becomes drier as some oak bites, but the peat just keeps on rumbling along. Comment: This single malt had suffered from an identity crisis over the last year or so. Some vattings had become slightly off-key, dirty even, and the malt had lost direction. This bottling, however, is back to its brilliant best.
40% Alc./Vol.
90 points
- Jim Murray - whiskymag.com
Golden amber color. Shy aromas of dried fruits, raisins, and nuts have a lightly phenolic edge. Soft and supple entry leads to a dryish medium-bodied palate with delicate nut, buttery dry caramel, and reedy wood with a touch of peat and iodine. Delicately balanced on the fade with peppery and earthy notes. Very easy to drink.
International Review of Spirits Award: Silver Medal
89 points (Highly Recommended) - tastings.com