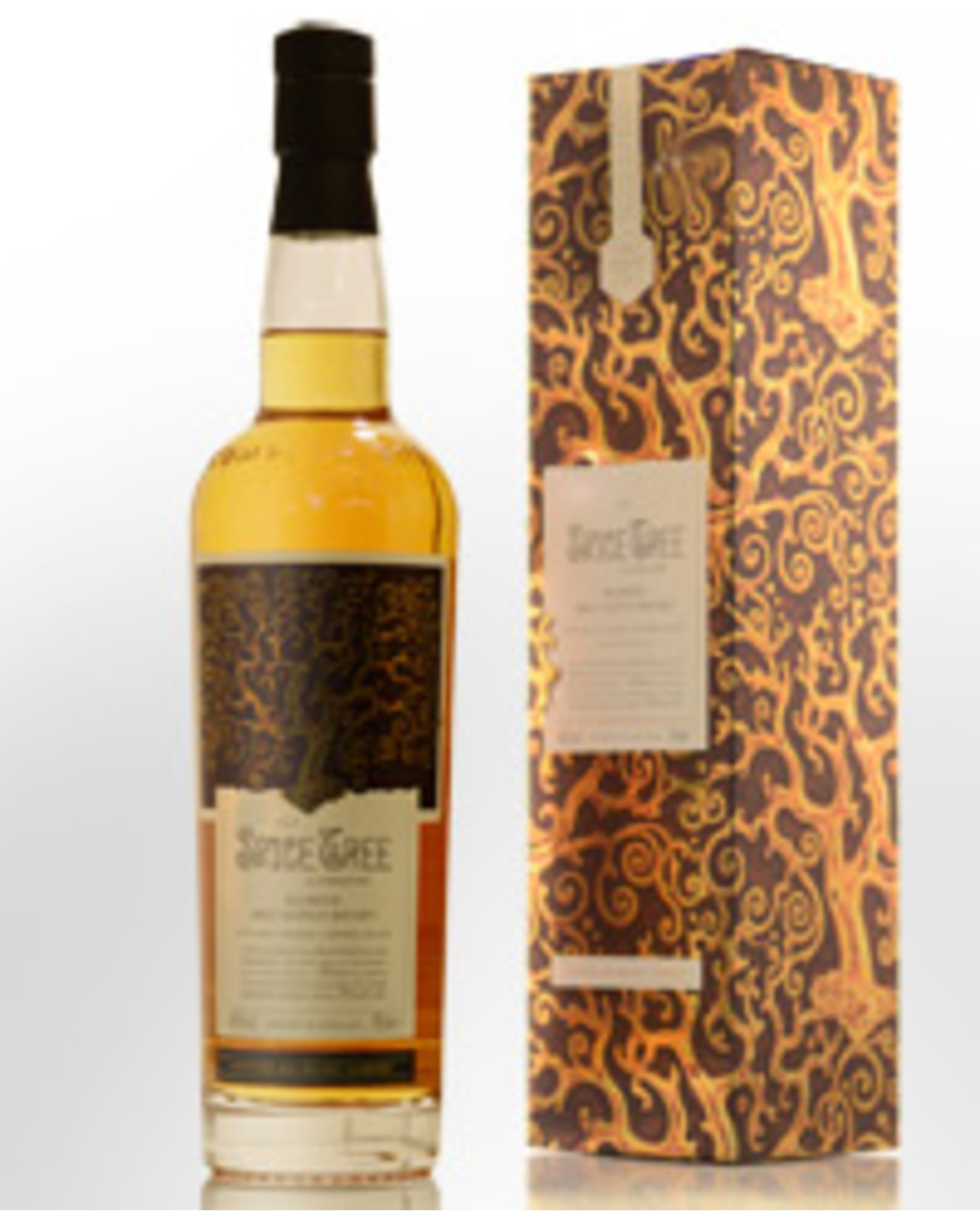 Compass Box The Spice Tree Blended Malt Scotch Whisky (700ml)

The Return of the 'Illegal Whisky'.

First launched in 2005, Compass Box was forced to discontinue production of "The Spice Tree" under a legal threat by the Scotch Whisky Association (SWA). The argument was over whisky maker, John Glaser's use of inner oak staves within the barrel while the whisky was maturing, which was considered 'untraditional' by the SWA. See the entry for the previous Spice Tree release for the full story by
clicking here
.
Despite the stunning quality of the whisky which gained rave reviews, Glaser agreed to halt production, until now. He comments,
"In the last three years we have been working on alternative methods for creating a similar flavour profile to the original Spice Tree bottlings."
  Alongside coopers and oak suppliers, Glaser managed to develop a method for creating heavy toasted cask heads which impart a flavour profile similar to that of the inserted stave system he pioneered. Glaser also believes that the new Spice Tree flavour profile is even bigger and better as well as being more suited to cocktail making than almost any other Scotch Whisky on the market.
This release sources whiskies entirely from northern Highland single malt distilleries, though predominately 10-12 year old components from Clynelish distillery. Primary maturation  took place in a mix of first fill and refill American oak. Secondary maturation followed in new-headed casks made from heavy toasted new French oak from 195 year old Vosges forests. As with other Compass Box releases, this whisky is non chill filtered and has had no colouring added. 46% Alc./Vol.
Tasting note
:
Gold colour with pale straw hue. The nose opens with fresh roasted grain until a dollop of honey drops in the glass. Delicious notes of cinnamon and honey on raisin toast emerge then finally give way to a subtle undercurrent of marmalade, clove and dried citrus. On the palate, rich malt and honey deliver a 'juicy' mouthfeel,  followed by a fresh, citrusy burst that suddenly turns the palate dryer than the nose suggests. Soft, silky finish with a lengthy aftertaste of lemon honey, spice, cereal and mint.
A buxom blend!
Other reviews... The second generation of The Spice Tree. (This new expression sports a much larger tree image on the front label.) While the first bottling used inner French oak staves to impart an additional oak influence, this one uses French oak barrel heads. This new bottling is also bolder, displaying more oak —there's more dried spice notes and it's more viscous and clinging on the palate. (It's also less elegant than the original bottling.) Notes of sticky toffee, vanilla fudge, bramble, and red currant give way to oak resin, cinnamon, clove, nutmeg and subtle lemongrass. A tactile, somewhat resinous, polished leather finish wraps it up. A nice whisky, but to be completely honest, I really enjoy the subtler, more elegant nature of the original bottling better. 
84 points - John Hansell www.themaltadvocate.com
 Click here to learn more about Scotch Whisky