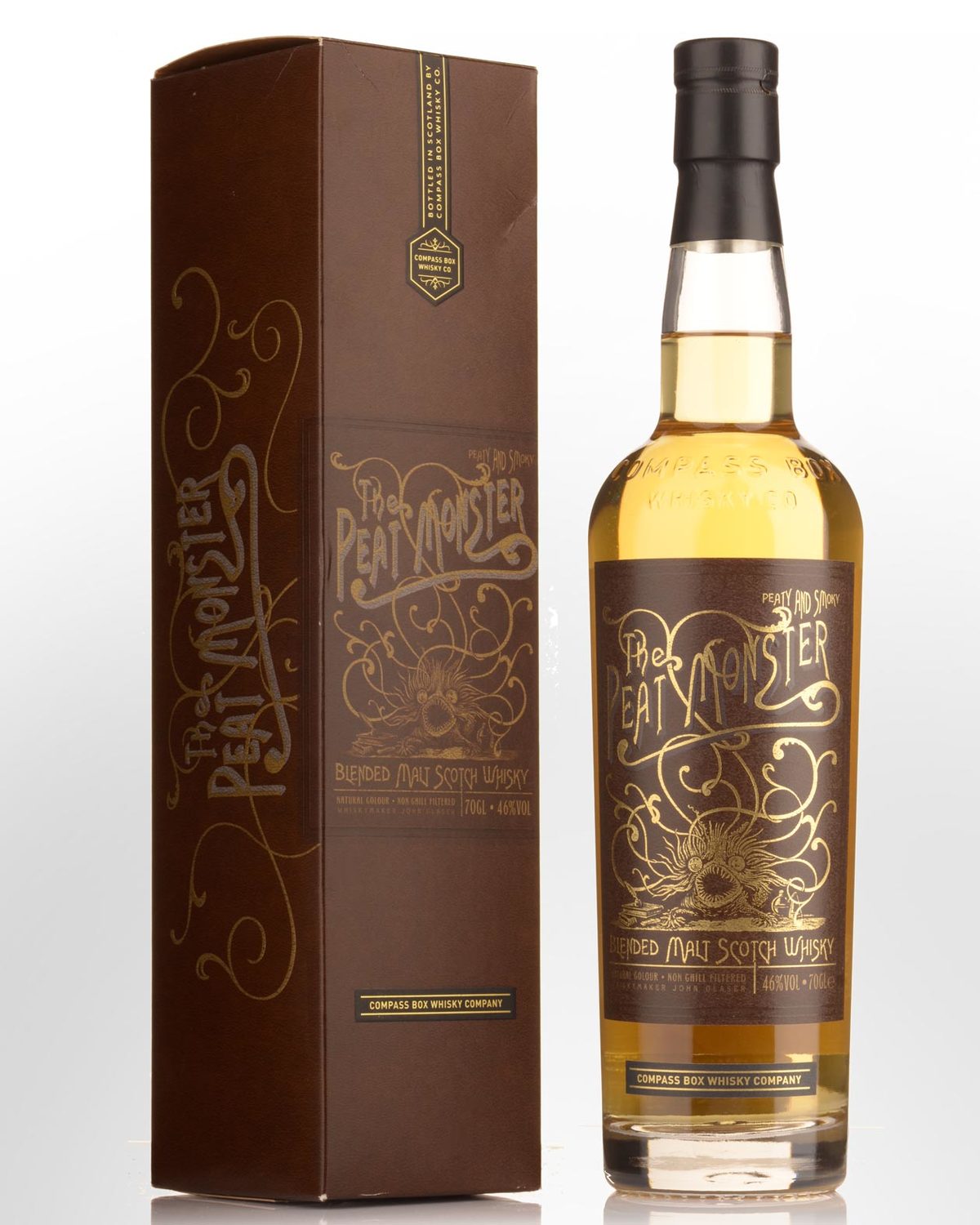 Compass Box The Peat Monster Blended Malt Scotch Whisky (700ml)
Compass Box is a specialist Scotch whisky company founded in 2000 devoted to making some of Scotland's most unique whiskies through the art of blending. John Glaser, Whisky Blender & Company Founder, runs Compass Box in a similar fashion to fine wine negociants. The company chooses individual casks of whisky from different distilleries that offer complementary sets of flavours. They then carefully blend these casks in small batches to make proprietary whiskies. A range of types of Scotch whisky are bottled: malt whiskies, grain whisky, malt & grain blends from twelve distilleries across Scotland. Compass Box is also renowned for having (arguably) the industry's highest quality standards for oak cask selection. When one considers that oak is responsible for up to 70% of the flavour of a mature whisky, one understands their mania. Only 100% American oak is used (predominantly first-fill casks). The colour of all the Compass Box whiskies is the natural colour of the whiskies from the casks. No caramel colouring is added. The whiskies are also not chill filtered
(a cosemtic process which strips flavour and texture from the whisky)
. As John Glaser says,
"Hazy whisky is a good sign that the whisky maker wants you to taste everything the whisky has to offer."
These are indeed alluring whiskies for the free-thinking enthusiast. Limited stocks have arrived in Australia. Each is a must try.
This whisky, like all vatted malts, is made by marrying 100% single malt whiskies from different distilleries. Compass Box Peat Monster includes in its blend single malts from lead distilleries Ardmore and Caol ila. Both components are aged between 10 – 15 years.
Other reviews... Pale golden color. Sweet clover honey, heather, and peat aromas. A soft, yet rich, entry leads to a sweetish medium-full body with caramel, orange peel, raw honey, toast, vibrant peat and pepper flavors. Finishes with a honeycomb, iodine, and toasty grain fade. Very drinkable, exquisitely balanced, and approachable with vibrant, but (despite the name) not dominant peatiness. 46% Alc./Vol.
International Review of Spirits Award: Gold Medal
93 points (Exceptional) -  www.tastings.com
The whisky expresses smartly complex aromas of smoky bonfire smothered with peat, with notes of tar, olives, freshly ground pepper, and seaweed. A sweet maltiness (from the Ardmore?) binds the flavors together. On the palate, the whisky begins sweet, then the powerful peat smoke emerges, yielding to olives, peppery spices, and seaweed. The finish is long and powerful with the peat smoke again emerging and lingering on seemingly forever. A monster indeed. This whisky's complexity demonstrates the virtues of vatting. Many smoky whiskies have nothing else going on behind the cloak of smoke. This one does. 92 points -  The Malt Advocate