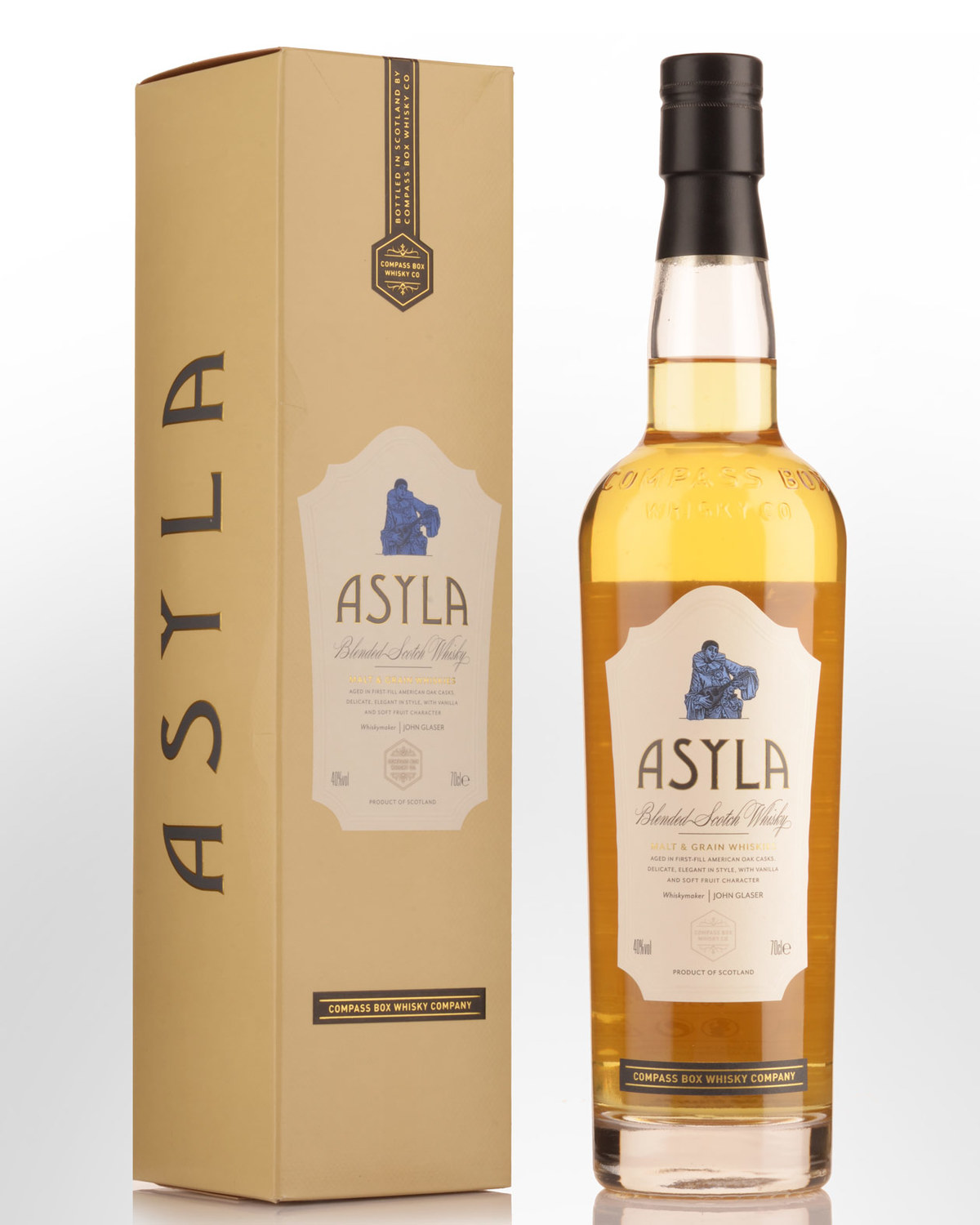 Compass Box Asyla Blended Scotch Whisky (700ml)
Compass Box is a specialist Scotch whisky company founded in 2000 devoted to making some of Scotland's most unique whiskies through the art of blending. John Glaser, Whisky Blender & Company Founder, runs Compass Box in a similar fashion to fine wine negociants. The company chooses individual casks of whisky from different distilleries that offer complementary sets of flavours. They then carefully blend these casks in small batches to make proprietary whiskies. A range of types of Scotch whisky are bottled: malt whiskies, grain whisky, malt & grain blends from twelve distilleries across Scotland. Compass Box is also renowned for having (arguably) the industry's highest quality standards for oak cask selection. When one considers that oak is responsible for up to 70% of the flavour of a mature whisky, one understands their mania. Only 100% American oak is used (predominantly first-fill casks). The colour of all the Compass Box whiskies is the natural colour of the whiskies from the casks. No caramel colouring is added. The whiskies are also not chill filtered (a cosemtic process which strips flavour and texture from the whisky). As John Glaser says, "Hazy whisky is a good sign that the whisky maker wants you to taste everything the whisky has to offer." These are indeed alluring whiskies for the free-thinking enthusiast. Limited stocks have arrived in Australia. Each is a must try.
Compass Box Asyla is a combination of two single grain whiskies, Cambus & Cameronbridge; and three single malts, Craggonmore, Glen Elgin & Linkwood all aged between 11 and 12 years.

Tasting note: Very pale straw colour with a waterlike hue. Soft, sweet aromas of fresh cut hay, sweet cereals over some heavier scents of creme brulee and dried fruits. Rich, spicy, Sauternes like texture. Choc-fudge sundae, sweet nuts, vanilla and spice flavours combine with a lovely sense of elegance and lightness on the palate. Gently warming spirit. Aftertaste of biscuit and vanilla. 40% Alc./Vol.
Other reviews... Yellow golden color. Lightly floral and grassy, butter pecan ice cream, toffee, and toasted oak aromas. A brisk soft entry leads to a mild, slightly sweet light-to medium-bodied palate with vanilla nut fudge, brown spice, and exotic peppercorn flavors. Finishes with a rich perfumed fade of toffee and wood spice. Distinctive and dangerously drinkable.
International Review of Spirits Award: Gold Medal RATED: 91 points (Exceptional)
- www.tastings.com
…Nose: Like a trifle, but without the sherry. Taste: Very clever strands of sugar-honey intertwine with both grassy malt and clean grain. Finish: long and laid back with no weight whatsover but an erogenous caressing of the tastebuds with an almost covert flavour attack; Balance: subliminal whisky that may wash over you unnoticed for the first two or three mouthfuls but then you wake up to what is happenning to you: and that is pretty sexy stuff, believe me… Rating: 92 - Jim Murray's Whisky Bible 2006.
 Click here to learn more about Scotch Whisky