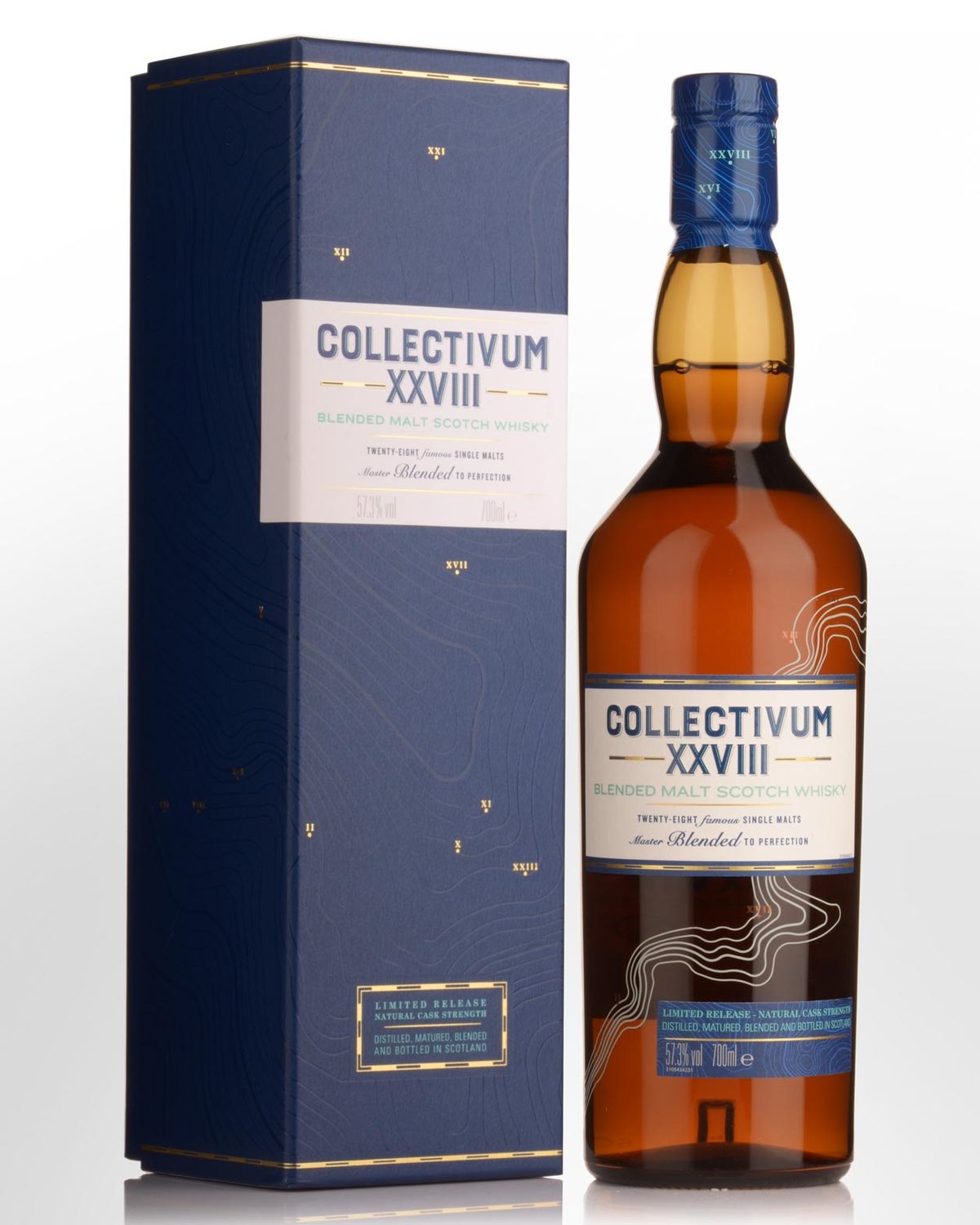 Collectivum XXVIII (Special Release 2017) Cask Strength Blended Malt Scotch Whisky (700ml)
SCOTLAND
For many, the most intriguing whisky in this year's line up.
Dr Nick Morgan, Diageo's Head of Whisky Outreach has stated he's particularly keen to see the response to the new Collectivum XXVIII: An ambitious blending excercise utilising whiskies from all 28 of Diageo's working single malt distilleries.
There's no confirmation that Collectivum XXVIII will be repeated. This fact combined with a very accessible price point should make it a strong choice for collectors.
The full breakdown includes malts from Auchroisk, Benrinnes, Blair Athol, Caol Ila, Cardhu, Clynelish, Cragganmore, Dailuaine, Dalwhinnie, Dufftown, Glendullan, Glen Elgin, Glenkinchie, Glenlossie, Glen Ord, Glen Spey, Inchgower, Knockando, Lagavulin, Linkwood, Mannochmore, Mortlach, Oban, Roseisle, Royal Lochnagar, Strathmill, Talisker and Teaninich. Serge Valentin notes the inclusion of Roseisle,
"...which suggests that this blended malt cannot be older than 6 years, as Roseisle Distillery was inaugurated on October 11, 2010. Are you following me?"
Regardless of age, blended malts can be as exciting as any great Single Malt. Serge's verdict?
"...it's possibly the best 6yo ever. Ha!"
See review below.
Tasting note:
Burnished gold. Pillowy soft on the nose - puffs of shortbread and sponge cake, faint peat, beeswax and emerging sweet, fruity malt in its purest form imaginable. There's a sense of elegance here. In the mouth, it's medium bodied with notes of fruit cremes, honey-laced malt (beeswax) and vanilla framed by a lively and tangy freshness. Outstanding balance. Mildly waxy and nutty through the finish with lingering orchard fruits. Very good, but needs time to open up. Don't hurry this one.
57.3% Alc./Vol.
Other reviews…
An incredibly complex creation... this has minted toffee, gummy bears, raw gooseberry, fresh whole grain bread, and earthy spices shaken over sweet banoffee pie. Rich fruit, cocoa, granular white chocolate, dark citrus, waxy caramel bars, nutmeg, cinnamon, and bitter dark chocolate. Water stimulates green fruit notes. A beautiful sugared almond note materializes with sweet fudge and dried apple dipped in chocolate.
94 points
whiskyadvocate.com, Reviewed by: Jonny McCormick (Winter 2017)
This is advertised as a blend of all 28 operational malt distilleries owned by Diageo – not a 28yo mind you - which implies that there's some Roseisle, which suggests that this blended malt cannot be older than 6, as Roseisle Distillery was inaugurated on October 11, 2010. Are you following me? Colour: gold. Nose: everybody knows that Diageo have great blenders who do not only work with spreadsheets, and it seems that this is more evidence. Starts perfectly cake-y, with some custard, apple pie, beeswax, then hints of beef bouillon (sherry?) and fresh cigars, then a mossy side, as well as mushrooms. We knew this was going to be well composed, didn't we. With water: very, and I mean very malty. Some spicy oak and some paraffin in the background. Mouth (neat): wow! It's a tad 'jumbled' at first, which is normal, but there are leading malts in there, possibly Clynelish for example, and clarity is soon to appear. It's not impossible that they've added quite some Talisker too, if you ask me. The whole is excellent, getting peatier by the second. Good pepper, good oranges. With water: swims very well, citrus up, peppermint up as well. Finish: long, rather sharp, keeping your palate fresh. Smoky aftertaste. Comments: possibly the best 6yo ever. Ha!
89 points
- Serge Valentin, www.whiskyfun.com