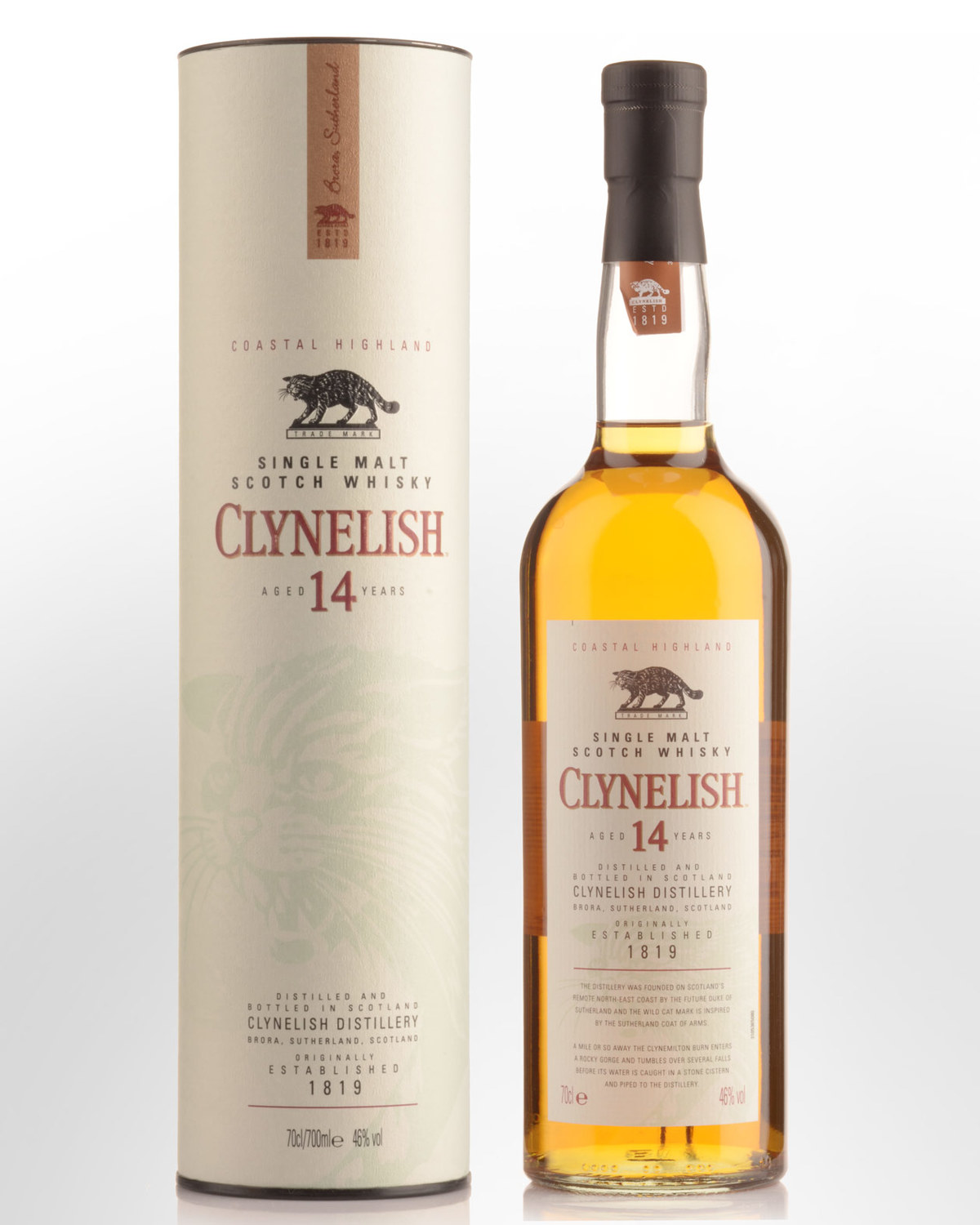 Clynelish 14 Year Old Single Malt Scotch Whisky (700ml)
When one thinks of the great homes of malt whisky, Speyside and Islay come first to mind. But other regions play a full part in whisky's story, and Scotland's far north-east, from where Clynelish comes, is one. Located on the stormy sea coast of Sutherland, the Clynelish distillery is a replica of the modern Islay distillery, Caol Ila, and faces the now abandoned Brora distillery. When the distillery was built in 1819 by the future Duke of Sutherland, the quality of Clynelish whisky was already highly prized and only private customers were supplied; "trade orders" were refused and Clynelish was "always the highest priced of any Scotch whisky."
Between the 1960's and early 1980's, both Brora and Clynelish distilleries operated with Brora ceasing production in 1983.
At Clynelish, barley is malted with a medium peat and mashed with water from the Clynemilton burn to produce the wort, which is then distilled twice in pot stills. Clynelish's style is coastal, with some 'island' character - namely, a classic seaweedy, salty tang. The fourteen year old is generally less peaty than some older expressions. Over the years, Clynelish has continued to be held in high regard by whisky enthusiasts. The great Victorian, Professor George Saintsbury, selected it as a favourite and the whisky has since received numerous accolades including a Gold Medal at the International Wine & Spirit Competition in 1998. Today, a miniscule percentage of production is marketed as a Single Malt, the remaining component being allocated to the Johnnie Walker Gold Label blend.
"A disarming malt that exudes sheer class."
Other reviews... The initial aroma is large, biscuity and grainy sweet; the aroma then becomes more sugar biscuit-like and a touch salty. Palate entry finds generous and malty-sweet flavors; by midpalate distinctive notes of black pepper, seaweed, oaky vanilla, honey and dark caramel are added. Finishes elegantly, sweetly and malty, with just a barely discernable influence of the sea. Best Buy.  Rating: 90-95. -wineenthusiast.com
Other reviews…Nose: Excellent complexity with diced carrots adding to the earthy, salady aroma. Some sweetness but drier than usual. Palate; Fruity, grapey and beautifully mouthwatering: quite different from the nose. Brilliant sub-strata of peat runs throughout and adds a luscious sweetness to compliment the sultanas and spice. Finish: Smoky and dries rapidly to allow in a cocoa effect. Comment: A disarming malt that exudes sheer class. Rating: 85 - www.whiskymag.com


 Click here to learn more about Scotch Whisky