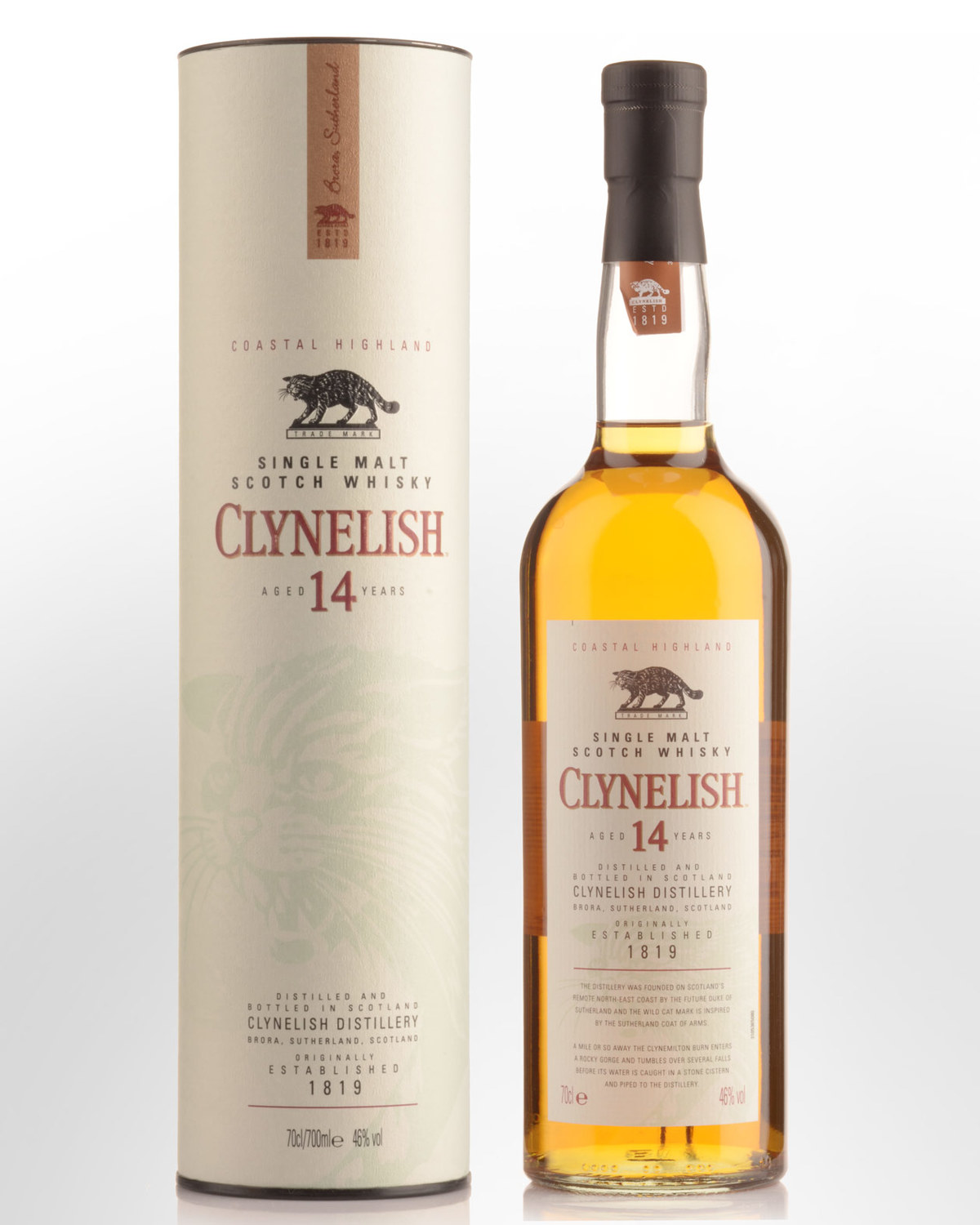 Clynelish 14 Year Old Single Malt Scotch Whisky (700ml)
"Make no mistake. Clynelish ranks among the 10 best distilleries in the world..." 95 points. - Jim Murray's Whisky Bible 2022
Jim Murray raved about the 14 year old in his 2022 Whisky Bible, positioning it as one of the most highly rated and affordable malts of the annual. Serge Valentin of whiskyfun.com ranks Clynelish a Grand Cru Classé and one of his favourite makes. Yet today, only a tiny percentage is marketed as a single, the remainder being allocated to the Johnnie Walker Gold blend.
Thinking of the great centres of malt whisky, Speyside and Islay come first to mind. But other regions play a part in whisky's story, and Scotland's far north-east, from where Clynelish comes, is one. Located on the stormy sea coast of Sutherland, Clynelish is a replica of the modern Islay distillery, Caol Ila. Not long after the original Clynelish was built in 1819 by the Duke of Sutherland, its quality was already highly prized and only private customers were supplied; "trade orders" were refused and Clynelish was "always the highest priced of any Scotch whisky." ' Old Clynelish' was mothballed in 1968 and re-opened as 'Brora' the following year, focusing on peated malt. 'New Clynelish' was built adjacent to Brora, the latter ceasing production in 1983.
In the present day Diageo-owned operation, barley is malted with a medium peat and mashed with water from the Clynemilton burn to produce the wort, which is then distilled twice in pot stills. Summed up by whisky writer, Dave Broom as "A disarming malt that exudes sheer class", Clynelish's style stands out for its low-peat coastal character, which is often notably waxy (think snuffed candles, beeswax or wax lined jackets) complexed by hints of orange peel and briny sea air.
Other reviews... salt and honey bound, giving a pleasant sharpness to the sugars while the oak plays a weighty role: the base, alongside what seems like a shard of smoke... For a moment you don't concentrate on the flavours, as it is the slightly waxy texture that holds you in thrall. Then the honey slowly makes its mark and spreads... At last the style and shape is there to be seen... though there is still so much more to reveal. 95 points - Jim Murray's Whisky Bible 2022
...The initial aroma is large, biscuity and grainy sweet; the aroma then becomes more sugar biscuit-like and a touch salty. Palate entry finds generous and malty-sweet flavors; by midpalate distinctive notes of black pepper, seaweed, oaky vanilla, honey and dark caramel are added. Finishes elegantly, sweetly and malty, with just a barely discernable influence of the sea. Best Buy 90-95 points. -wineenthusiast.com
...It's good to see an official distillery bottling of Clynelish in the U.S. This one is very true to the Clynelish style: fresh, appetizing, and very drinkable. Notes of brine, fruit (lemon-lime), and vanilla-accented malt, are the foundation of this whisky. Delicate seaweed, peat, exotic pepper and a hint of citrus rind bitterness entertain the palate throughout, all the way to its appetizingly briny, seaweed-tinged finish. Perhaps the definitive aperitif whisky. 87 points - whiskyadvocate.com, reviewed by: John Hansell, Winter 2004
…Nose: Excellent complexity with diced carrots adding to the earthy, salady aroma. Some sweetness but drier than usual. Palate; Fruity, grapey and beautifully mouthwatering: quite different from the nose. Brilliant sub-strata of peat runs throughout and adds a luscious sweetness to compliment the sultanas and spice. Finish: Smoky and dries rapidly to allow in a cocoa effect. Comment: A disarming malt that exudes sheer class. 85 points - whiskymag.com