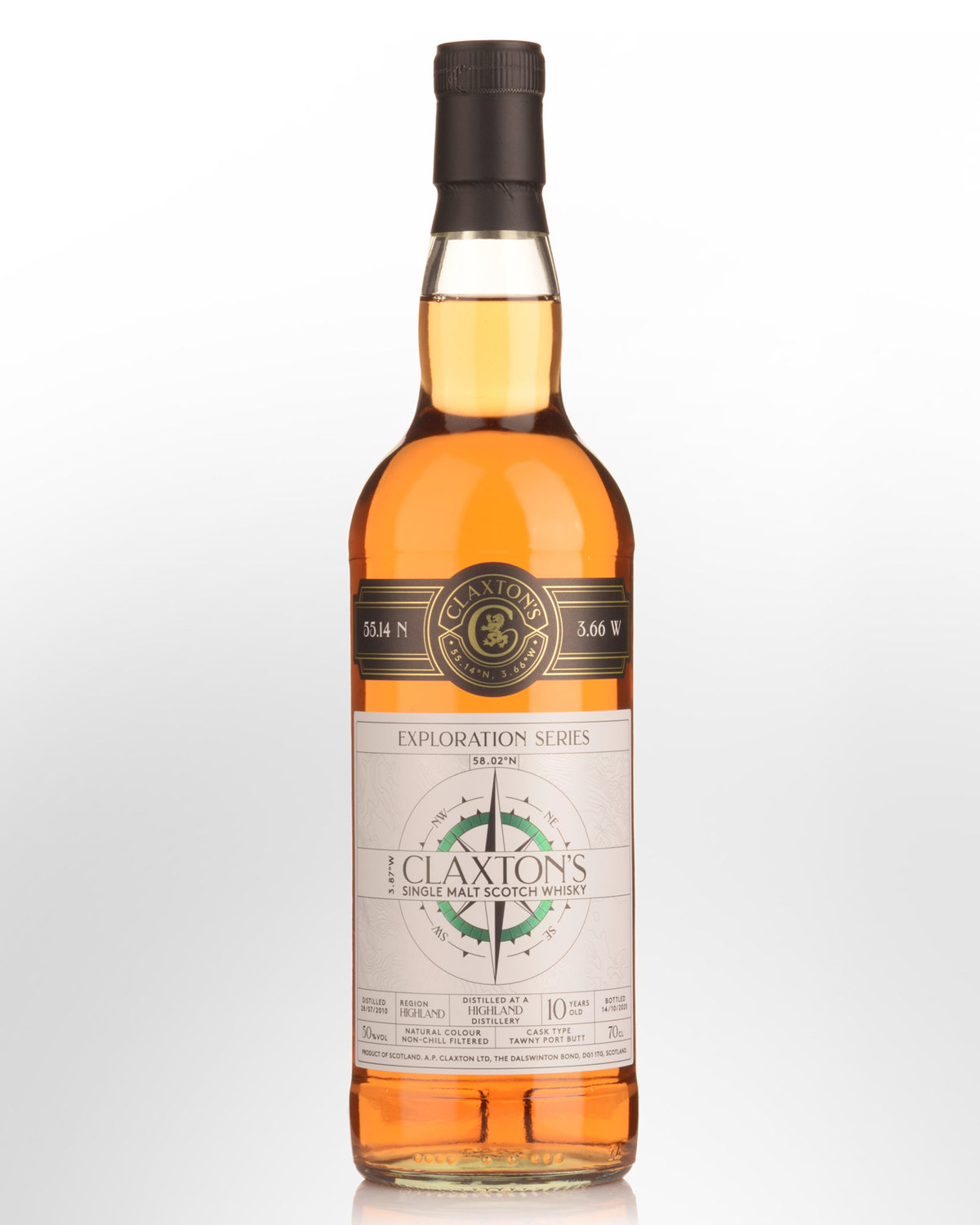 Claxton's Exploration Series Highland 10 Year Old Single Cask Single Malt Scotch Whisky (700ml)
Tasting note: The label says 'Highland' rather than 'Speyside'. Co-ordinates on the bottle suggest a north coastal location. Clynelish or Pulteney suit the profile, but it's anyone's guess. Port soaked pipe tobacco, Summer pudding, brine and spiced pears on the nose. Air contact highlights malt and fruit'n'nut dark chocolate. Full and beautifully weighted. Background oily peat threads through the malty middle. Red fruits fill out and add interest to the tangy finish. A strong Tawny Port influence helps to mask the provenance - but who cares when the whisky is as tasty as this? Not teaspooned so Claxton's could label this as 'Single Malt' rather than blended. 50% Alc./Vol. Non chill filtered.
It's unusual to find a whisky collection where every bottling demonstrates character, balance and proper ABV, all at very reasonable prices. Claxton's 'Explorer Series' scores points on every count. As opposed to their 'Single Cask' series, the Exploration selections are tailored to a slightly different audience - in particular those new to indie bottlings or looking to explore the diversity of single malts at a more accessible price point. Company Director, Tom Roskams points out, "We still get a lot of established whisky enthusiasts and 'whisky pro's' who enjoy drinking the Exploration Series as the quality remains extremely high and our benchmark for quality and reputation in the market is considered very high." This shipment is one for purists to jump on as they're all single cask bottlings. This is set to change in future shipments as Claxton's manage demand for the series. We are NOT able to disclose the provenance of the unnamed distilleries, however the co-ordinates on each bottle offer a 'hint' at the origin without giving the direct information away. Additionally, each bottle contains a Claxton's collectors coin beneath the capsule, which can be collected like 'treasure'. This is ultimately for a bit of fun but aims to encourage customer loyalty. Most whiskies are finishes or full-term matured in sweet wine casks which tends to temper and soften rather than smother, making these young malts incredibly approachable. All are non chill filtered and available at direct import prices.