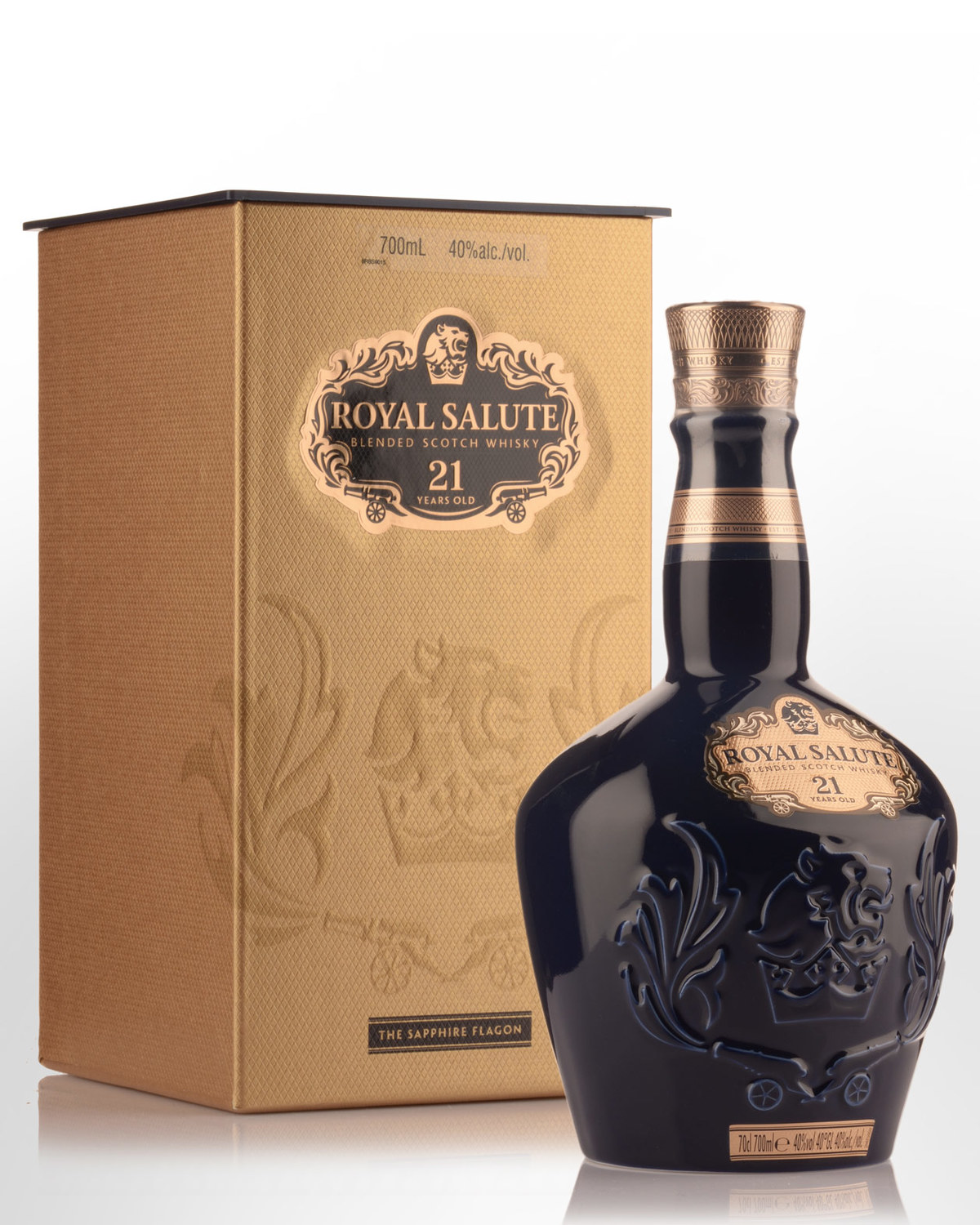 Chivas Regal Royal Salute Sapphire Flagon Blended Scotch Whisky (700ml)
Speyside, Highlands,
SCOTLAND
The ceremonial firing of guns in salute is a legendary custom which can be traced back to early seafaring days. Friendly ships passing each other rendered this salute as a gesture of good will. Later it became customary to extend a 21 gun salute to a reigning sovereign upon their arrival. Today this salute marks the welcome of a foreign Head of State to a friendly host nation. The inspiration for Royal Salute, like the ceremony commemorates, seeks to reflect tradition. Aged and bottled in Scotland by Chivas Brothers for 21 years, Royal Salute is unmatched by any other blend for its sheer mellowness. A highly exclusive spirit created for the connoisseur.
Bottled in porcelain flagons, produced by Wade porcelain, the design incorporates the image of Robert the Bruce, also bearing a Gaelic motto which translates as 'fidelity, stability since 1801'. These sought after flagons are available in three colours, inspired by the jewels in the Coronation crown: Sapphire, Ruby and Emerald.
Other reviews...
Nose: 23 - Has persisted with the gentle, exotic fruit but less lush here with much more punch and poke; it even seems that the smoke which had been missing in recent years has returned, but in a shadowy form only;
Taste: 23.5 - yep! Definately more bite these days with the grains having a much greater input, for all the juiciness, and the vanilla striking home earlier. Makes for a decent sweet/dry middle, the sweetness supplied by boiled sweet candy
Flavour: 23 - plenty of cocoa and the very lightest dab of something smoky;
Balance: 23.5 - if you are looking for the velvety character of yore forget it. This one comes with some real character and is much the better for it. The grain, in particular, excels
Rating: 92.5- Jim Murray Whisky Bible 2010
Nose: Understated and takes time to open. Almond skin, dried peels, honeycomb, light smoke, bruised apple, nut bowl, wax. Mature. Palate: Lemon, lime, then marzipan, coconut, hay, nutmeg deepening into honey, cooked raspberry. Finish: Anise/basil. Expansive and complex. Comment: A classic example of the understated, elegant approach of the old Chivas blends..
Rating: 87 -David Broom, www.whiskymag.comsize>
Brilliant amber hue. Soft floral and honeyed malt aromas. A soft gentle entry leads to a dryish, oily medium-bodied palate with toasty malt, roasted nuts, and dried autumn fruit flavors. Finishes with a lingering peppery wave of spice and round, grainy malt flavors. A soft, feminine style.40% Alc./Vol.
International Review of Spirits Award: Gold Medal
RATED: 90 points (Exceptional) - tasting note sourced from www.tastings.comsize>
 Click here to learn more about Scotch Whisky