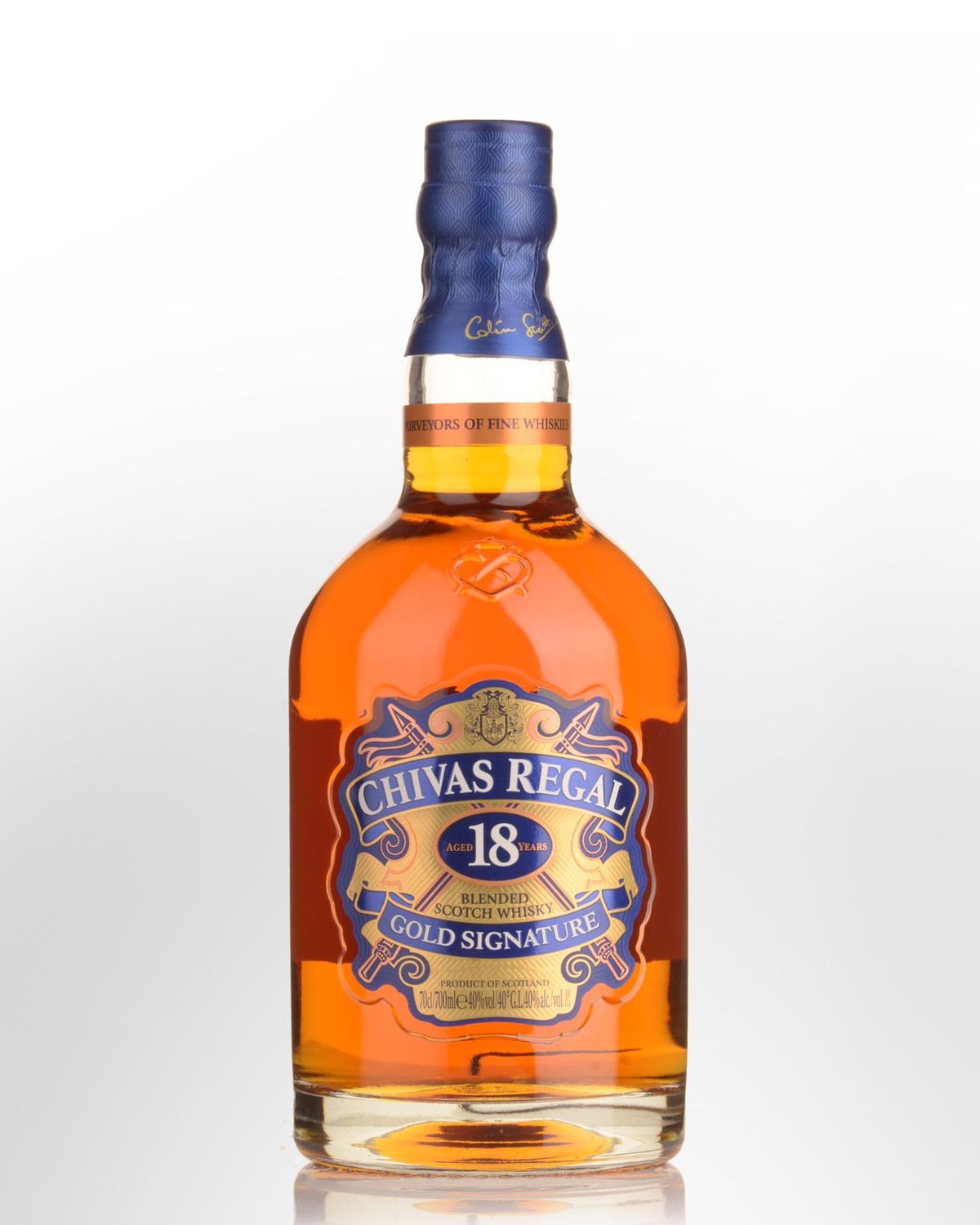 Chivas Regal 18 Year Old Blended Scotch Whisky (700ml)
Speyside, Highlands,
SCOTLAND
In 1950, Chivas Brothers began the search for a secure supply of exceptional malt whisky. Strathisla Distillery in Keith, the oldest and most beautiful distillery in the Highlands, was the obvious choice. From that day to this, the world-famous Strathisla Single Malt Scotch whisky became the foundation of the Chivas blend. The international reputation of Chivas Regal has been built upon this distillery and the skill of successive generations of Master Blenders. Legally, a blended Scotch whisky must contain both single malt Scotch whiskies and single grain Scotch whiskies. Chivas Regal 12 and 18 year old whiskies are blended using a special process called triple blending. First of all, the selected single malts are blended together. The second stage sees the selected single grains blended together, and then thirdly, the vatted malts and the vatted grains are brought together. These spirits are each married in selected oak casks for an extended period of maturation in order to produce an exceptionally smooth, rich whisky.
'The smooth taste of Chivas Regal 18 Year Old reflects the traditional style of blended Scotch whiskies with a powerful array of rich, fruity aromas, and a defined smokiness that develops into a long and memorable finish.' So says Colin Scott, Master Blender of Chivas. Colin hand-picks each whisky designated for Chivas Regal 18 Year Old from the distilleries most precious stock - including certain whiskies that are now exceedingly rare.
Winner of three major awards, each bottle of Chivas Regal 18 Year Old bears its own unique serial number, sourcing it back to the one particular triple blending. And because only selected casks are matured to such a great age, the quantity of Chivas 18 Year Old produced every year is always strictly limited.
Tasting notes: Brassy gold appearance. Bubblegum / marshmallow opening is a little bourbonesque. Second pass reveals vanilla and biscuity malt with a judicious slather of peat. The palate combines a silky mouthfeel with solid concentration - nothing like the comparatively beige 12 Year Old - delicate spices, biscuity, honeyed grains with hints of dried fruits. The finish is crisp with a lingering confectionary note. 40% Alc./Vol.
Other reviews... Nose: A little closed without water; hints of grass, crystallised fruits and butter toffee. Water brings a note of dry cracker which mellows into juicier aromas. Palate: Solid rich stuff that stays in the mouth, all polished wood, soft leather, chocolate, black fruits, pipe smoke and balancing crunchiness. Finish: Lush and fruity slowly crisping up. Comment: Like a gentleman's club: all leather chairs, cigar smoke and murmured conversations. A beauty. Rating: 90 -  David Broom, www.whiskymag.com
Brilliant rich amber color. Caraway and nut fudge aromas. A very soft entry leads to an oily medium-to full-bodied palate with elegant balanced melon and dried fruit, brown spice, and heathery malt flavors. Finishes with a nice long fade of toffee and spice. A complex and elegant blended Scotch for sipping.  International Review of Spirits Award: Gold Medal
91 points (Recommended) -  tasting.com