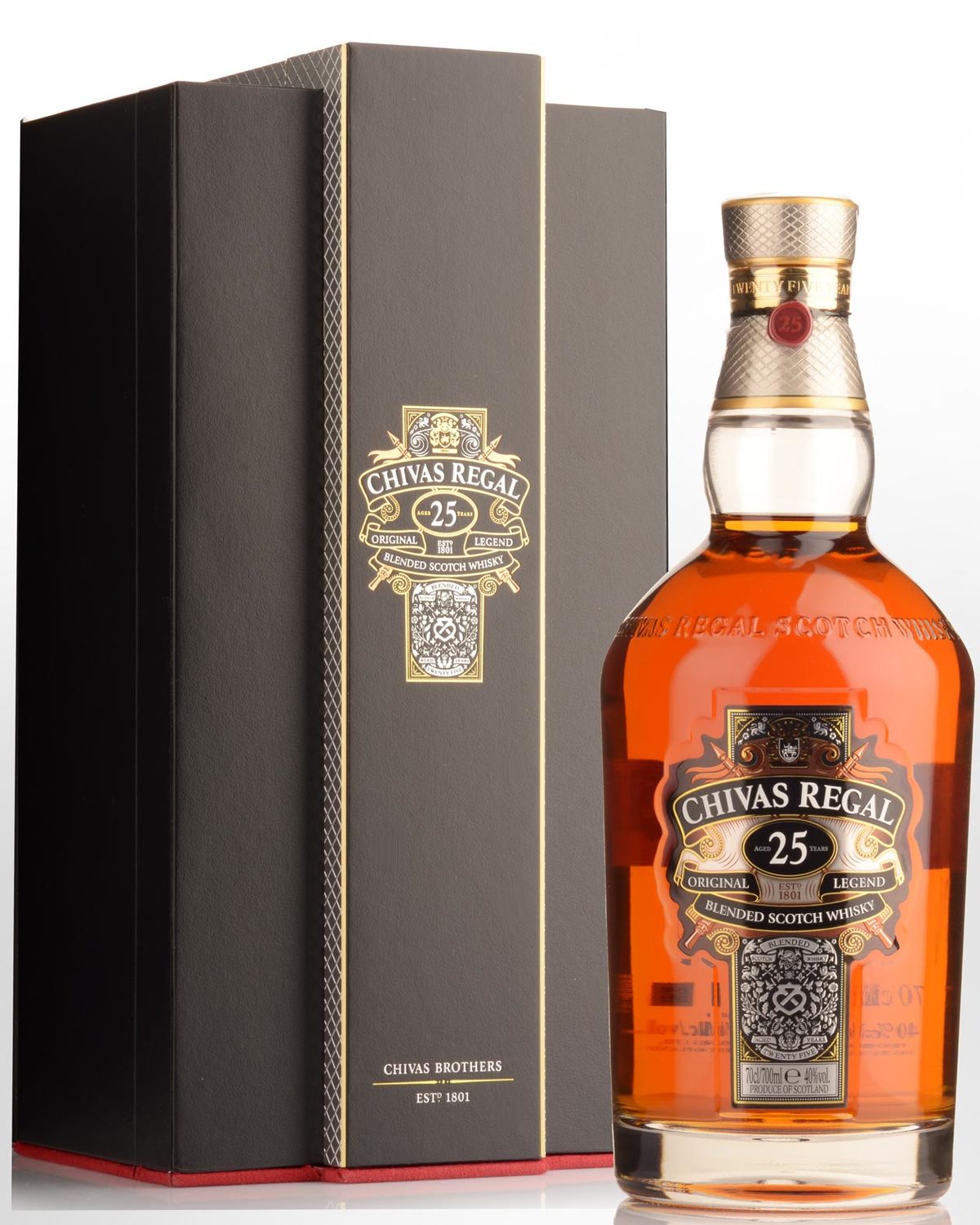 Chivas Regal 25 Year Old Blended Scotch Whisky (700ml)
Speyside, Highlands,
SCOTLAND
Scotch Blended Whisky of the Year (over 12 years)' -
95 points Jim Murray's Whisky Bible 2010.
After a 98 year absence, Chivas Regal 25 returned in 2007, paying homage to the first ever Chivas Regal blend. First released in 1909, the Inclusion of single malt whisky from the Strathisla ditillery, Speyside is said to give Chivas its defining sweetness.
Tasting notes: Deep brassy gold colour. Rich and heady bouquet offers a sublime medley of fruits and nuts, dark chocolate, nougat and vanilla. An exceptionally pure, soft and svelte textured delivery possesses remarkable vibrancy for a whisky of its ilk. Stewed fruits combine with lively spices, cocoa and vanilla wafer biscuit. Outstanding length and balance. Concludes long and fresh, almost peppermint like, with hints of spice and cocoa persisting. A brilliant example that showcases what extra aged Scotch Whisky is all about. 40% Alc./Vol.
Other reviews...Nose: Exotic fruit of the first order: some pretty serious age here, seemingly older than the 25 years (23.5) Taste: Mesmerisingly two-toned, with a beautiful delivery of velvety grains contrasting stunningly with the much firmer, cleaner malts. Softly chewable, with a gentle spice fizz as the vannilla begins to mount; unbelieveably juicy and mouth-watering despite its advanced age. (23.5) Finish: Long, wonderfully texturedand deft; some cocoa underlines the oak involvement, but there is not once a single hint of over-ageing. (24) Balance: unadulterated class where the grain-malt balance is exemplary and the deft intertwining of well-mannered oak and elegant barley leaves you demanding another glass. Brilliant! (24.5) 95 points -Jim Murray's Whisky Bible
A polished nose of red apple, cinnamon, caramels, and salted almonds makes for an enticing prospect on this showpiece dram. The taste exemplifies smoothness. The indulgent palate comprises dark cooked fruits, coffee, malty cocoa, sticky toffee pudding, fudge, and a fine line of orange. Roll it around the mouth: the integrated aged grains enable these select malts to achieve their full flavor potential. An exceptionally long finish has remnants of that toffee pudding and a well-sucked aniseed ball. Treat yourself.
88 points
Reviewed by: Jonny McCormick (Spring 2016) – www.maltadvocate.com