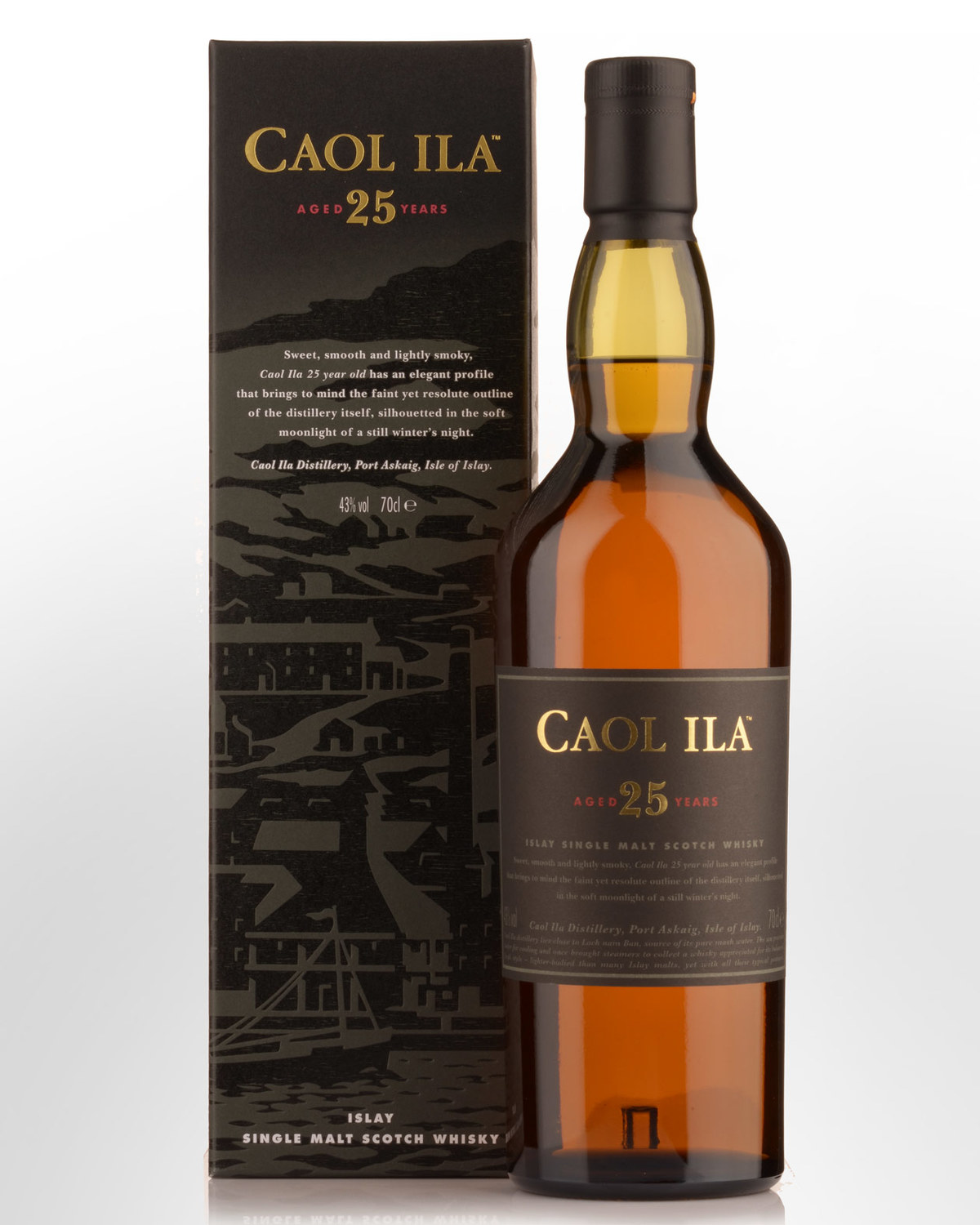 Caol Ila 25 Year Old Single Malt Scotch Whisky (700ml)
"Completely ignoring the current peat battle between Ardbeg and Bruichladdich and heading off into an altogether more refined and delicate direction." - whiskyadvocate.com
Caol Ila
(Gaelic for 'the Sound of Islay')
is situated on the north eastern shores of the island, with magnificent views across the Sound to the spectacular Paps of Jura. Despite being the largest distillery on Islay (in terms of production anyway), nearly all of Caol Ila's output ends up in blends. The distillery's gently fruity-smoky style sets it apart and comes down to the production process:
"...although it receives the same spec of malt as sister distillery Lagavulin, Caol Ila's distillation regime – longer fermentation, higher cut point and taller stills, help to reduce the heavy phenols."
Extended maturation further integrates the peat.
Voted Best Islay Whisky at the World Whisky Awards in 2010
, the delicate maritime notes in the 25 year old make a stunning accompaniment to seafood such as oysters or smoked salmon.
Tasting note: Amber gold. Opens slightly restrained, but give this ten minutes in the glass and it builds a heady bouquet of all-things Caol Ila; sooty peat, baked citrus, vanilla and that lovely mentholated / salty / maritime edge that completes the picture and keeps you coming back. Ever softer, better integrated and more engaging with further air contact, twenty five years leaves a finely woven tapestry of flavours with a drying, mineral edge. No shortage of power here either; the barley sugars at mid palate burst, giving way to ash and campfire, tar, chilli chocolate and hints of hemp. Beautifully balanced uncut, a little water draws out citrus, adds to the length and sweetens the barley. So complete, close your eyes and it could be every Islay malt vatted into one by a blending maestro. 43% Alc./Vol.
Other reviews...
The sugars start to mount up impressively, while the spices become positively warm... the smoke rumbles along with spicy mischief. Even after all these years this malt cannot only lay on its Islay credentials with its eyes closed, but does so with an almost haughty air, cocking a smoky snook at the passing of a quarter of a century.
95.5 points
- Jim Murray's Whisky Bible 2020
This is to be a permanent addition to the core Caol Ila range, but it will raise a few eyebrows, completely ignoring the current peat battle between Ardbeg and Bruichladdich and heading off into an altogether more refined and delicate direction. This is a dignified and complex malt, which doesn't give everything up immediately. There's soft pear and guava on the nose, and the trademark oiliness and distinctive peat are there, but there's a buttery quality, too, as well as some brine and spice, apple pip, and traces of aniseed. You get a sense of its age late on, with some oaky tannins and sharper spice, but overall this is an unhurried, complex, and sweet whisky with just enough peat to keep it honest. Very impressive.
88 points
- www.maltadvocate.com (Vol. 19, #3) Always a fun bottling to follow. Colour: gold. Nose: ahhh yes! Gentle medical embrocations, dried seaweed, seashore, various shellfish, lemon infused olive oil, dried herbal aspects, some light petrol notes and lots of old school cough medicines. The height of sophistication and elegance! Mouth: this is the missing link between these great early 1980s casks and the mid-1990s ones. Many medical balms, cooking oils, gentle smoke, sootiness and a rather earthy and herbal peat profile. Wee touches of camphor, ink and waxed canvas. Some pebble-driven minerality too. Great balance and perfect poise. Unequivocally excellent. Finish: good length, some wonderfully resinous coastal and salty characteristics. Smoked fish, black pepper, olive tapenade and oyster sauce. Comments: I think this bottling improved again over some previous batches. A kind of old fashioned style of bottling that you might have found more readily in the 1990s (Caol Ila's Laphroaig 30 year old if you see what I mean?), but I think it really works very well. Effortless and charming stuff.
90 points - Serge Valentin, whiskyfun.com