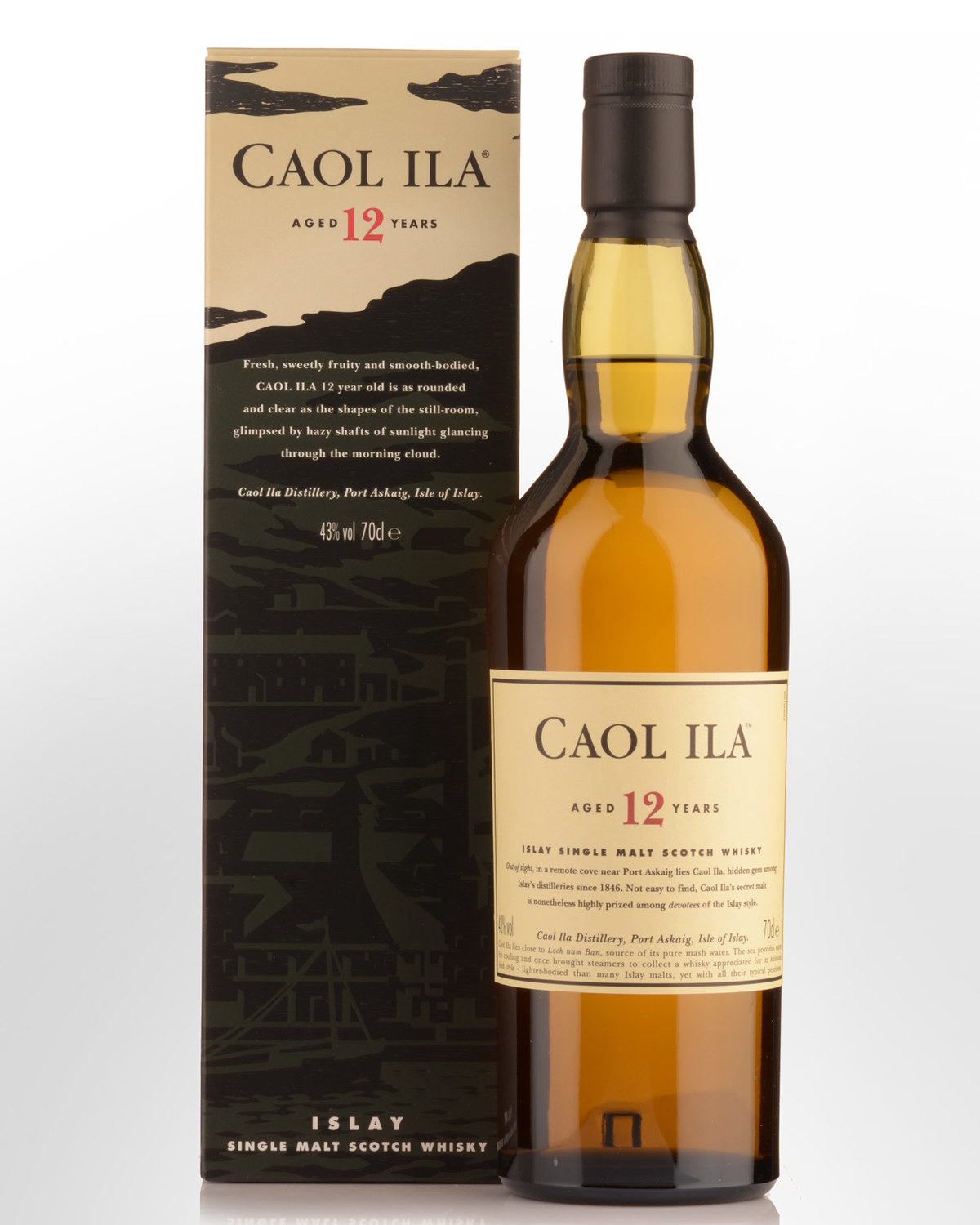 Caol Ila 12 Year Old Single Malt Scotch Whisky (700ml)
A gentler, more feminine and food friendly expression that Islay lovers should get to know.
Despite being the largest distillery on Islay (in terms of production anyway), nearly all of Caol Ila's output ends up in blends, so much so that until 2002 when the 12-year-old was released, independent bottlings were the only recourse for malt hunters. The distillery's gently fruity-smoky style sets it apart and comes down to the production process: "...although it receives the same spec of malt as sister distillery Lagavulin, Caol Ila's distillation regime – longer fermentation, higher cut point, taller stills, helps to reduce the heavy phenols."
Tasting note: Pale straw colour with a subtle green blush. Aromas of soft, sweet peat - smoked trout, a hint of lanolin and some baked citrus. Rounded, pure and impeccably clean from start to finish, the palate offers semi-sweet smoky-fruity-oily flavours counterpointed by super fine tannins. Perfect balance. Finishes long with salt, smoked fish and light lanolin through the fade. A gentler, more feminine and food friendly expression that Islay lovers should get to know. 43%Alc./Vol.
Other reviews... Funny to think how recently Caol Ila was an Islay giant that was kept pretty much under wraps by its owner. These days it has cemented its reputation as the island's Mr. Consistent. This version shows its character the best, a nose that mixes seashore and grass with a distinct hint of smoked bacon. The peatiness isn't dominant, but flows throughout the palate, scenting, lifting, and subtly changing the mix. A delicious oiliness makes it a great food whisky.
89 points- whiskyadvocate.com, Reviewed by: Dave Broom (Summer 2012)
A seductive brininess and waves of oily peat-reek greet the olfactory sense. The palate entry finds a surprisingly buttery-creamy leaning along with the peat-reek; at midpalate the flavor becomes concentrated, oily, malty sweet, and only moderately peaty. Ends on a sweet malty note. Builds from stage to stage, each phase being better than the last. Best Buy.
90-95 points - www.wineenthusiast.com
Caol Ila (Gaelic for 'the Sound of Islay') is hidden in a quiet cove near Port Askaig on the island of Islay. Many consider this locality to be the wildest and most picturesque of the island. Situated on Loch Nam Ban, the site is ideal thanks to the abundant supply of good water. The distillery was built in 1846 by Hector Henderson - a Glasgow businessman with a keen interest in distilling. Like Bunnahabhain and Bruichladdich, the development of Caol Ila created along with it a community of its own. Without these distilleries, it's likely that there would have been little sustained human interference in these areas at all. In 1857 Henderson went out of business and the distillery was purchased by Bulloch Lade & Co. The Distillers Company Limited took over management in 1927. From this date production continued until 1972, when the entire structure of the distillery was demolished. A larger distillery was built in the same original architectural style, and production resumed in 1974.