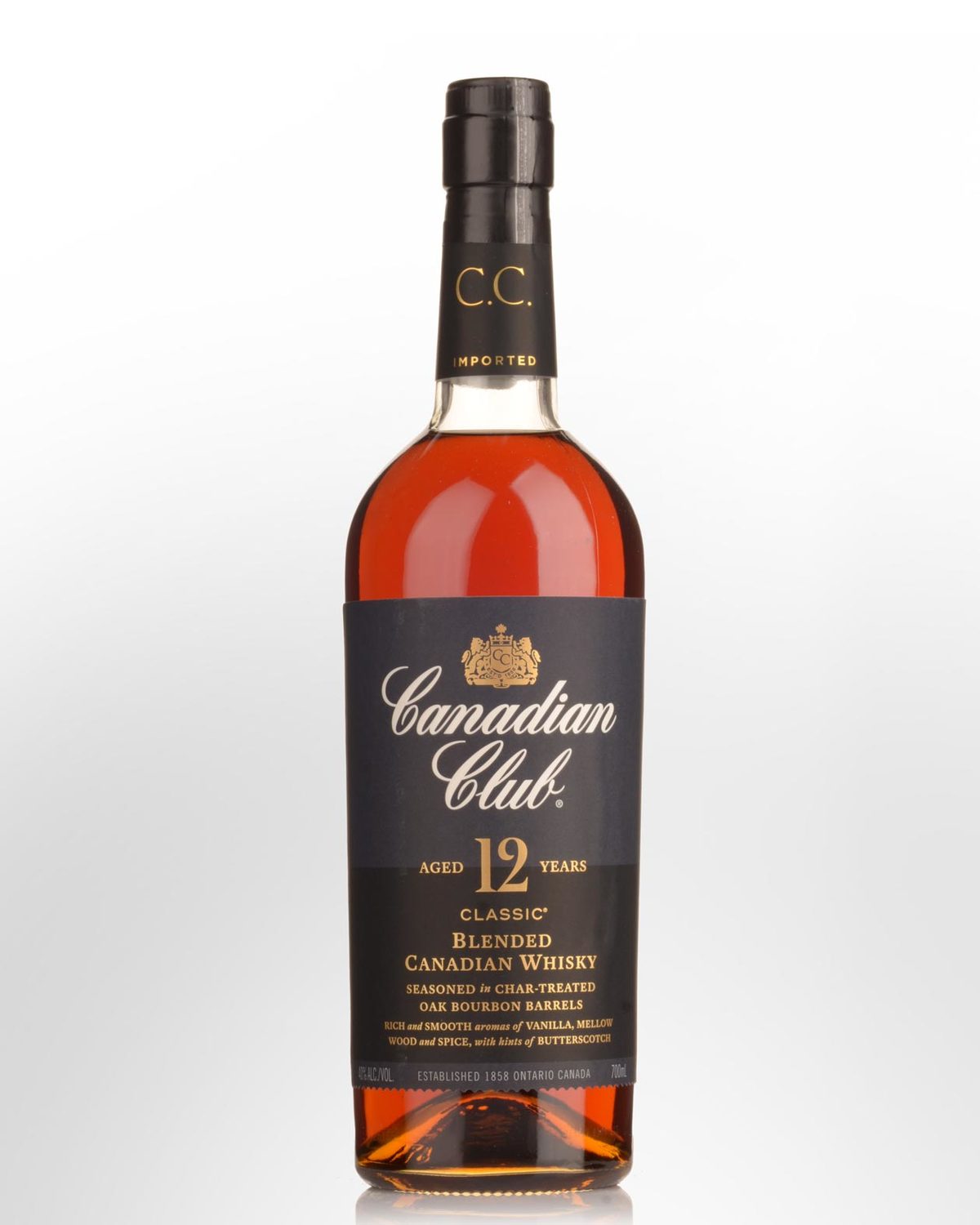 Canadian Club Classic 12 Year Old Blended Canadian Whisky (700ml)
Walkerville, Ontario,
CANADA
The Canadian Club brand was first introduced in 1858 by Hiram Walker, a grain merchant turned distiller. Born in New England in 1816, Hiram Walker came west to Michigan in the 1830's to seek his fortune. After a few false starts, he launched a successful grocery business in Detroit and learned how to distil his own cider vinegar instead of selling someone else's for a minuscule profit. Walker then decided to branch into whisky. His first barrels were produced in 1854 and were a great success due to their fine quality and purity. Concerned about Michigan's strong puritanical temperance atmosphere and aware of the good farmland being opened up by the Great Western Railway on the Canadian side of the river, Walker decided it was time to make a move. The distillery he established from next to nothing later grew into 'Walkerville' (Ontario) a town revolving almost entirely around Hiram Walkers many enterprises. The town was later recognised as a model of industrial self-sufficiency.
'From patience comes perfection' - this is the philosophy behind the production of Canadian Club Classic. Unlike any other whisky, being characteristically light, mild and delicate, Canadian Club Classic owes its clean taste and distinctive character to the fact that it is blended before maturation in white American oak barrels for a minimum of twelve years. The blend is founded on a triple distilled base spirit which is then married with two 'flavouring spirits' - one double distilled, the other single distilled.
Tasting note: Deep burnished copper colour. Moderate aromas fall in the dessert spectrum - creme caramel, vanilla slice, plus a touch of cinnamon and clove followed by a silky, creamy delivery with semi-sweet flavours of vanilla, short bread, dilute golden syrup and toffee in the aftertaste. A plush, gently warming Canadian with low key rye. 40% Alc./Vol.
Other reviews...
Pale golden amber color. Sweet, perfumed buttered caramel corn and spice aromas. A supple entry leads to a soft medium-bodied palate with rummy spice, medicinal herbs, and toffee notes. Finishes with a peppery, spicy rye fade.
84 points (Recommended)
-  www.tastings.com
Nose: Drier, pruney, slightly medicinal. Palate: Rounded. Tightly interlocked flavours. Finish:Milk chocolate. Sweet. By far the biggest finish in this group of Canadian Clubs. Comment: That medicinal touch gives this whisky an appetising edge.
Rating: 77
- tasting note sourced from Michael Jackson, www.whiskymag.com
...The bouquet features deep notes of butterscotch, nougat, almond paste and light vanilla. The palate entry offers succulent flavors of almond paste, candy and oaky vanilla; the midpalate is woody, caramel-like, with hints of dried yellow fruit, white pepper and spice. Finishes balanced, sweet and oaky. 90-95 points -  www.wineenthusiast.com