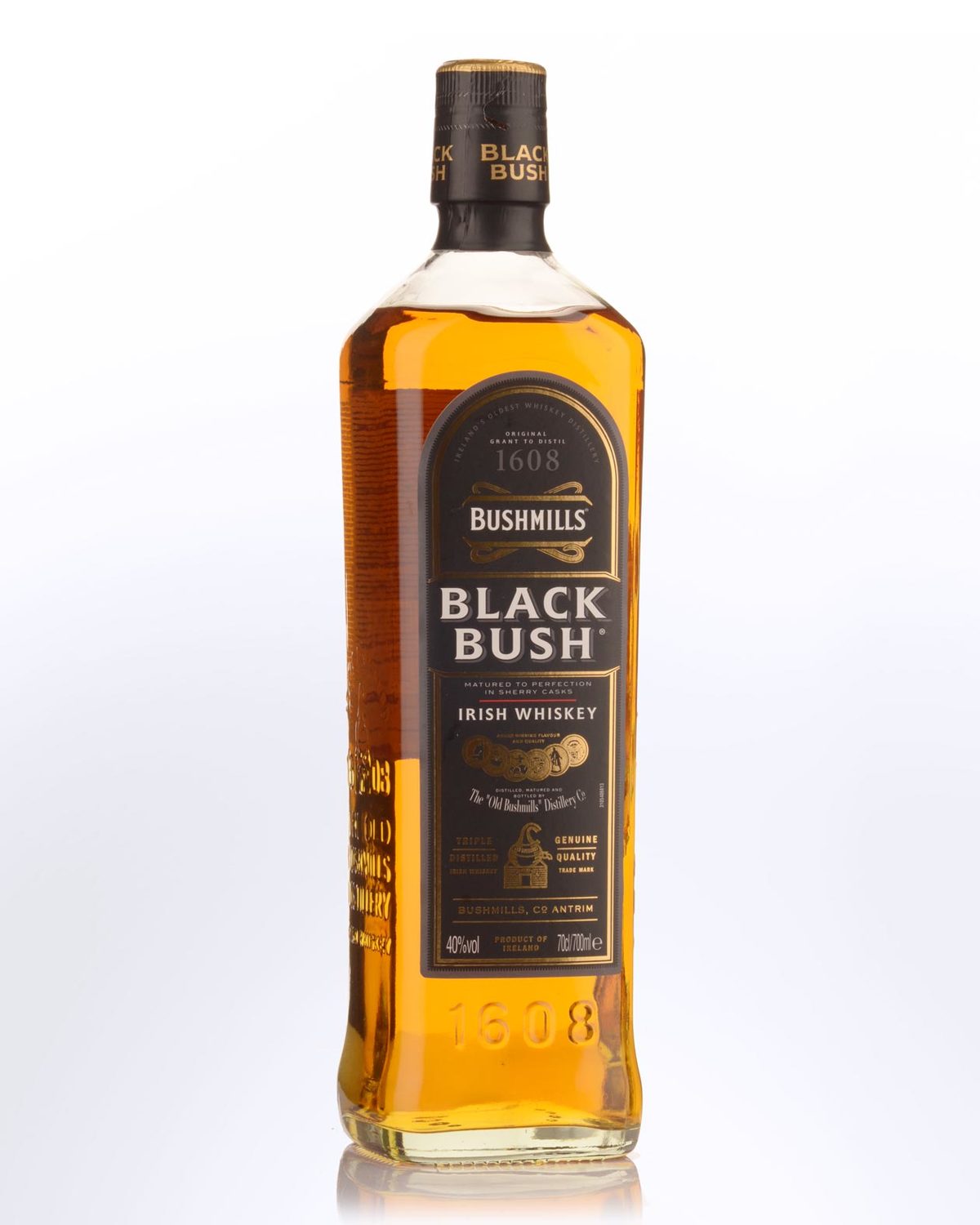 Bushmills Black Bush Blended Irish Whiskey (700ml)
Originally, Black bush was known as "Old Bushmills Special Old Liqueur Whiskey", so named because of the unique distilling process and the fact that it was aged in Oloroso Sherry casks, optimising its smoothness. As the whiskey gained popularity it was asked for by avid devotees as "Black Bush", a shortened term of the original brand name combined with reference to the distinguished black label.
Malt whiskey that becomes Black Bush is aged up to 11 years in selected sherry-seasoned oak casks before being blended with a small portion of a special single grain whiskey to enhance the independent, non-conformist character of the malt.The malt used in the mash derives its clean taste from the deliberate absence of peat used in the malted barley drying process. All of the Irish whiskey distilleries kiln-dry their malt in a heat-fired, not peat-fired, oven. This drying process lets the clean, clear taste of the malt and barley shine through, creating the ultimate ' Reflection of Perfection.' The combination is then returned to the cask for 'marrying.' As the whiskeys mellow together, the uniquely rounded bouquet, rich amber hue and distinctive taste of Black Bush is born.
'Highly Recommended...''A full, sweet nose brimful with nutty butter toffee and a hint of sherry wood. Refreshingly green mid-palate, this is a very soft and elegantly balanced whiskey that floats over the palate. A complex amalgam of malt and sherry wood bound together by a rich smooth fruitiness.'-Decanter Magazine.
Other reviews... Nose: Fresh oak, softened with sherry. Palate: Full of flavours, and such a beautifully balanced, rounded. whiskey: oaky, fudgy, buttery, with that Bushmills rosewater character. Finish: A grainy, but more-ish, dryness. Comment: Long one of my great favourites. In composition, it is the the simplest of blends, yet it demonstrates how malt can sometimes be enhanced by a leavening of grain.
- Michael Jackson, www.whiskymag.com
'amazingly spicy…Remains a true classic.'
91 points -  Jim Murrays Whisky Bible 2006.

Click here to learn more about Irish Whiskey