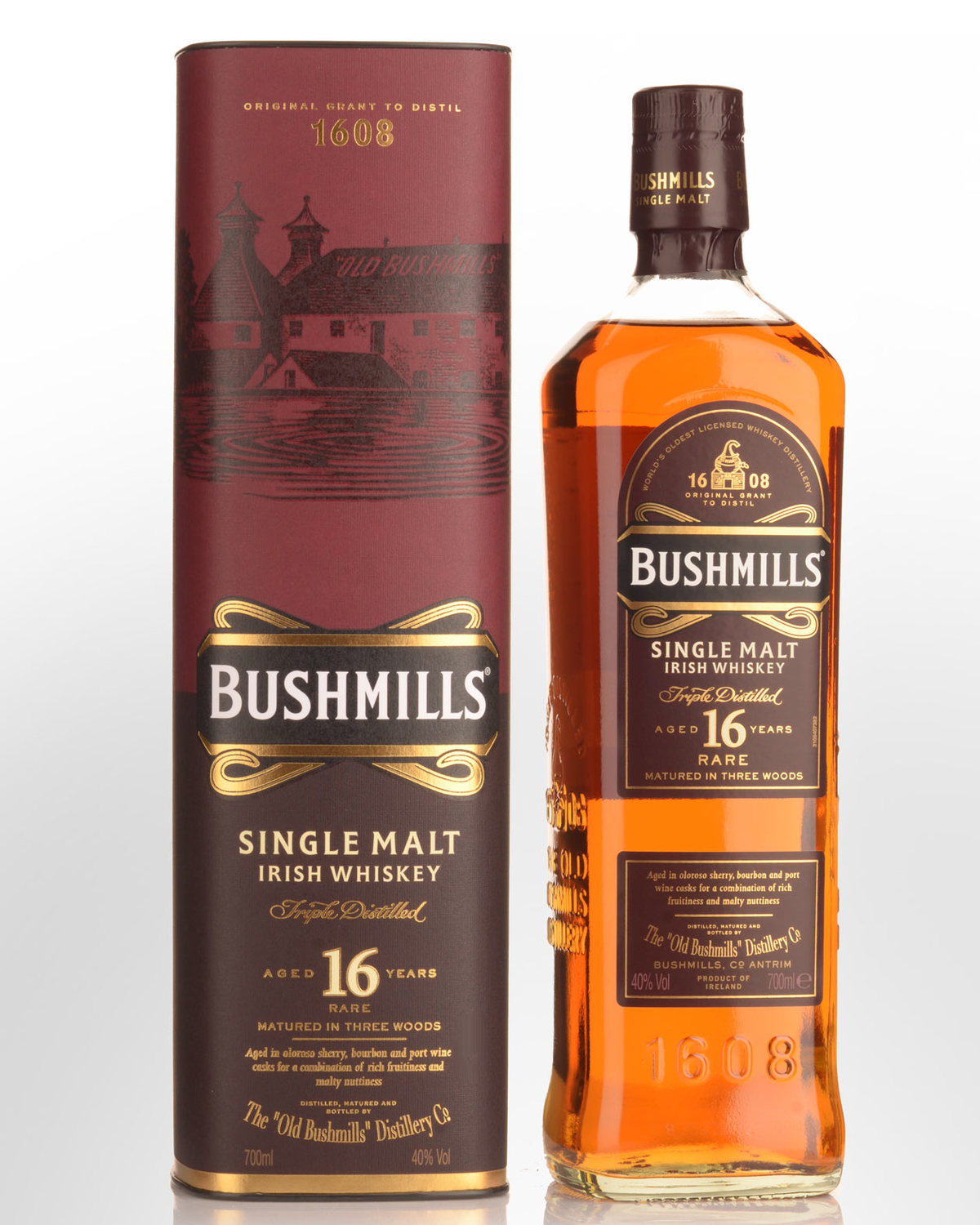 Bushmills 16 Year Old Single Malt Irish Whiskey (700ml)
This bottling, from the world's oldest licensed distillery (1608), is matured in three types of oak casks: American Bourbon barrels (which typically lend vanilla notes to the whiskey), Spanish Oloroso Sherry Casks,(contributing rich fruit and nuts). Finally it is transferred to old port casks for the last few months of its maturation. These casks bring sweet berry notes and a hint of ruby red to the final whiskey.
Other reviews... The most northerly of Northern Ireland's distilleries, Bushmills ages this spirit in bourbon and oloroso casks before finishing in port wine casks. The sweet notes of fat, ripe blueberries, plum flesh, and dusty, dry warehouses sketch out the nose. It lands on the tongue dry but piquant, then the fruit swarms all over it; blueberry, black currant, and apple, with hazelnut, chocolate pralines, black pepper, and spice. This was once the pick of the range, but the port influence seems feistier than older bottlings and I miss how smooth this used to taste.
86 points - whiskyadvocate.com, reviewed by: Jonny McCormick (Fall 2015)
... Nose: Big, fat and sweet. Butter and raisins. Forms slowly with pineapple, stewed fruits, malted milk, coconut, cereal, cocoa, orange. Big (but balanced) oak. Palate: Round and rich. Sweet dried fruits, brazil nut, coffee, soft malt, popcorn. Good grip. Oak in balance. Finish: Long. Hazelnut. Comment: Plenty of oak but the spirit holds its own. An extra dimension to the 10 Year Old. 
80 points
- David Broom, whiskymag.com
Nose: a touch of sulphur detracts somewhat from the fresh fruit delivery. Still get pomegranates, though! Taste: seismic waves of spicy fruit, juicy and salivating in effect; Finish: that haunting of poor sherry just takes the edge off the fun... 88 points
- Jim Murray's Whisky Bible 2006