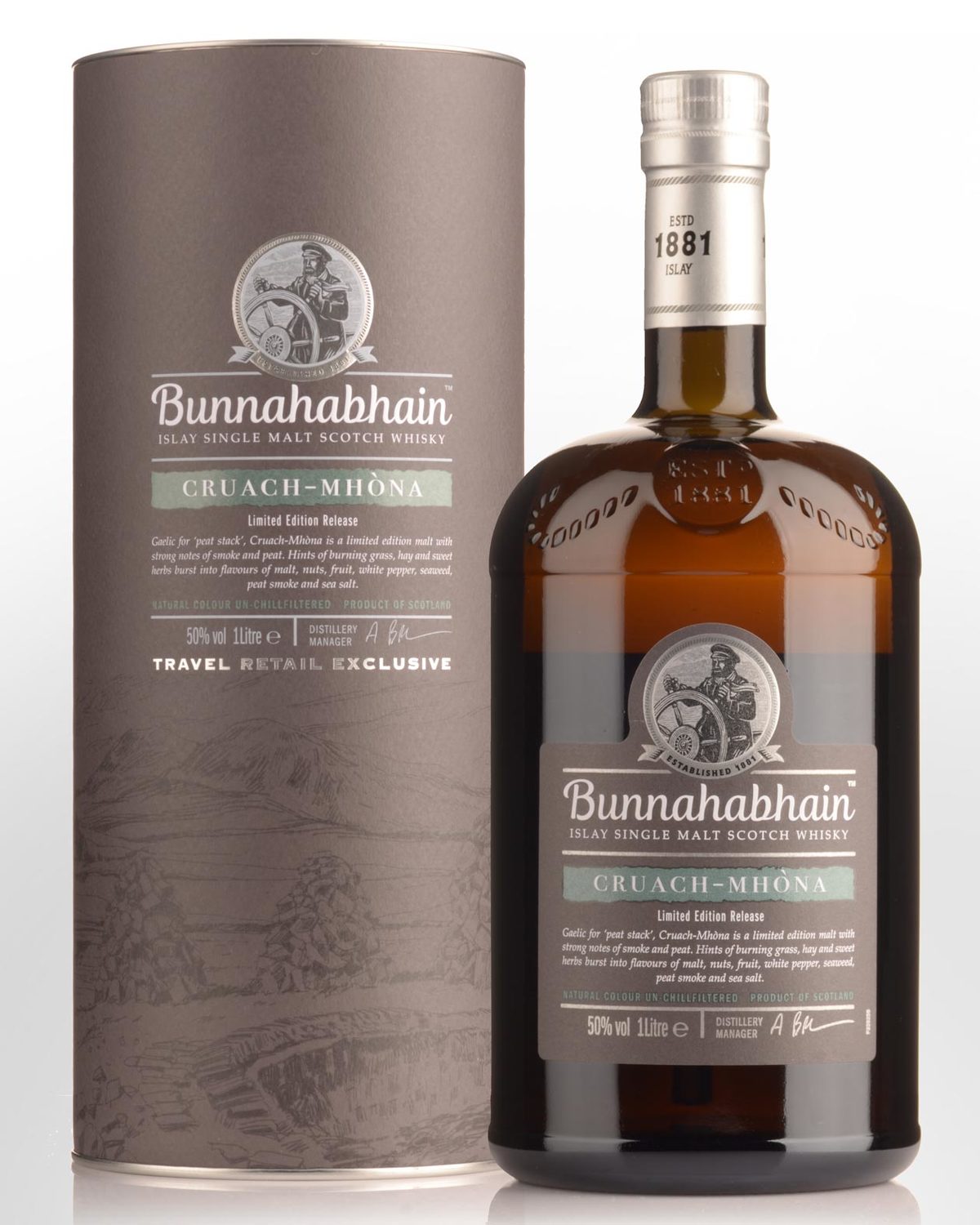 Bunnahabhain Cruach Mhona Single Malt Scotch Whisky (1000ml)
One litre, high ABV, heavily-peated Bunnah' matured in bourbon barrels, mixed with 20 to 21 year old spirit aged in sherry butts. You can't lose!
In the not too distant past, travel exclusives were synonymous with lacklustre, even inferior bottlings, or else products that simply never hit the target on the domestic market. Instead they were repackaged and dumped for impulse purchase elsewhere. Nowadays, massive growth in duty free sales means many distilleries are competing for a share, and offering some seriously good malts. We managed to secure a small quantity of this limited release Bunnah' without traveling abroad, and are pleased to report that it certainly doesn't taste like distressed stock. On the contrary, it's a deliciously chocolatey take in the peated genre, bottled at 50% ABV with zero chill filtration. "Cruach-Mhona"
(pronounced Cru-ach Vhona)
means 'peat stack' in Scots Gaelic.
Tasting notes: Pale straw colour. First pass features ginger biscuit, nutmeg and cocoa before the sweet peat is drawn out: Old liquorice strap with wet wool, flashes of smouldering eucalypt and hints of varnish. Diverse. Entry is engagingly textural, slightly oily with restrained spices. Mid palate is mildly fruity before choc-chip cookie and lanolin emerge followed by a smokey choc-fudge finish. Aftertaste is finely astringent with a delicious dark chocolate farewell. A Bunnah' that will take you by surprise. Lots of smokey-cocoa notes make a whisky for chocolate lovers as much as peat freaks. 50% Alc./Vol.
Other reviews...
This expression includes young, heavily-peated Bunnahabhain matured in bourbon barrels, mixed with 20 to 21 year old spirit aged in sherry butts. Fragrant, peppery peat on the early nose, brine and fabric Band-Aids. Ultimately, leathery orange. Smooth and supple on the palate, with intense, smoky fresh fruit giving way to quite dry spices. The relatively long finish yields drying peat, plain chocolate, and developing licorice.
86 points
- whiskyadvocate.com, reviewed by: Gavin Smith (Winter 2016)