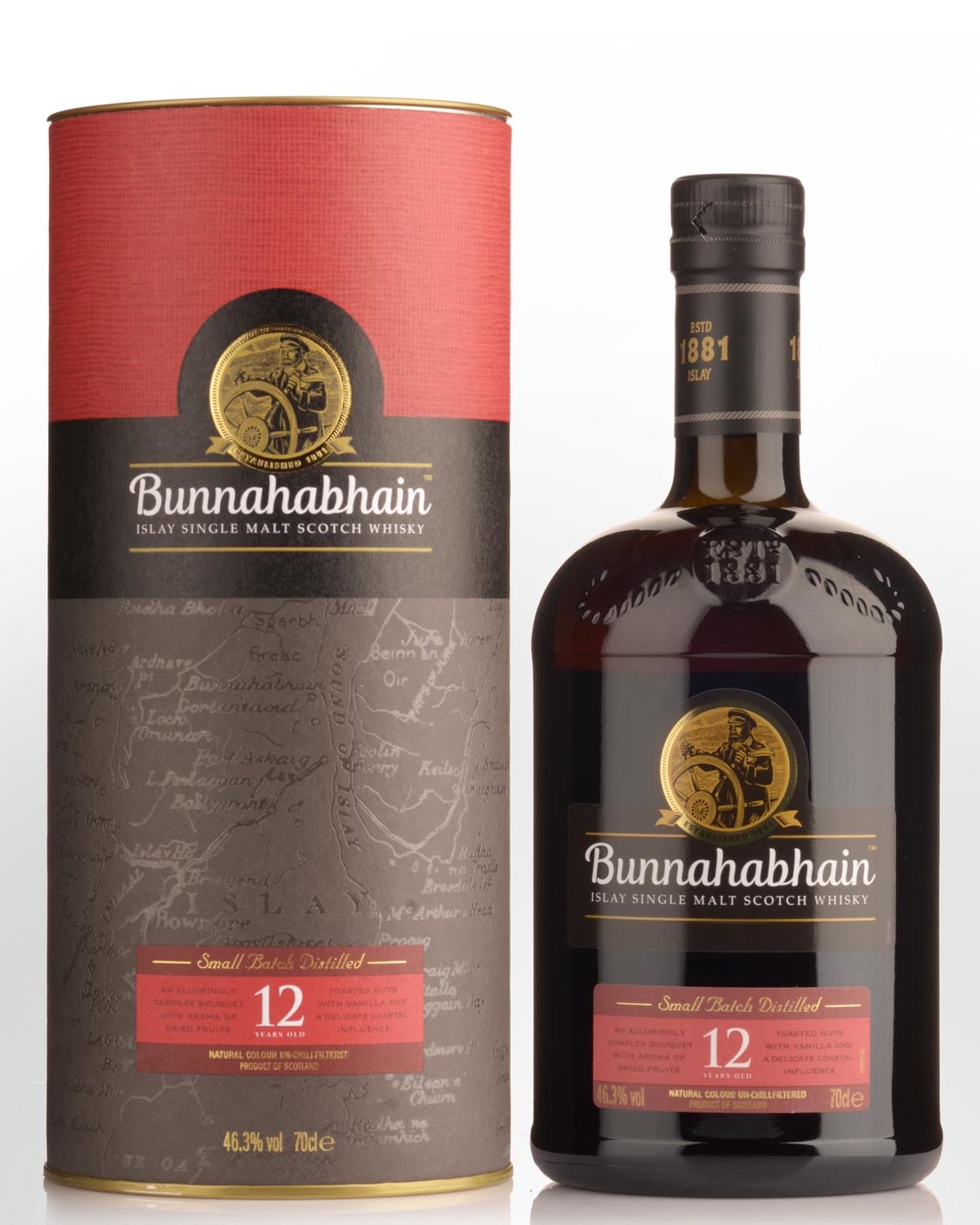 Bunnahabhain 12 Year Old Single Malt Scotch Whisky (700ml)
The great malt whiskies of Scotland have historically been grouped by geographical region. Although single malt scotch whiskies are renowned for their diversity, the malts from each region do also share certain characteristics. Campbeltown malts possess a distinctive salty tang. Lowland whiskies are lighter, with a fruity quality; Highland malts are smoky and sophisticated often with a trace of sweetness ; the Orkney Island Whiskies are classic, full bodied with a heather honey accent; while those from Islay have a distinct peaty, seaweedy flavour. Indeed, among the many Western islands of Scotland, Islay is regarded as being a separate, classic whisky producing region whose intense malts play an integral role in many blends.
The Bunnahabhain distillery on Islay is probably the most isolated, yet also one the most grand and attractive buildings of its kind on the island. The distillery's water is piped down from streams on the Margdale Hills and is considered less peaty than most water used for distilling on Islay. Owned by Highland Distilleries, the operation remains firmly set in tradition although the company now imports its own raw materials. The brands labeling is reminiscent of Bunnahabhain's coastal setting, and utilizes words and imagery from the ballad 'Westering Home' (to Islay.) The poetry is more romantic than the reality - there have been 250 recorded wrecks around the coast of Islay including that of a large trawler which has lain nearby the Bunnahabhain distillery for over twenty years! Nevertheless, the charm of the label remains undiminished.
Tasting note: Deep gold / brassy colour. Opening aroma is flor sherry like, being mildly nutty and oily with scents of wild honey mingling along side some sulphury notes. Peat is not obvious. Aeration sees a subtle briney note emerge but otherwise the bouquet remains broad, sherry like and ultimately let down by the sulphur. The palate is moderately concentrated with semi sweet, nutty malt and hints of honey. Some pardonable sulphury moments towards the finish here too. Stylistically, this marks a departure for the distillery. No doubt it is destined to disappoint many who have enjoyed Bunnah 12 as it was in the past. 46.3% Alc./Vol.
Other reviews... The new version, at a higher proof and not chill-filtered. That helped — especially on the palate — with greater texture and more well-defined flavors. But the flavors are essentially the same: nutty, toffee, light molasses, vanilla fudge, with delicate fruit (citrus, dark berries) and a hint of brine. Very comforting. Extra points for versatility — this whisky will accommodate many moods and situations. 89 points - John Hansell - whiskyadvocate.com
I'm afraid we haven't formally tasted the 12 since… 2013. Colour: gold. Nose: typical coastal notes, I find it actually more coastal than it ever was in my book. So sea breeze, then something a tad metallic (old pocket knife) and leafy (peach leaf), then the expected cereals, chestnut honey, and even puréed chestnuts (crème de marron). Add to that some sherry, walnuts, raisins, more coastal fino-like notes (amontillado aged in Sanlucar). Globally, I find it tenser and less soft than the 12 was in the olden days. As far as I can remember… Mouth: I think they upped the oak influence and made use of more dry sherry. That made it more leathery than usual, with more maritime notes too, salt, oranges… It's pretty firm, even a wee tad smoky, and certainly not 'the gentle Islay' anymore. Finish: long, on walnuts, salt, burnt cake… You cannot not think of amontillado. Nutty aftertaste. Comments: simply very good. Bunnahabhain 12 became a big boy!
85 points - whiskyfun.com
Previously tasted...
[May 2002]
Dull gold colour with pale gold hue. Subdued at first, the nose offers briny, dry herbal, dusty cocoa top notes. Warming the glass yields richer, deeper undertones of lightly peated malt and chocolate fudge aromas. A soft palate entry builds into a spicy, medium bodied, malt rich flavour profile. Gentle spirit tingle. Has to be one of the most lightly peated of the Islay malts. Finishes dry with a chocolate fudge and vanilla oak fade. Even well into the finish and aftertaste, there's little suggestion of the peatiness that is so remarkable in many of Bunnahabhain's Islay counterparts. A fine aperitif.

88 points