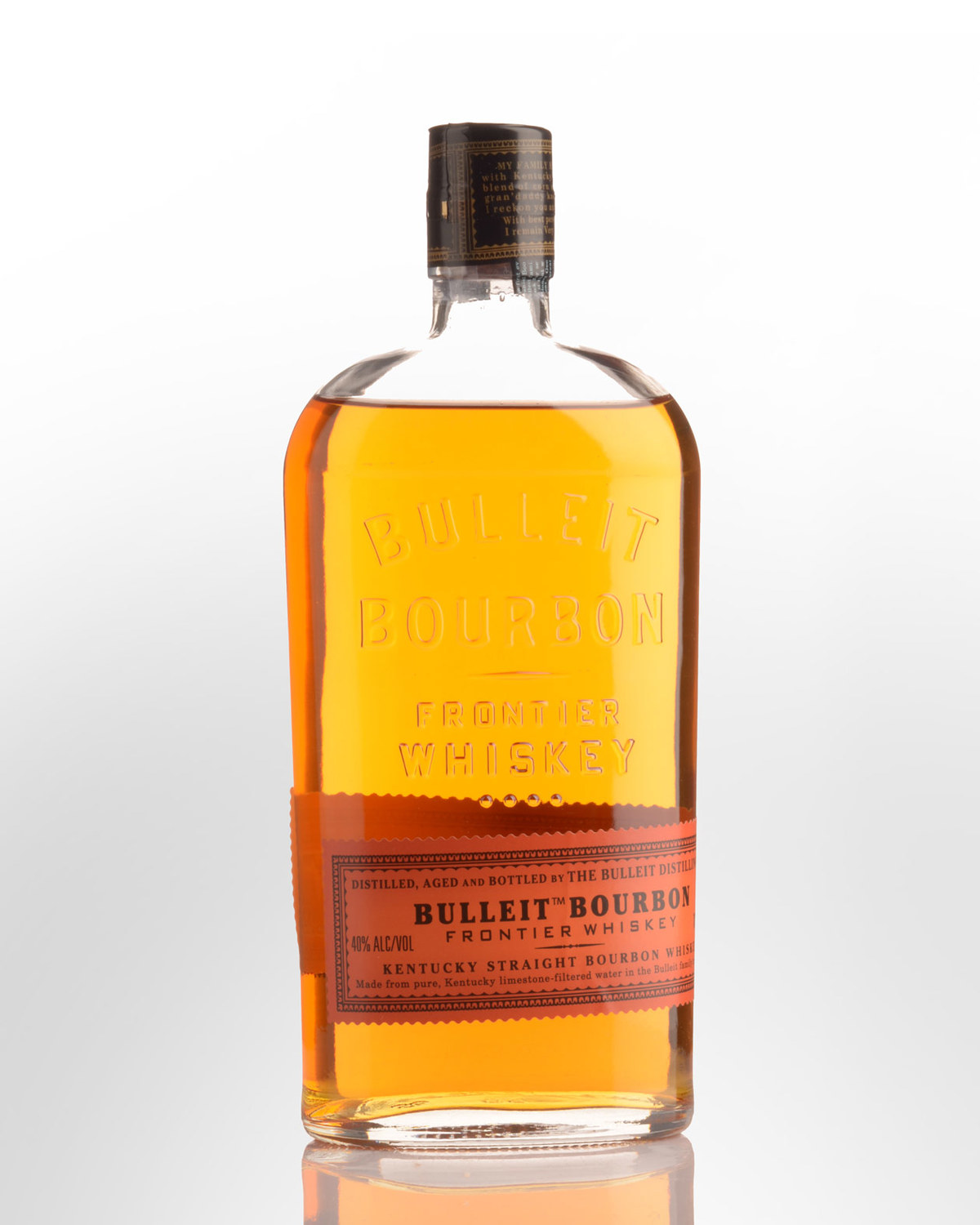 Bulleit Bourbon Whiskey (700ml)
Bulleit Bourbon, "Frontier Whiskey" was originally distilled in 1830. Over the years the brand has moved from one company to another and one distillery to another. Since 1997 Bulleit has been a Seagram product and it is made at their Lawrenceburg distillery in Kentucky. It's produced with a higher proportion of rye than most other Bourbons, creating a drier more complex spirit. The distillery has its own Grain Division, which acquires distiller's grade grains grown to Bulleit's specification. Only limestone-filtered water is used during production which sees the whiskey distilled in small batches then aged for no less than six years in a single-story warehouse (which is said to reduce inconsistencies in the maturation process). In March, 2004 Bulleit Bourbon won the Gold Medal for being in the top of its class at the San Francisco World Spirits Competition - beating more expensive and better known premium bourbons such as Knob Creek, Maker's Mark and Jim Beam Black. Beautifully packaged in an award winning 1880s replica bottle design.
Tasting note:
Deep gold. Sweet with fairly pedestrian aromas (gobstopper, chewing gum, vanilla) alongside fresh sawn oak and flashes of rye. Medium weight with plenty of body and youthful appeal. Sweet corn, caramelised peach, oak shavings and a nice burst of pepper to finish. Ends drier / delicately minty with the rye shining through. Value buy.
40% Alc./Vol.
Other reviews...
Light and teasing nose, like mallows roasting on an open fire, plus pine nuts and vanilla. Honest folks. The faintest taste of dry oak vanishes within seconds for a rich follow-through of sweet chestnut, a bust complexity of malted barley and rye, then spice. Mildly oily, softly honeycombed and chocolatey for a chewy, bitter-sweet finale. Like all thats gone before, exceptionally well balanced and satisfying. Absolutly excellent from first to last, an essay in balance and control. I doubt if any frontier whiskey of Boone's day was half as good as this. 45% Alc/Vol.

88 points
- Jim Murray's Whiskey Bible, 2006
An intensely grainy bouquet. The palate entry is corny sweet and nearly honey-like; at midpalate the core flavor of sweet corn mash remains while tastes of buttered popcorn, brown sugar, and nougat expand. Finishes with a spurt of fire and lots of long, corny/grainy tastes. Should be part of every serious whiskey-lover's collection.
90-95 points.
- wineenthusiast.com