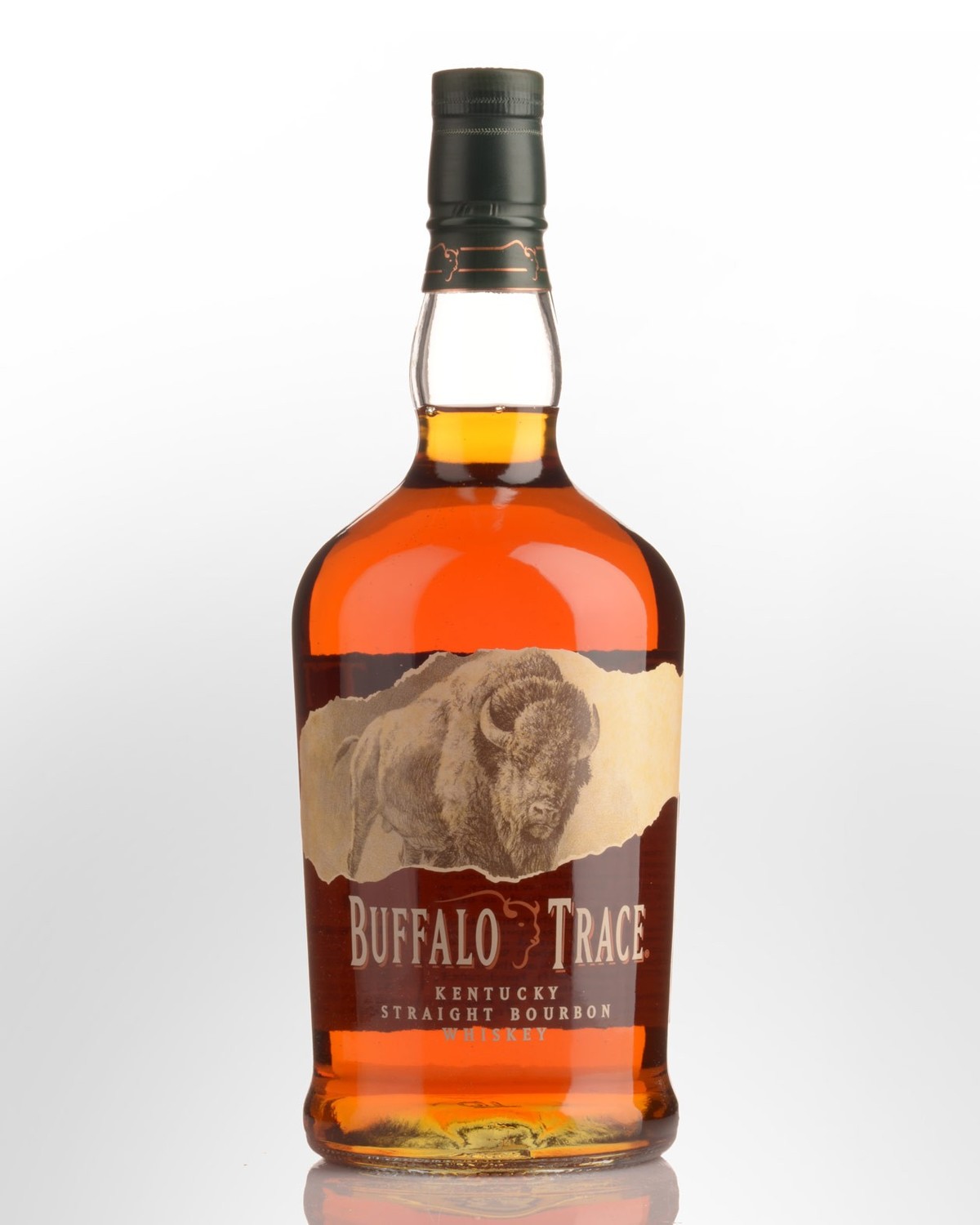 Buffalo Trace 45% (90 Proof) Bourbon Whiskey (750ml)
An old favourite returns to its orginal form at 45% ABV!
Made from Kentucky and Indiana corn, selected rye, and superior malted barley, all bourbon produced by Buffalo Trace Distillery is aged in century-old warehouses. Constructed of massive wood beams and covered by a brick shell, these structures allow the alternating cooling and warming of Kentucky's four distinct seasons to mature the bourbon by nature's timetable. Steam pumped throughout the warehouses during the extreme cold of winter compensates for the dramatic drops in temperature and gives the whiskey additional cycles in and out of the wood. This is said to make for a more balanced bourbon as the liquid is able to take additional advantage of the natural sugars occurring in the charred barrels. The distillery was the first to use this method of aging in 1859 and has been doing so ever since.
The warehouses were built in the 1900s (some as early as 1903) and represent a variety of architectural styles. Consequently, their designs and location on the property contribute to the significant differences in the whiskey coming from each. Certain floors within a given warehouse produce better whiskey than others do. For example, the fourth and fifth floors of Warehouse C and the fourth through sixth floors of Warehouses I and K produce the company's best. It's these locations which have been reserved for the maturation Buffalo Trace.
Tasting note: Deep gold colour with pale gold hue. The aroma opens with a subtle shellac top note that slowly fades and gives way to sweet dried fruits, vanilla and clove accompanied by a wonderful, drier spicy rye hit - tumeric and anise stand out in particular. The rye theme continues on the palate with mouthwatering, spicy, toffee apple over the sweet corn core. The generous, medium dry flavours, gentle tingle and lovely spirit warmth are all in perfect balance and lead off into a booming, drying, spicy aftertaste of vanilla, clove and toffee apple that just keeps on going. Wow! The rye influence in this Bourbon is significant - so much so that if you need a rye whiskey but there's none on the shelf - use this. Or just use it regardless, it's such a brilliant all-rounder in the genre. 45% Alc./Vol.

Other reviews... Light bronze color. Thick, mature aromas, with notes of subtle spice (vanilla, mint), toffee, light molasses and leather. Adding a little water revealing notes of teaberry, anise, and dark candied fruit. Pleasantly sweet at first in flavor, with notes of brown sugar and spice (vanilla, mint), becoming dry with enveloping flavors of oak and leather. With a little water, more subtle flavors are revealed, including toffee, dark fruit, and anise. The whisky finishes long and dry with significant depth. This is a big exciting bourbon, full of character from the distillery previously known as Ancient Age. The price is right too-if you can find the whiskey to buy it. 90 points - www.maltadvocate.com
...Pleasantly sweet nose. Medium body and sticky-toffee flavor. This would be great mixed into cocktails, because the flavor is smooth but bold at the same time; it would blend without being completely lost. Finishes mellow, smooth, with just enough alcohol bite. Easy to like. Think Manhattans and Old-Fashioneds. 94 points- www.wineenthusiast.com
... Amber. Very spicy caramel, banana, coconut and spice flavors. A rich entry leads to a dry-yet-fruity full-bodied palate with spice, buttered toffee, roasted nuts, and wood flavors. Finishes smoothly with rich long fade. Excellent balance of corn sweetness and rye spiciness with remarkable smoothness.
International Review of Spirits Award: Gold Medal
93 points (Exceptional) - www.tastings.com