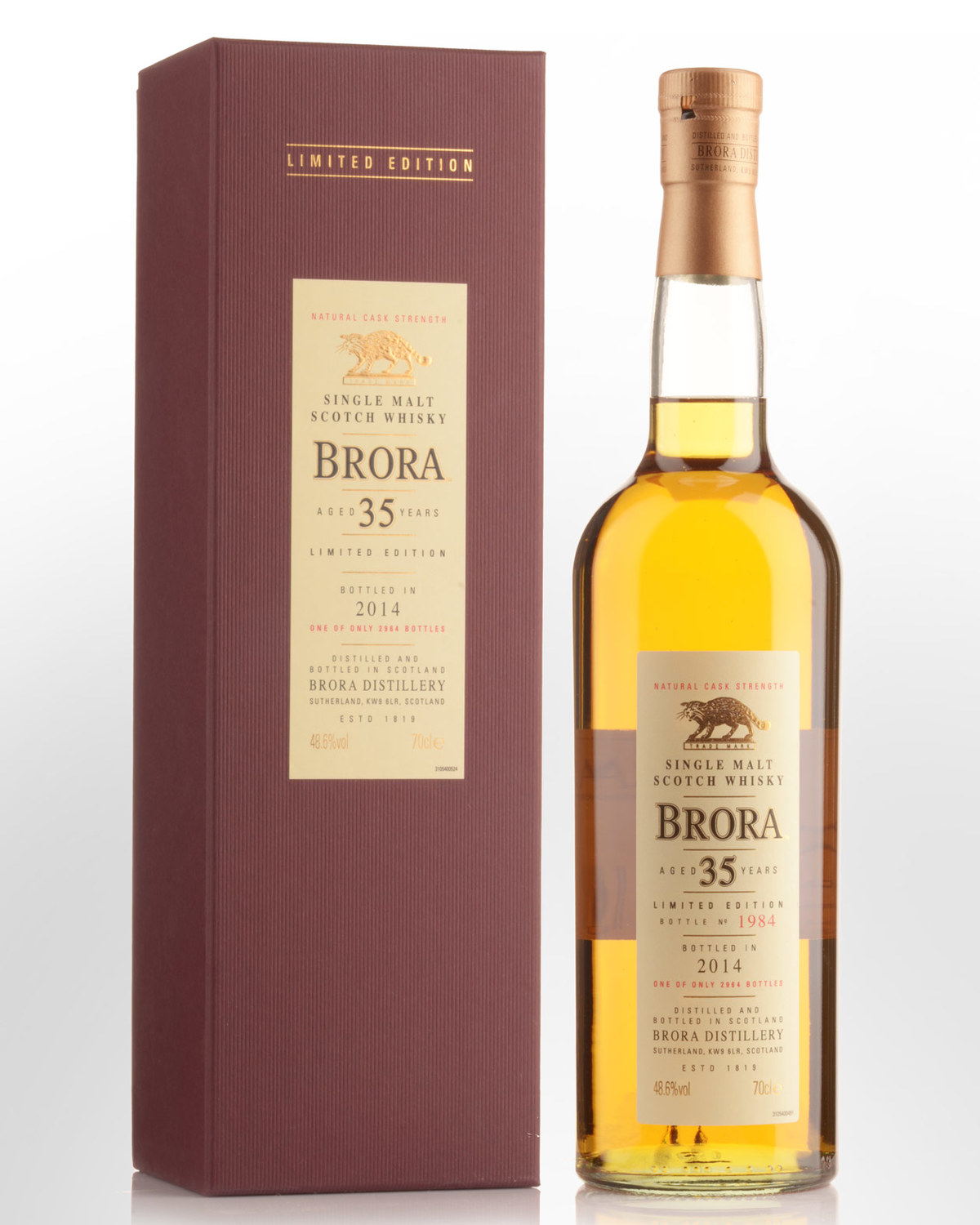 Brora 13th Release 35 Year Old Cask Strength Single Malt Scotch Whisky (700ml)
A legendary mothballed distillery now reserved for a fortunate few.
The distillery now known as Brora started life in 1819 when it was founded by the Marquis of Stafford, later known as the Duke of Sutherland. The distillery was originally founded as Clynelish, however during the subsequent recovery after the first world war, demand from blenders for Clynelish malt was extremely high, so to increase capacity DCL (Distillers Company Limited) built a new distillery adjacent to the existing one in 1967-68. This distillery was also called Clynelish, as the company wished to trade on the existing good name of the old distillery. The original distillery ran in tandem with the new distillery under the names of Clynelish A and Clynelish B (sources disagree over which was the new distillery and which the original Clynelish) during 1968/9. Predictably, this arrangement was not to the liking of the Customs & Excise folk and the SWA due to the dissimilarity between the types of whisky being produced at the two distilleries. The original distillery was closed down in 1969 and then reopened bearing the name Brora. It then operated intermittently, producing heavily peated (around 40ppm) whisky for blending purposes. The late Seventies and early Eighties saw another big slump in the industry, and with the parent company DCL needing to cut back on production, in 1983 the decision was taken to mothball Brora (along with many other distilleries, few of which have operated since). Sadly, all attempts to revive Brora have thus far met with no success. Despite all this, the reputation of the malt produced at Brora between 1969 and 1983 has gone from to strength to strength, with sought-after bottlings now changing hands for large sums. If there is to be no more Brora (and it now seems almost certain that there won't be) it will be a terrible shame, but there are still bottlings available. What is beyond doubt is that this will be a whisky aficionados will still be talking about decades after the last bottle is finally drunk. This official 13th Diageo bottling comes with high praise from at least one very reputable source. 2,964 bottles produced.
Tasting note:
Deep gold. Sublime, floral aromatics; orchard fruits and beeswax seamlessly interwoven by soft puffs of sweet peat. Second pass heightens the fruity-malt aspect as the smoke retreats and also introduces sponge cake and light vanilla. Fabulous purity. Cask strength intensity, less the fire and prickle. No overbearing oak, just pristine, fresh, fruity malt - then beeswax and more beeswax, plus hints of candied peel and cocoa in the finish. Not super long and not the the peat-bomb that some might be expecting. But what it is is something quite special, regardless of its rarity and provenance.
48.6% Alc./Vol.
Other reviews...
The 13th annual Brora release from Diageo has been aged in refill American oak and refill European oak casks, which yielded 2,964 bottles. The initial nose offers hessian and hemp, with ozone, muted peat, and tar. Fruity, fragrant aromas develop, with honey and ripe apples. Sweet and spicy on the waxy palate, with heather and ginger. Smokey and mildly medicinal. The finish dries steadily to aniseed, dark chocolate, black pepper and fruity tannins.
94 points
- www.maltadvocate.com (Winter 2014) Reviewed by: Gavin Smith