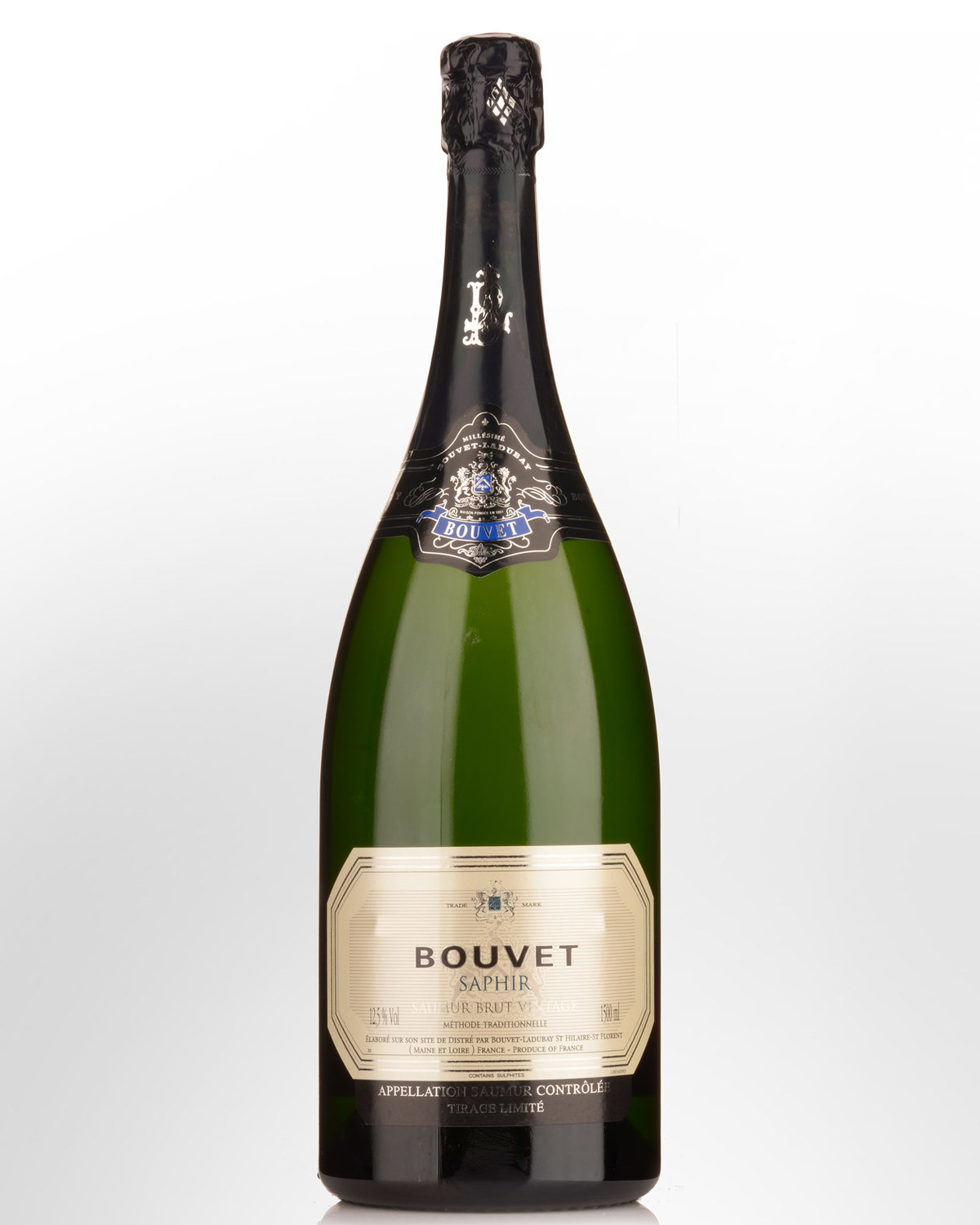 Bouvet Saphir Saumur Brut Vintage Magnum (1500ml)
Saumur, Loire Valley,
FRANCE
Bouvet Ladubay is regarded by many wine lovers as the finest expression of sparkling wine from the Loire Valley. The house was founded in 1851 by Etienne Bouvet, the son of a vigneron-sommelier who encouraged the young Bouvet in the wine trade. Recognizing the Loire's terroir to be extremely well-suited to the production of sparkling wines, he settled on the bank of the Loire River just outside the town of Saumur. Ms. Ladubay, Etienne's accountant, soon became his wife, and the firm was christened "Bouvet-Ladubay".
Bouvet is regarded by many wine lovers as the finest expression of sparkling wine from the Loire Valley

After many years of ownership by Champagne Taittinger, Bouvet Ladubay is once again fully owned by the Monmousseau family who have continuously run the business since their purchase in 1932. Bouvet Ladubay employs precisely the same wine making process as Grand Marque Champagne, delivering French sophistication at an everyday price. The grapes for the Bouvet 'Blanc' methode champenoise are predominantly Chenin Blanc, a varietal which has been grown in the Loire Valley prior to the Roman conquest of France. Bouvet source their grapes from 120 properties around Saumur - spread over an area of 15 x 30 kilometres. The notion of using such a diversity of vineyard sites is to provide complexity to the base wines. Domaine Chandon in the Yarra Valley employ a similar process. These 120 micro climates each provide the wine maker with base material that when blended together will create the sensation of considerable complexity. The art of blending is critical and at Bouvet the third generation of blenders from the same family are in charge - in fact they have been creating the blend for the last 60 years. State of the art, temperature controlled stainless-steel fermentation tanks, computer-regulated 'gyropallets,' or riddling machines, highly advanced freezing and disgorging equipment and micro-wave cork heaters have brought Bouvet's vinification facility to the technical forefront. The winery itself, however, remains an impressive monument to the region's history with the wines spending their final maturation period within freestone cellars built by Saint Florent monks around 1040. These tunnels cover some 2.6 hectares with eight kilometres of subterranean cellars - storage capacity for some 7,000,000 bottles!