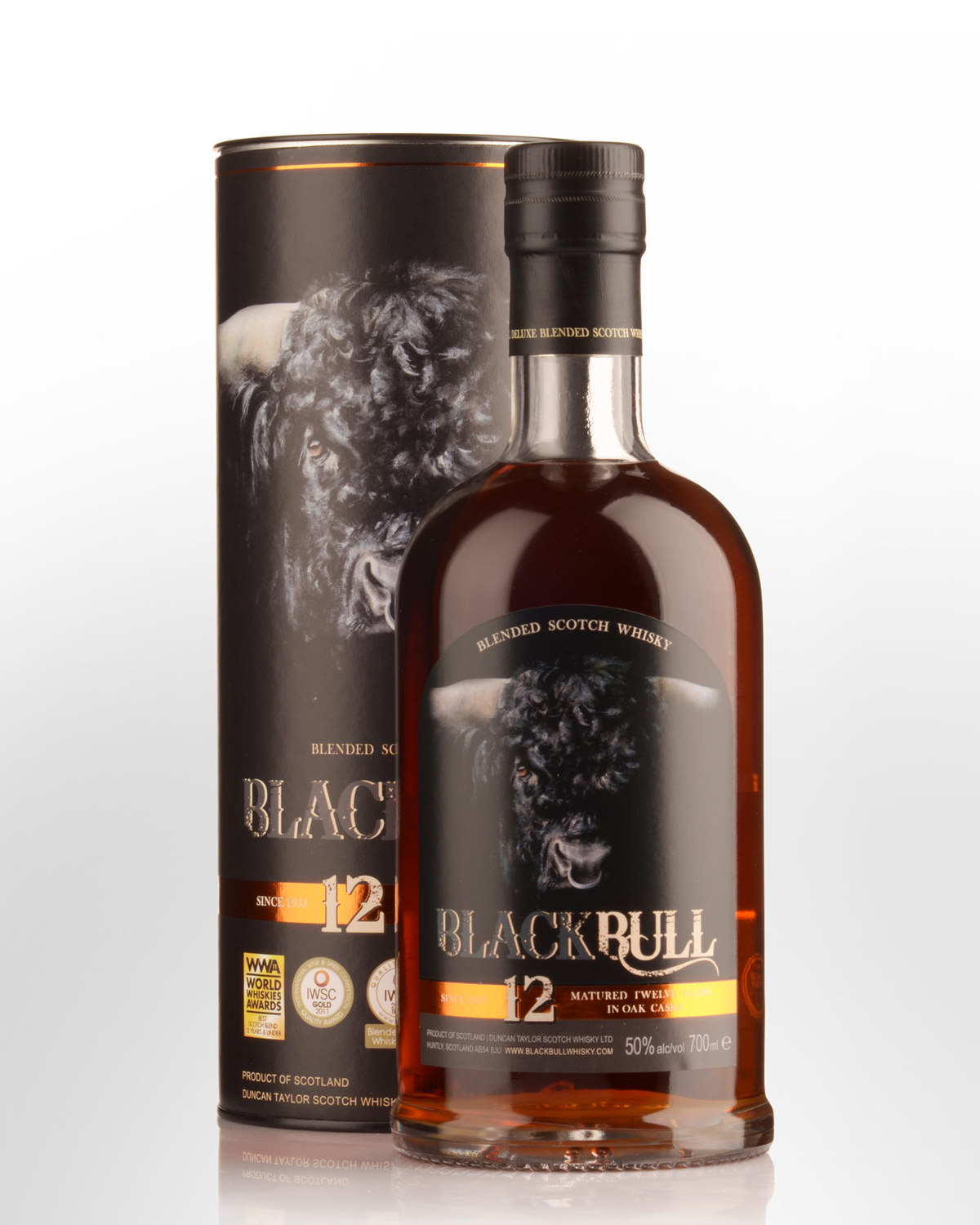 Black Bull 12 Year Old Blended Scotch Whisky (700ml)
A 50/50 grain / malt blend at high ABV
that breaks all the rules.

The Black Bull blend was originally trademarked in1933 by George Willshire & Co Ltd, and celebrates the historic Highland Cattle that Scotland is famous for. The name subsequently was assigned to Duncan Taylor & Co Ltd after its takeover of the company in 2001. The present day range includes Black Bull 12, 30 and 40 yr old whiskies.
The 12 year old contains 50% malt whisky and 50% grain whisky and is bottled without chill-filtration at an unusual ABV of 50%. Earlier this year, Black Bull 12 Year Old was awarded 'Best Blended Scotch Whisky – 12 Years and Under' at the World Whiskies Awards.
Tasting note: Pale gold colour. This whisky is a little sleepy when poured from a fresh bottle, so if at first you're underwhelmed, just give it some time. A few minutes brings out aromas of dried grass seamlessly melded with sweet, fresh grains, cocoa and a faint suggestion of peat. Hints of fruit begin to emerge. Entry is soft and belies a concentrated palate profile that is an expression of controlled force. Dried grass is followed by dark chocolate and spices, delivered with terrific length and vibrancy, while the balance and mouth feel at high ABV is unexpected. Gentle spices persist into the finish and through to the aftertaste. Concludes delicate, though a little short, with suggestions of dark chocolate and soft smoke at the farewell. A stand out blend. 50% Alc./Vol.
 Click here to learn more about Scotch Whisky