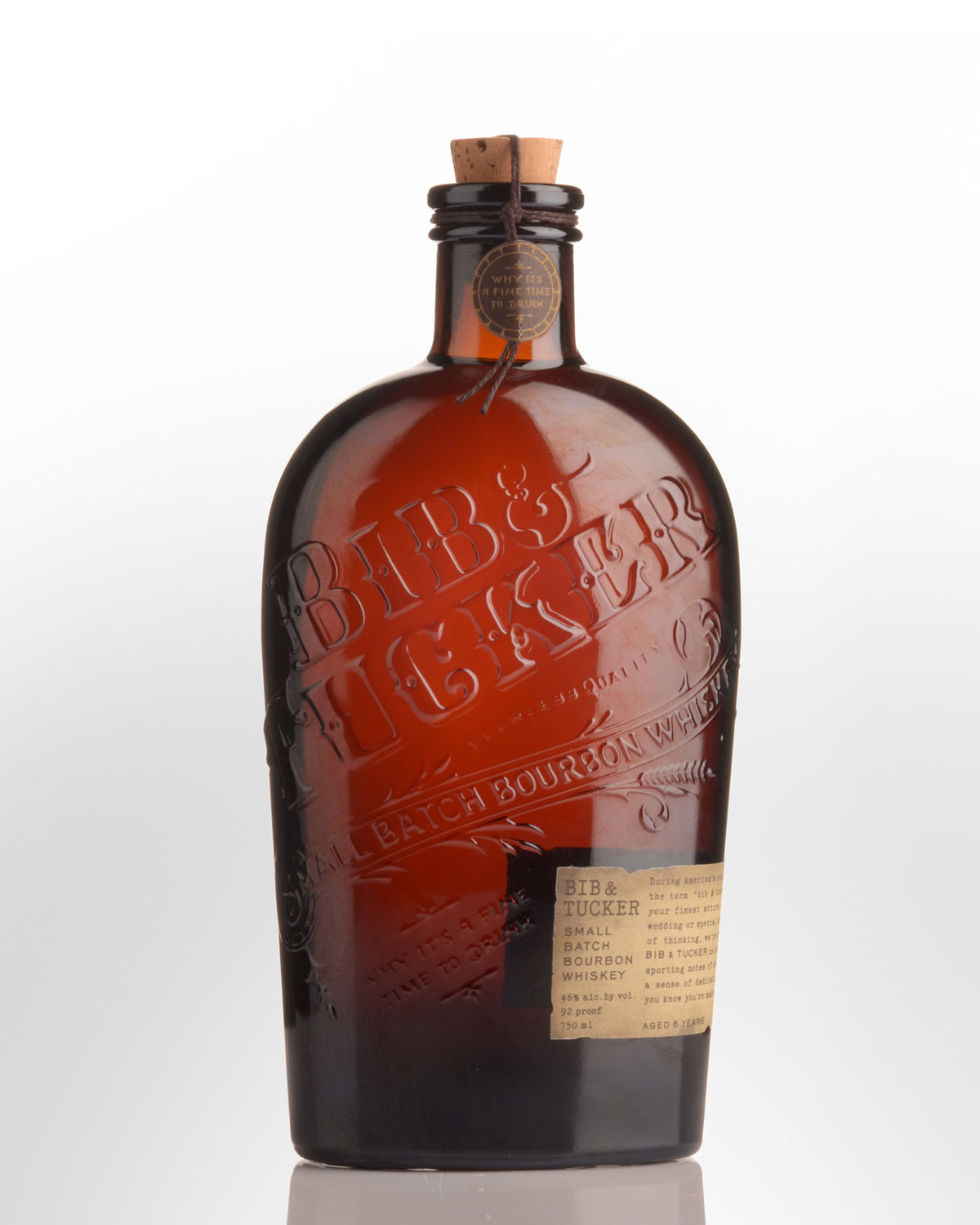 Bib & Tucker 6 Year Old Small Batch Bourbon Whiskey (750ml)
A new brand from a new spirits bottler, this is another selection from the 35 Maple Street Spirit Co., purveyors of Masterson's Rye Whiskey and Kirk & Sweeney Rum (also listed on this site). The company actually resides in Sonoma, California where they hold the title of "spirits division" for The Other Guys (TOG) wine company. WhiskyCast's Mark Gillespie explains, "35 Maple Street, a California-based spirits company headed by August Sebastiani of the legendary California winemaking family, has finally entered the Bourbon business with the launch of Bib & Tucker Small Batch... 35 Maple Street is most well known for its Masterson's range of Canadian whiskies, which have won a number of honors in the Canadian Whisky Awards and other competitions. However, the company has been working on launching Bib & Tucker for more than 18 months... much of the delay has been caused by problems in sourcing the custom glass bottles for the whisky." The amber bottles include custom embossing, and certainly are eyecatching offering an old time look and feel that's bound to attract some, regardless of what's in the bottle.
The bourbon itself is crafted from a mash of 70% corn, 26% rye and 4% malted barley. The grains, which were harvested in late 2006 and early 2007, were distilled twice - first through a column still and then through an old fashioned copper pot still. Following distillation, the bourbon was matured in No. 1 charred American white oak barrels for a minimum of six years (the average age of the bourbon is actually 7.5 years, however). The brand name revives a phrase from America's rough and tumble early days, when the term "bib & tucker" was used to describe your finest attire, the kind you'd wear to a wedding or special dance. Tasting note: Deep polished copper. Drier styled aromatics open with charry oak, white pepper, muted vanilla, becoming sweeter with air as dilute maple syrup and pancake evolve. Almost creamy in the mouth, medium dry with cough lozenge, fresh sawn pine and a quasi peppermint-like finish. Subtle liquorice bullets in the aftertaste? Decidedly different and all the more enjoyable for it! 46% Alc./Vol.