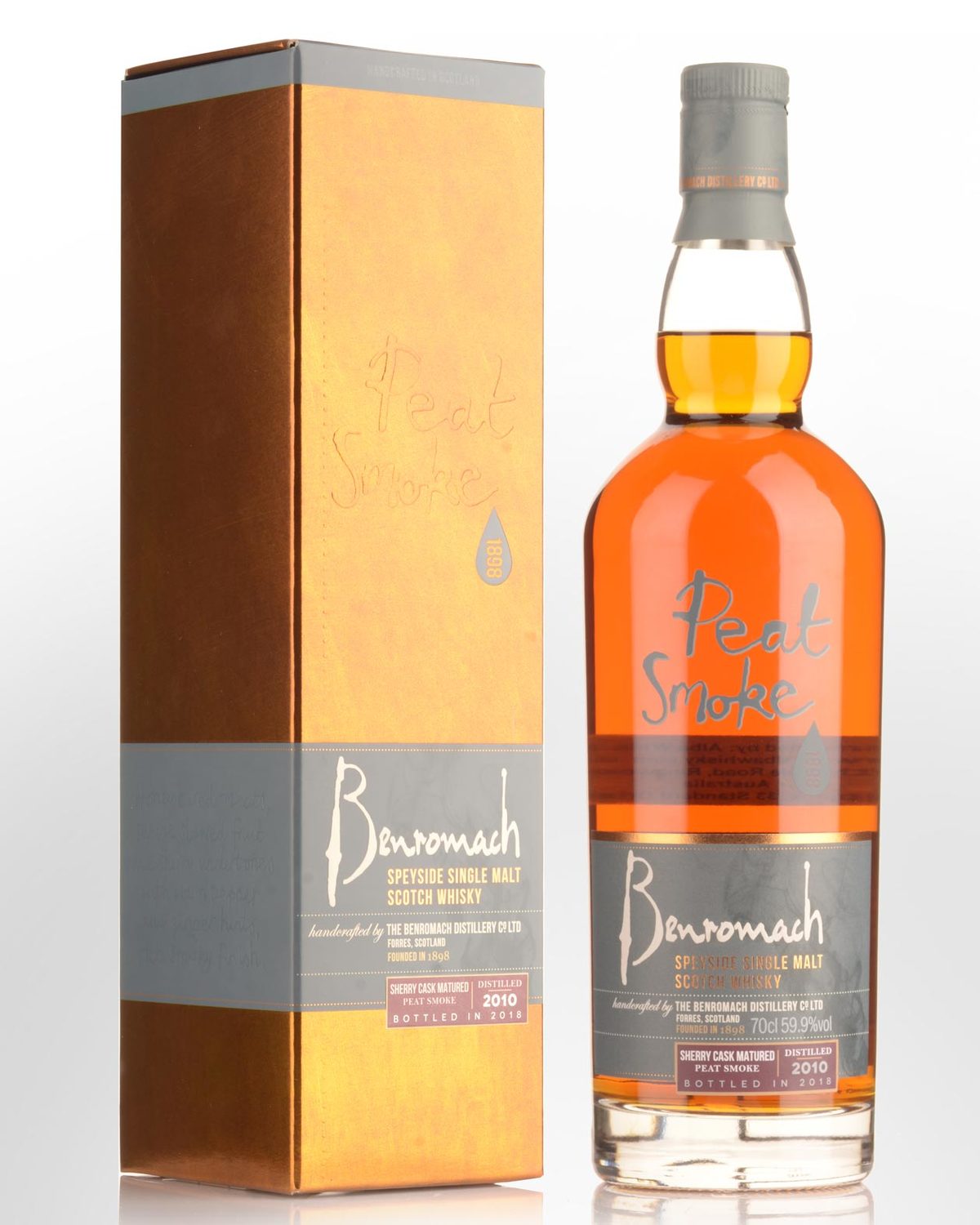 Benromach Peat Smoke Sherry Cask Matured Cask Strength Single Malt Scotch Whisky (700ml)
Speyside, Highlands,
SCOTLAND
A new Benromach from a first fill sherry Cask, peated to 34 ppm. Tasting note: Dazzling polished copper. Big, beefy nose-feel, the smoke and sherry mix offering weighty aromas of orange spice cake, fruit'n'nut chocolate, sweetening to peel-heavy marmalade, new leather and pipe tobacco. Delivers a giant of a dram, with the sherry input almost eclipsed by the phenols; Orange zest, raisin-slice , ginger biscuits and trace sulphur develop through the finish. An extravaganza of sooty, bittersweet malt and sweet spices that's up there with the biggest, brawniest Speysiders you're ever likely to encounter. 59.9% Alc./Vol. Notes from Benromach.... Take a short inhalation, appreciating the wonderful aromas without water… enjoy the hints of honey cured meats mingling with zingy orange marmalade. Creamy vanilla develops with traces of chocolate, spiced dried fruit and a subtle note of dried tobacco. Take a sip. Deliciously sweet top notes and a hint of warming white pepper appear, followed by touches of rich stewed prunes, sultanas and raisins complemented by sherry undertones. Delicate hints of ginger develop on the tongue with a lingering edge of bonfire embers on the finish. Add a few drops of water and take time to savour the nose as it develops. Lemon, honey and vanilla aromas perfectly balance the distinctive smokiness. Now lift it to your lips and enjoy a slow sip…a sumptuous medley of rich fruits, tangy citrus and delicate hint of spice and sherry give way to rich smooth chocolate and a lingering edge of seriously gorgeous smokiness. Superb! 59.9% Alc./Vol.