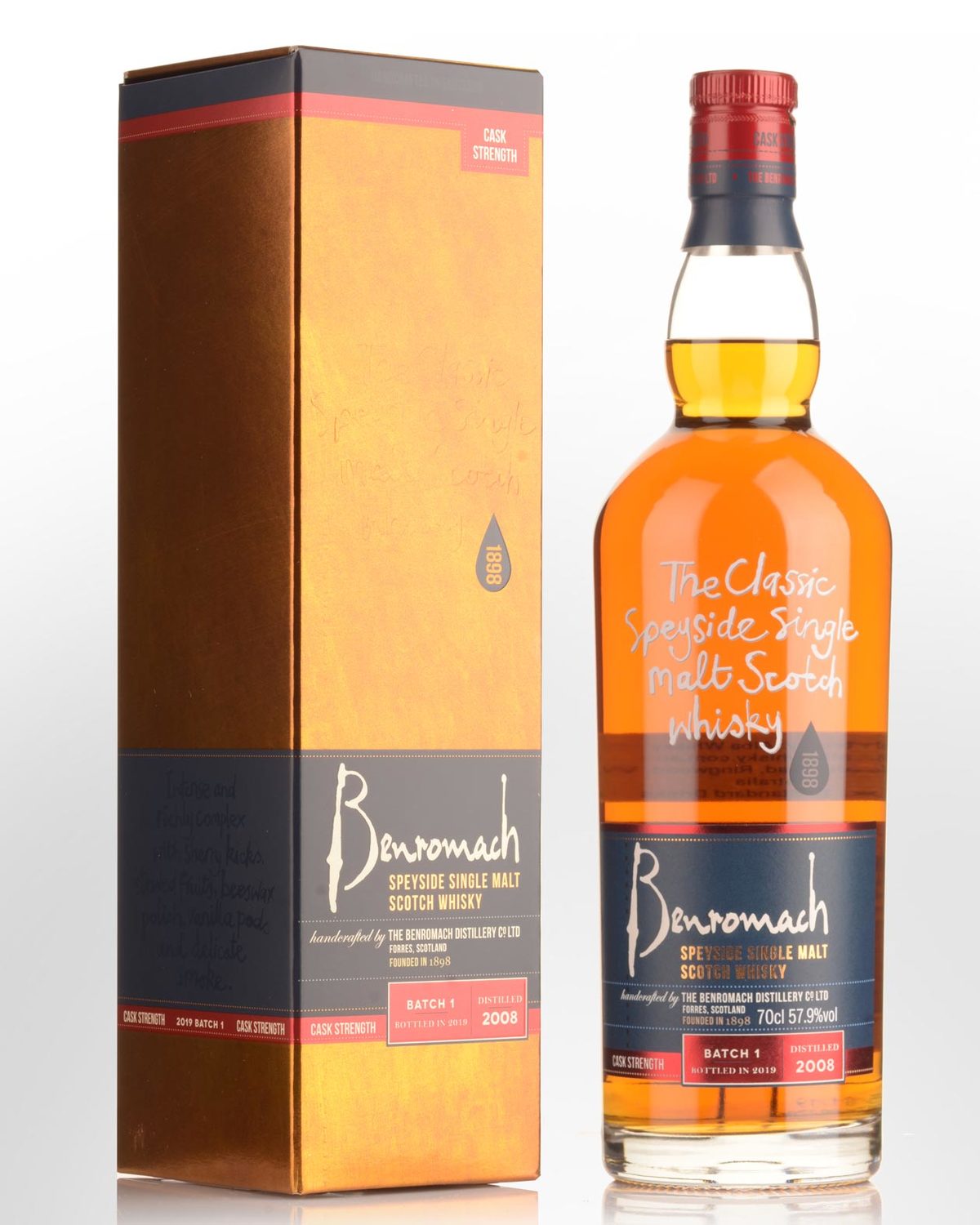 2008 Benromach Batch 1 Cask Strength Single Malt Scotch Whisky (700ml)
Speyside, Highlands,
SCOTLAND
Batch one replaces Benromach's '100 Proof' in the previous range. Going forward, these will be vintage dated releases, each one offering subtle variations on the distillery profile reflecting the cask selections from the vintage year. Tasting note: Brilliant topaz. Light peat gives a toasty / burnt edge to the barley. Sponge cake, cereals, a touch of dried berry or lamington? Like its predecessor, huge malt and spice on the palate, but delivered with impeccable balance. Stewed fruits, light toffee apple, dark chocolate and whisps of sooty peat round off a blockbuster Benromach that hits all the right notes. 57.9% Alc./Vol. Notes from Benromach... Pour yourself a dram of this beautiful golden amber single malt whisky and take a few small inhalations to start to enjoy the AROMA WITHOUT WATER. It has an intense Sherry nose with heaps of stewed apple, pear and delightful vanilla pod aromas... delicious toasted malt aromas develop and complement an underlying menthol edge. Now take a sip and savour the TASTE WITHOUT WATER… there's cracked black pepper with juicy fresh strawberry and raspberry... hints of orange peel and milk chocolate combine with a delicate smoky edge. Add a smidge of water to release your dram of Cask Strength and enjoy the AROMA WITH WATER… it's fabulous, with initial hints of beeswax polish and peat smoke… followed by sweeter aromas developing with ripe banana and kiwi bound together by honey. Now for the TASTE WITH WATER. Roll it around your palate and enjoy the sweet and salty effect with ripe banana and blackcurrant flavours. Notice the emerging creamy milk chocolate edge with a long rich finish of lingering subtle smokiness and bonfire embers.