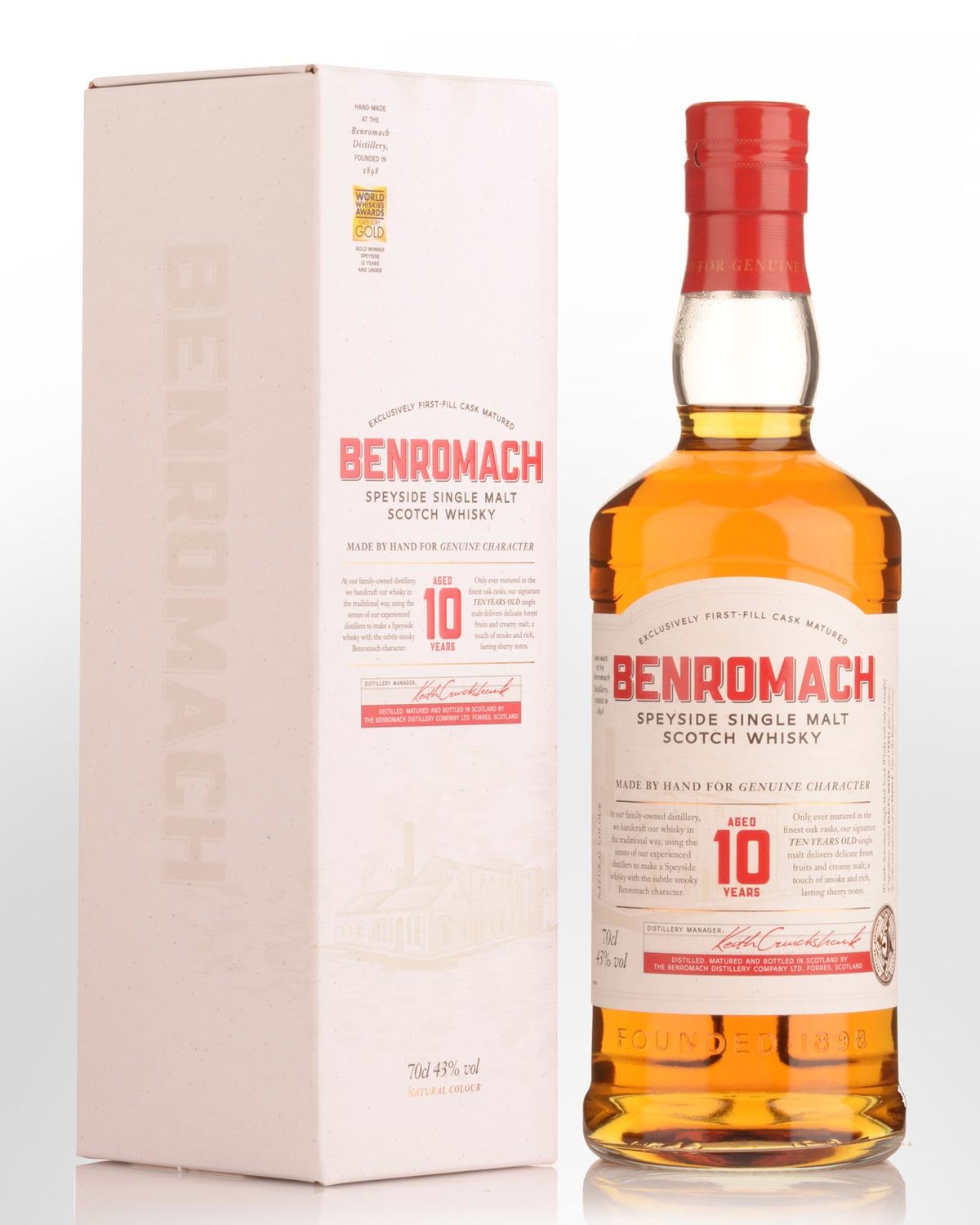 92

87
Benromach 10 Year Old Single Malt Scotch Whisky (700ml)
Speyside, Highlands,
SCOTLAND
Category Winner: Best Speyside Single Malt 12 Years and Under at the World Whisky Awards 2017.

Sometimes described as one of Speyside's "Best kept Secrets", and no wonder given the sheer class vs scale of the operation: Benromach is managed by just two workers and runs at a maximum capacity of a mere half million litres annually. Prior to this, in 1983 it was mothballed and it wasn't until a decade later that the distillery was acquired from United Distillers by Gordon and MacPhail. Production recommenced in 1998 with whiskies peated slightly higher than other Speysiders at around 8-12ppm. Since that time there have been myriad releases and an output that consistently receives high praise. According to whisky writer, Dave Broom, G&M's aim has been to make a classic pre-1960s Speyside style: across the range, the integration of the smoke and malt is seamless and judicious, allowing the fruity spirit to shine through. Always some of our most liked Speyside whiskies at tastings, the entry level 10 year old is where the fun starts, recently awarded Best Speyside Single Malt 12 Years and Under at the World Whisky Awards 2017. Move up from there to sophisticated wood finishes, a world-first organic malt and a cracking cask strength expression. Whatever your preference you're guaranteed to find something to love here, else stop drinking whisky!
This is 80% ex-Bourbon / 20% ex-Sherry matured for 9 years, followed by 12 months in an Oloroso Sherry cask for the tenth year.
Tasting notes: Pale gold appearance. Gorgeous aromatics with a sultry amalgam of poached pear, dried fruits, dark chocolate and the gentlest wafts of peat. Aeration draws out hints of baked apple and sweet spices. A clean, crisp malt delivery supported by lively spices; fine threads of smoke and a delicious fruity edge; sweet barley dovetails into grassy, citrus freshness at the finish while light pepper warmth and sooty peat round out the aftertaste. Superb purity. One of a handful of 10 year olds that really engages, and with a price that places it in the top 3 or 4 values in its category.
Other reviews... For a relatively small still using peat, the experience is an unexpected and delicately light one. 87.5 points- Jim Murrays Whisky Bible 2017
The first 10 year old release containing whisky produced entirely by the new owners. I love the interplay here between the malt, sherry, and smoke, with all getting a chance to shine. A rich vanilla-tinged malty foundation, deep caramel, rhum agricole, an array of lush fruit and dark chocolate, along with grassy/hay notes, honeysuckle, subtle spice (cinnamon, anise), and lingering earthy smoke. A vast improvement from the "Origins" release last year. I would only make three changes to make this whisky even better (and elevate it to 90+ status): a couple more years on oak, bottling at 46%, and not chill-filtering it. Still, this is one of the best efforts from this distillery. Well done! 88 points (Vol. 19, #1) - www.maltadvocate.com, reviewed by: John Hansell
...Nose: Mellow, vanilla cream (Chantilly?), cinder toffee,fresh wood shavings,with time fresh coffee. Palate: Slightly bitter wood at first then bursts of spice,nutmeg,that cream is now a custard note,cooked apples. Finish: Spicy,long and warming. Comment: A good whisky that does not really give its age away. 84 points - whiskymag.com
Gold at the San Francisco World Spirits Competition 2020.