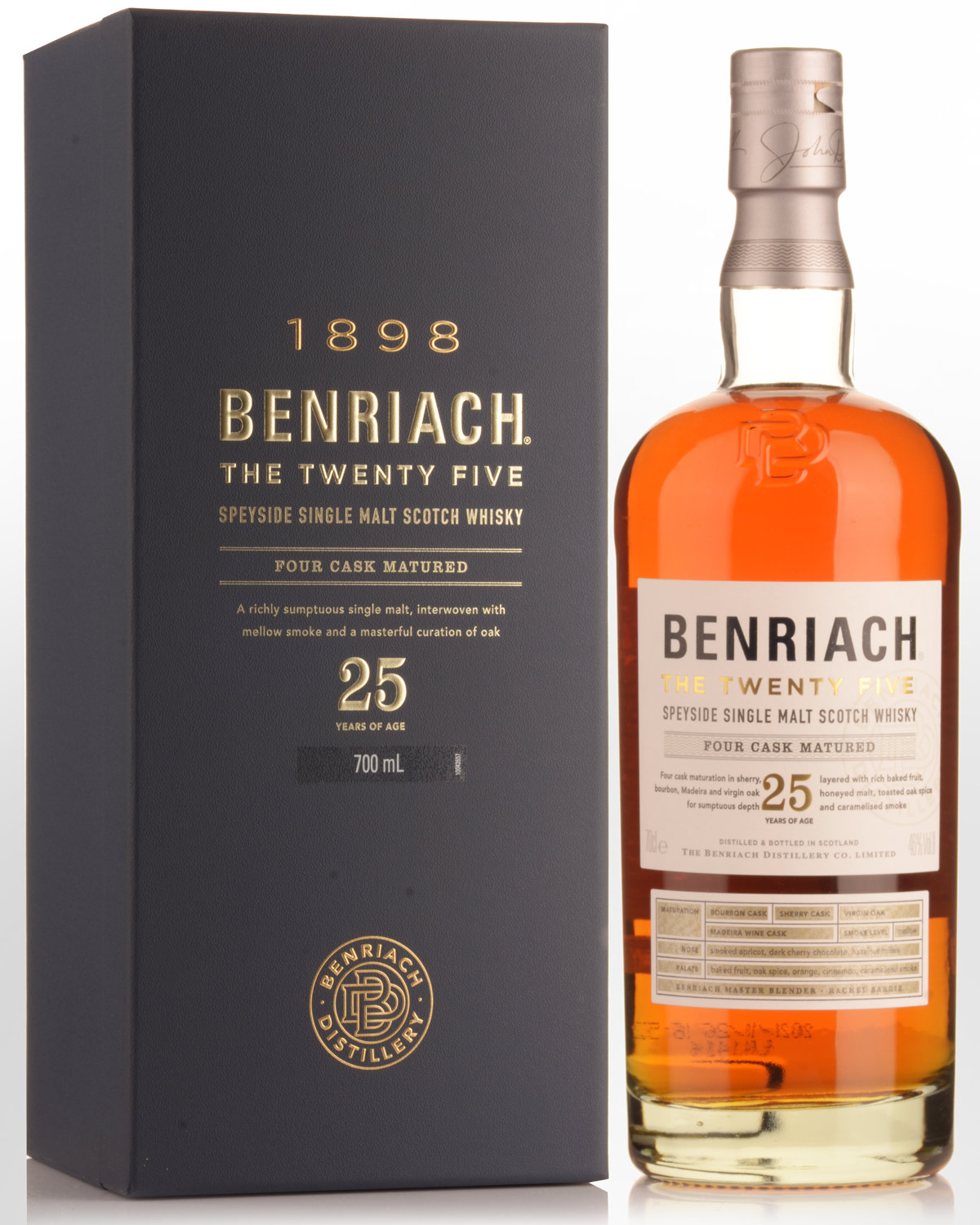 Benriach The Twenty Five 25 Year Old Single Malt Scotch Whisky (700ml)
Speyside, Highlands,
SCOTLAND
There have been at least two 25s offered by Benriach in the last decade. This latest expression sees maturation in ex-bourbon, sherry, virgin oak and Madeira casks. Compared to The Twenty One, the profile is noticeably heavier, more textural and the smokiness more reserved. Four years of extra ageing combined with the richness of Madeira makes an impact. The reviews are great from all quarters. 46% Alc./Vol. Non chill filtered.
Other reviews... Subtlety sets the tone on this well-matured whisky, starting with the gentle smokiness of the nose, presenting as smoked almonds and crème brûlée, along with snickerdoodles, honey, marmalade, dried apricots, milk chocolate, and brown sugar. Water brings out black licorice, dried ginger, and hazelnut cream. Oily citrus, dried apricot and fig, milk chocolate, and candied ginger on the palate, with drying smoke and char. It finishes with cocoa powder, char, and well-woven spice and dried fruit. 94 points - whiskyadvocate.com, reviewed by: Susannah Skiver Barton 2021
...You could spend a long time digging through the layers of sherry, bourbon, and madeira casks in this 25 year old malt, but it's on the palate that the mellowed spirit truly shines. The smoke has fully integrated with the fruit, spice, and wine flavors to create a fully developed, satisfying dram. 94 points - Excellent, Highly Recommended - Ultimate Spirits Challenge 2021
"Jaffa cake in a glass! Think Stewed apricots, dates and figs spread on a buttery biscuit and covered with milk chocolate. A bit of sweet almond/marzipan adds to the richness, though the tartness of the fruit plays off the toasted oakiness in the back palate. The overall effect is rich and soothing to sip." 94 points - distiller.com